Current Affairs in Short: 31 October 2019
Veteran leader of Communist Party of India (CPI) and former Parliamentarian Gurudas Das Gupta died.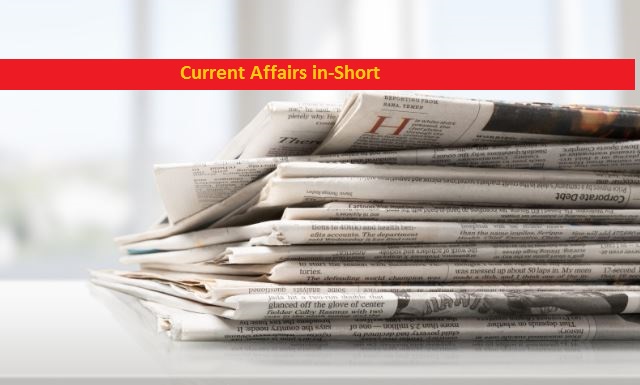 current affairs inshort
Noted CPI leader Gurudas Dasgupta dies at 83
• Veteran leader of Communist Party of India (CPI) and former Parliamentarian Gurudas Das Gupta died in Kolkata after a long illness. He was 83.
• In 2001, he was elected as General Secretary of All India Trade Union Congress. He was also known as a trade unionist.
• In 2004, he was elected from Pansakuda Lok Sabha seat in West Bengal. He was a member of the Rajya Sabha thrice, while was elected to the Lok Sabha twice.
Constitute Medical Board on health condition of Chidambaram: Delhi HC to AIIMS
• The Delhi High Court has given its instruction to the Director of All India Institute of Medical Sciences (AIIMS) to constitute a medical board on the health condition of P Chidambaram.
• The High Court said that the Medical Board should be formed so that it can be ascertained whether the Congress leader needs to shift to the hospital from Tihar jail.
• The High Court has given the panel a deadline till Friday. It will also include Chidambaram's family doctor Nageswara Rao.
35th ASEAN Summit begins in Bankok
• The 35th Summit of The Association of Southeast Asian Nations (ASEAN) began in Bangkok on October 31 and it will continue till November 4.
• ASEAN is a group of 10 countries that encourages economic, social and political co-operation in the region. PM Modi will attend the summit on November 3rd and 4th.
• The theme of 35th ASEAN Summit is - Advancing Partnership for sustainability. Apart from 10 members countries, eight dialogue partner countries are also participating in the summit.
Also Read | What is Armenian Genocide? All you need to know
First Day-Night Test Match at Eden Gardens
• India and Bangladesh teams will play the country's first Day-Night Test match at Eden Gardens Stadium.
• BCCI has requested Bangladesh Cricket Board (BCB) to approve the plan so that teams of both countries can participate in the game.
• If Bangladesh Cricket Board replies positively then it first Day-Night test match will be held on November 22 at Eden Gardens.
28th Vyas Samman conferred
• The 28th Vyas Samman of the year 2018 was given by KK Birla Foundation to renowned writer Leeladhar Jagoori.
• He was awarded for his poetry collection 'Jitne Log Utne Prem' published in 2013.
• He was awarded a citation, Rs 4 lakh and a symbol of the KK Birla Foundation, for his Hindi literary work.
Also Read | Chile cancels hosting COP-25 and APEC due to nationwide unrest
Also Read | National Health Profile 2019: Health Minister Harsh Vardhan releases the 14th edition of NHP