e-Governance Services and IIT Kanpur agreement; SpaceX launched cargo mission to ISS - Current Affairs
Under the Unnat Bharat Abhiyan, IIT-Kanpur has brought together 15 leading higher education institutions from Uttar Pradesh.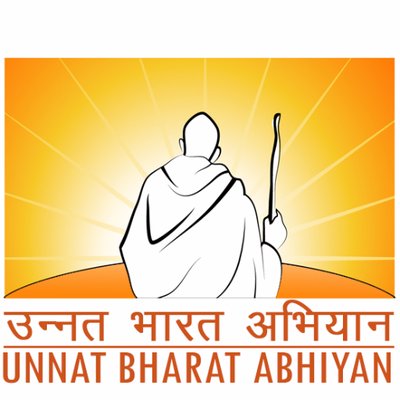 Unnat Bharat Abhiyan Logo
Story 1: e-Governance Services and IIT-Kanpur agreement to upscale Unnat Bharat Abhiyan
e-Governance Services India Limited, an initiative of Common Service Centre's (CSC), a special purpose vehicle under the Ministry of Electronics & IT, has tied up with Indian Institute of Technology (IIT) Kanpur to upscale Unnat Bharat Abhiyan.
Unnat Bharat Abhiyan is an initiative of the Ministry of HRD. It aims to find solutions to accelerate sustainable growth in rural India. Under the Unnat Bharat Abhiyan, IIT-Kanpur has brought together 15 leading higher education institutions from Uttar Pradesh.
Major Highlights
IIT Kanpur has adopted five villages Baikanthpur, Hridayapur, Pratappur Hari, Ishwariganj, and Saxupurva situated on the outskirts of Kanpur for its overall development.
About fifteen affiliated educational institutions under Unnat Bharat Abhiyan will adopt gram panchayats and equip them with all citizen centric services through CSCs.
These institutions will train village level entrepreneurs (VLEs) who run CSCs as part of the village development plan.
The VLEs will also be skilled about the use of solar energy, cleanliness and use of modern technologies through interventions of IIT-Kanpur.
15 Institutes associated with CSC
The 15 higher education institutions which have been associated with CSC are IIT-Kanpur; School of Management Sciences, Lucknow; Bundelkhand University, Jhansi; Allahabad College of Engineering & Management; Pranveer Singh Institute of Technology, Kanpur; Kiranlata Singh Mahavidyalaya, Fatehpur; Seth Badri Prasad Smriti College, Jalaun; SRSSD College, Auraiya; Virendra Singh Group of Institutions, Unnav; Allen House Institutions; Rama University; National Post Graduate College, Lucknow; Lucknow Polytechnic, Lucknow; Dayanand Girl's PG College and CSM Degree College, Chitrakoot.
About Unnat Bharat Abhiyan (UBA)
Unnat Bharat Abhiyan (UBA) is an initiative of the Ministry of Human Resource Development (MHRD). Its second edition was launched in the year 2018.
The Mission of Unnat Bharat Abhiyan is to enable higher educational institutions to work with the people of rural India in identifying development challenges and evolving appropriate solutions for accelerating sustainable growth.
It also aims to create a virtuous cycle between society and an inclusive academic system by providing knowledge and practices for emerging professions.
One of its goal is to build an understanding of the development agenda within institutes of Higher Education and an institutional capacity and training relevant to national needs, especially those of rural India.
Story 2: SpaceX successfully launched cargo mission to the ISS
SpaceX has launched a Dragon cargo capsule to orbit on May 4, 2019 to International Space Station. This mission was seventeenth routine launch of SpaceX for NASA since 2012. Cargo Dragon spacecraft was carrying 2,500 kilograms (5,500 pounds) of supplies for the astronauts on the ISS as part of the CRS-17 mission.
About eight minutes after launch, the first stage of the rocket landed successfully on the drone ship several miles out in the Atlantic Ocean. The launch had been delayed from Thursday, May 3 after an electrical issue with the drone ship.
Key Highlights
The spacecraft will remain at the space station for about four weeks before returning to Earth with more than 1,900 kg of research and return cargo.
Space X's Dragon was also carrying some special items in a trunk which is a cylindrical structure that rides attached to the capsule during flight, providing support and power.
It is experiments from NASA called OCO-3, which will help the space agency measure the Earth's carbon dioxide levels.
When Dragon cargo will reach ISS, robotic arm will place OCO-3 on the outside of the space station, where the instrument will help scientists learn how carbon dioxide fluctuates all over the world.
Falcon-9 Rocket
Falcon-9 is a two-stage rocket designed and manufactured by SpaceX for the reliable and safe transport of satellites and the Dragon spacecraft into orbit. Falcon 9 is the first orbital class rocket capable of reflight. SpaceX believes rocket reusability is the key breakthrough needed to reduce the cost of access to space and enable people to live on other planets.
Falcon 9 made history in 2012 when it delivered Dragon into the correct orbit for rendezvous with the International Space Station, making SpaceX the first commercial company ever to visit the station. Since then Falcon 9 has made numerous trips to space, delivering satellites to orbit as well as delivering and returning cargo from the space station for NASA.
Dragon Spacecraft
Dragon is a free-flying spacecraft designed to deliver both cargo and people to orbiting destinations. It is the only spacecraft currently flying that is capable of returning significant amounts of cargo to Earth. Currently Dragon carries cargo to space, but it was designed from the beginning to carry humans.
Download our Current Affairs& GK app from Play Store/For Latest Current Affairs & GK, Click here