Eritrea, Saint Kitts join International Solar Alliance, membership rises to 83
International Solar Alliance: The total membership of the International Solar Alliance has risen to 83.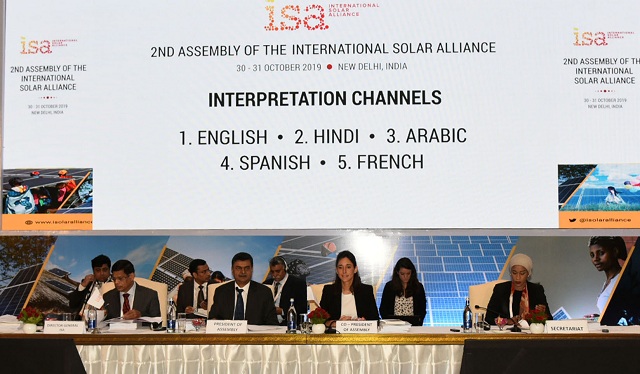 ISA second General Assembly
International Solar Alliance: Eritrea and Saint Kitts and Nevis have become the newest members of the International Solar Alliance (ISA). The two nations signed the ISA Framework Agreement during its second assembly held in New Delhi on October 31, 2019.
With this, the total membership of the International Solar Alliance has risen to 83. While speaking at the Assembly, ISA President R K Singh emphasized on the increasing importance of solar energy, especially in the view of the several climate change issues being faced across the world.
The ISA President who is also the Union Minister of New and Renewable Energy further highlighted the steps taken by India to support the International Solar Alliance.
Also read: PM Narendra Modi inaugurates first assembly of International Solar Alliance
International Solar Alliance Assembly
The assembly saw the participation of delegations from 78 countries, including 29 ministerial delegations, of which 25 were from ISA member countries, two from signatory countries and two from prospective member nations.
Significance
Indian Prime Minister Narendra Modi had pledged at the UN Climate Action Summit 2019 to increase the renewable energy capacity of India to 175 gigawatts (GW) by 2022 and further increase it 450 GW.
According to the renewable energy ministry, India is moving towards achieving the 175 GW goal by 2022, as it has over 82 GW renewable capacity on the ground and around 70 GW at various stages of completion.
ISA: All you need to know
The International Solar Alliance was jointly launched by India and France. It was officially launched by PM Narendra Modi at the India Africa Summit, ahead of the 2015 UN Climate Change Conference in Paris in November 2015.
The main objective of the alliance is to address key challenges to increasing the use of solar energy in the ISA member countries.
The alliance objectives include lowering the cost of energy, increasing investment in renewable energy, training and sharing of knowledge and technology among the member nations.
The ISA Assembly is the main decision-making body of the alliance and it decides on various administrative, financial and program-related issues.
The role of the International Solar Alliance is extremely important in fulfilling the 2030 SDG goals and objectives of the Paris Agreement on Climate Change.
Also read: International Solar Alliance comes into force
Also read: Palau, 76th country, signs International Solar Alliance Framework Agreement
Take Weekly Tests on app for exam prep and compete with others. Download Current Affairs and GK app
एग्जाम की तैयारी के लिए ऐप पर वीकली टेस्ट लें और दूसरों के साथ प्रतिस्पर्धा करें। डाउनलोड करें करेंट अफेयर्स ऐप
Android
IOS