India Refrains from Voting in UN General Assembly, Resolution of 'Lasting Peace' in Ukraine
India has abstained from all three votes at the UN General Assembly on the Ukraine crisis. Russia invaded Ukraine territory on February 24, 2022. On this anniversary of the invasion, a resolution has been proposed that demands Russia step out from Ukraine. Check the key highlights of the resolution.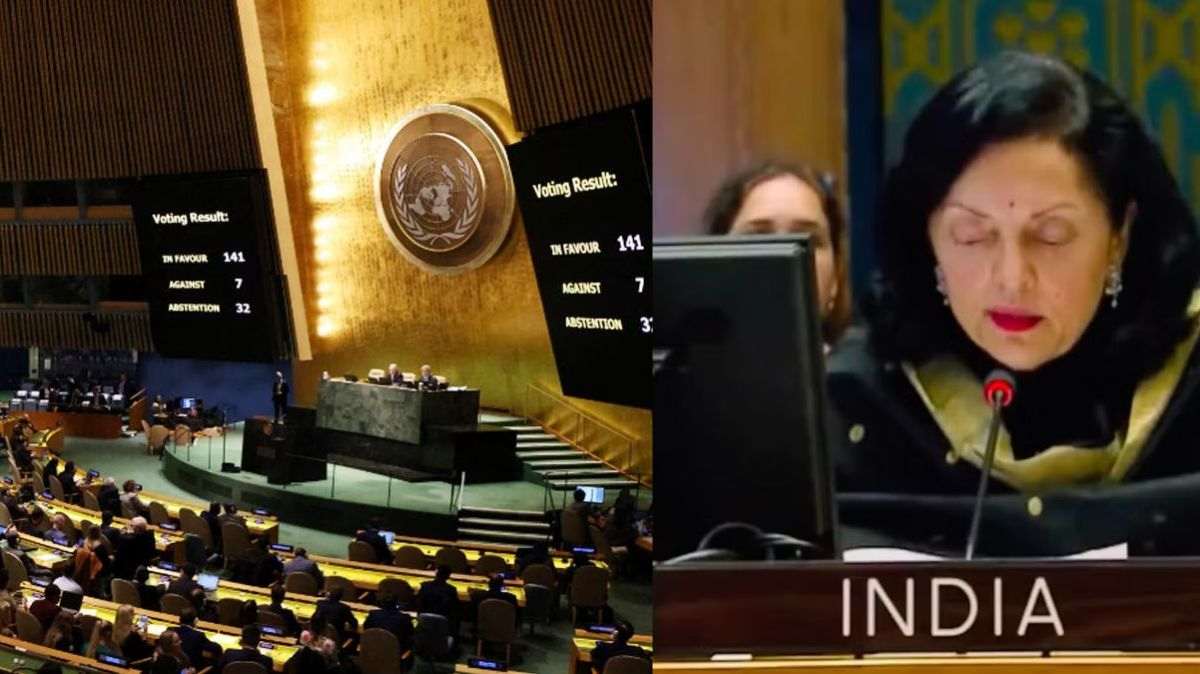 India steps down from voting at UN General Assembly
Among several other countries that restrain themselves from voting in the UN General Assembly, India also announces its withdrawal from giving votes. This was regarding a resolution that was decided on February 24, 2023 (Friday). Under this project, the aim is to end the war in Ukraine and establish peace between Russia and Ukraine.
India's representative Ruchira Kamboj addressed the assembly and declared that the move was not enough to achieve the goal of 'lasting peace'. According to the voting data, a total number of 141 member states voted in favour of the resolution at an emergency special session hours before the conflict entered its second year whereas seven countries including Russia, Belarus as well as North Korea voted against it.
The UN General Assembly adopted a resolution that demands #Russia leave #Ukraine.

In favour: 141

Against: 7

Abstentions: 32 pic.twitter.com/WnEoRp94kx

— UN News (@UN_News_Centre) February 23, 2023
Resolution Demanding Russia to Terminate War
Almost a year ago when Russia invaded Ukraine, since then situations have been alarming and have shaken the whole world. The United Nations General Assembly voted and gave approval of the demanding resolution that Russia should withdraw its military forces.
Out of the total, 141 countries voted in support of the resolution while 32 nations abstained including India, China, Bangladesh, Cuba, Iran, Pakistan, South Africa, Sri Lanka, etc. It was restated that Russia "immediately, completely and unconditionally withdraw all of its military forces from the territory of Ukraine" and further called for a cessation of hostilities. As per the resolution, all member states are requested to collaborate to address the global impacts of the war on food security, energy, finance, the environment and nuclear security.
Excerpts from PR @ruchirakamboj's explanation of vote at the #UNGA Emergency Special Session on #Ukraine today. pic.twitter.com/tUptpHj09j

— India at UN, NY (@IndiaUNNewYork) February 24, 2023
Why India abstains from Voting?
India's Permanent Representative/Ambassador to the United Nations, Ruchira Kamboj explains India's voting abstinence by questioning the effectiveness of the United Nations along with the Security Council in resolving contemporary conflicts. She points out the resolution's "inherent limitations".
She further stated at the assembly session that India is committed to multilateralism and upholds the principles of the UN Charter. India and Russia have a long history of diplomatic and defence relations. Ruchira also asserted that the only applicable solution is dialogue and diplomacy. The objective of today's resolution, given its inherent limitations in reaching the desired goal of securing a lasting peace, the country is compelled to abstain.
"Are we anywhere near a possible solution acceptable to both sides? Can any process that does not involve either of the two sides ever lead to a credible and meaningful solution?" asked India's deputy Kamboj. She also questioned, "Has the UN system, and particularly its principal organ, the UN Security Council, based on a 1945-world construct, not been rendered ineffective to address contemporary challenges to global peace and security?"
PM Modi's Meeting with Vladimir Putin
India has not publicly condemned Russia's actions however the mission is for the sovereignty and territorial integrity of all states to be respected. At a meeting with President Vladimir Putin held last September, Prime Minister Narendra Modi stated that "today's era is not of war" and he indicated the issues of food and energy security faced by developing countries while also encouraging the Russian government to end the conflict.
Also Read: Who is Ajay Banga, India-born nominated by President Biden to lead World Bank? Know all about his roles
Take Weekly Tests on app for exam prep and compete with others. Download Current Affairs and GK app
एग्जाम की तैयारी के लिए ऐप पर वीकली टेस्ट लें और दूसरों के साथ प्रतिस्पर्धा करें। डाउनलोड करें करेंट अफेयर्स ऐप
Android
IOS