India vs Australia Cricket World Cup 2019: India, Australia's playing XI unchanged, key player face-offs - Rohit Sharma/ Mitchell Starc
Get India vs Australia updates, playing XI, Team India, Team squads, key players and key face-offs.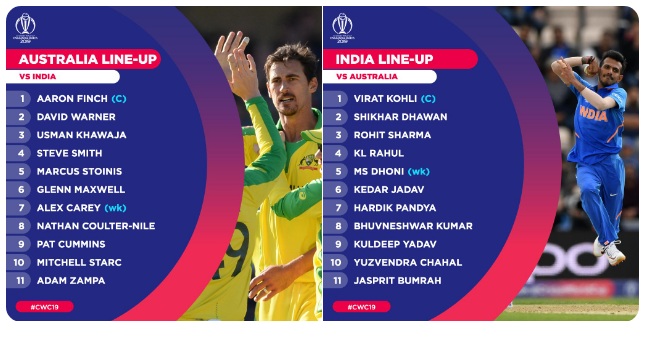 India vs Australia World Cup 2019: India's playing XI unchanged, key player face-offs
India vs Australia Playing XI, ICC World Cup 2019: India with a win in their opening World Cup match has decided to go ahead with the same winning team for their clash against Australia. Australia has also decided to retain their previous winning combination of playing XI.
India's Playing XI: Rohit Sharma, Shikhar Dhawan, Virat Kohli(c), Lokesh Rahul, MS Dhoni(w), Kedar Jadhav, Hardik Pandya, Bhuvneshwar Kumar, Kuldeep Yadav, Yuzvendra Chahal, Jasprit Bumrah
Australia's Playing XI: Aaron Finch(c), David Warner, Usman Khawaja, Steven Smith, Glenn Maxwell, Marcus Stoinis, Alex Carey(wk), Nathan Coulter-Nile, Pat Cummins, Mitchell Starc, Adam Zampa.
With many records set by both India and Australia in their World Cup 2019 matches till now and outstanding performances by some of their bastmen and bowlers, here are few key face-offs that would be interesting to watch out for:
Here are the top five player face-offs to watch-out for:
1. Rohit Sharma vs Mitchell Starc
Rohit Sharma and Mitchell Starc are both are riding on the back on outstanding previous performances. While Sharma had made a century in India's opening world cup match, starc became the first bowler in the 2019 world cup to get a five-wicket haul.
2. Virat Kohli vs Mitchell Starc
Another face-off to look for would be Virat Kohli and Mitchell Starc. There are a lot of expectations riding on the top-ranked Indian batsman and Mitchell Starc already has had a great start in the world cup tournament.
3. Shikhar Dhawan/ MS Dhoni vs Pat Cummins
With Shikhar Dhawan opening for India and Pat Cummins for Australia, sparks are expected to fly when they come face-to face. In their previous face-to-face encounters, things did not go in Dhawan's favour. MS Dhoni and Cummins face-off is another to look out for.
4. Jasprit Bumrah vs David Warner
The top-ranked Indian bowler is currently riding on a high with his stellar performance in India's opening world cup match against South Africa. It would be interesting to see how he would fare against Australia's opening batsman David Warner, who is known for his big shots.
5. Yuzvendra Chahal vs Steve Smith
The young Indian spinner made an outstanding world cup debut in India vs South Afrixa match. The world is waiting with baited breaths to see how he would perform, against one of the world cup's best teams, especially one of Australia's best batsman Steve Smith.