Jnanpith Award 2019: Malayalam poet Akkitham bags 55th Jnanpith Award
Jnanpith Award: Akkitham is a famous writer in the Malayalam poetry world. He was born in 1926 and his full name is Akkitham Achuthan Namboodri.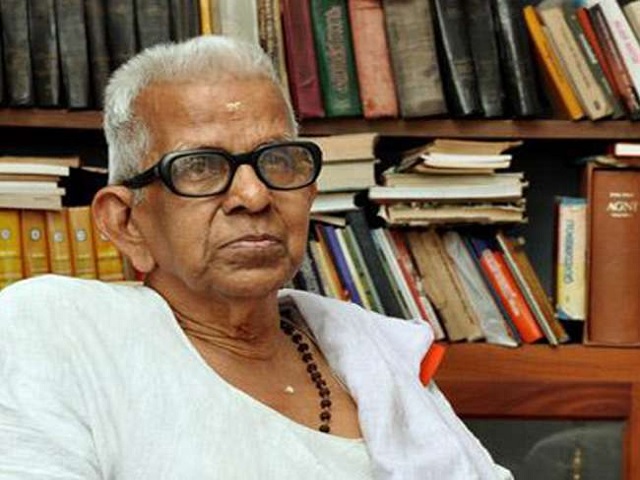 Image: Twitter
The prestigious Jnanpith Award for literature has been announced for the Malayalam poet Akkitham Achuthan Namboodri. A jury under the chairmanship of noted Odia writer Pratibha Rai held a meeting before the declaration of his name. Jury's other members were Shamim Hanafi, Suranjan Das, Madhav Kaushik and Dr. Purushottam Bilimalale. The award consists of Rs 11 lakh, a statue of Vagdevi, a citation and a memento.
About Akkitham
Akkitham is a famous writer in the Malayalam poetry world. He was born in 1926 and his full name is Akkitham Achuthan Namboodri but he is popularly known as Akkitham. He was interested in literature and art since childhood. Apart from poetry, Akkitham has also written plays and novels. His most of the poetry works have a unique prophetic character. He predicts a range of socio-political developments in his poetry. Akkitham is famous for showing modernity through his poetry.
Akkitham's Works and Awards
• Akkitham's poems combine Indian philosophical and social values which are like a bridge between modernity and tradition.
• He has written 55 books so far and 45 are poetry collections among them.
• He has translated works of other Indian languages. His one of the most famous Poetry book is Irupdam Nootandidae Itihasam is quite popular among his readers.
• Some of his famous books are - "Khand Kavya", "Katha Kavya", "Charitra Kavya" and lyrics.
• Some of his famous works include "Veeravadam", "Balidarshanam", "Nimisha Kshetram", "Amrita Khatika", "Akkhitam Kavitakhaka", "Epic of Twentieth Century" and "Antimkalam".
• Akkitham has conferred with the Padma Shri. He has also been honoured with the Sahitya Akademi Award in 1973, the Kerala Sahitya Akademi Award in 1972 and the Kerala Sahitya Academy Award in 1988 and the Kabir Samman.
Also Read | Arcadia Education Project in Bangladesh wins Aga Khan Architecture Award
About Jnanpith Award
• The Jnanpith Award is the highest literary award given by the Indian Jnanpith Trust for Indian literature.
• Any citizen of India who writes in any of the 22 languages mentioned in the Eighth Schedule is eligible for this award.
• An award of eleven lakh rupees, a citation and a bronze statue of Vagdevi are given in the award.
• This award, which started in 1965 with prize money of Rs 1 lakh, has been increased to Rs 7 lakh in 2005, which have now been eleven lakh rupees.
• Hindi litterateur Kunwar Narayan, elected for 2005, was the first person to receive the Jnanpith Award of Rs 7 lakh.
• The first Jnanpith Award was presented to Malayalam writer G. Shankar Kurup in 1965.
Also Read | Greta Thunberg wins International Children's Peace Prize
Also Read | IFFI 2019: Rajinikanth conferred 'Icon of Golden Jubilee' award
Take Weekly Tests on app for exam prep and compete with others. Download Current Affairs and GK app
एग्जाम की तैयारी के लिए ऐप पर वीकली टेस्ट लें और दूसरों के साथ प्रतिस्पर्धा करें। डाउनलोड करें करेंट अफेयर्स ऐप
Android
IOS