Jnanpith Award 2021: Nilmani Phookan, Damodar Mauzo bag top literary honour: Full list of Jnanpith Awardees
Jnanpith Award 2021 winner: Assamese Poet Nilmani Phookan Jr. and Konkani Novelist Damodar Mauzo have become the winners of the 56th and 57th Jnanpith Award for their contribution to Indian literature.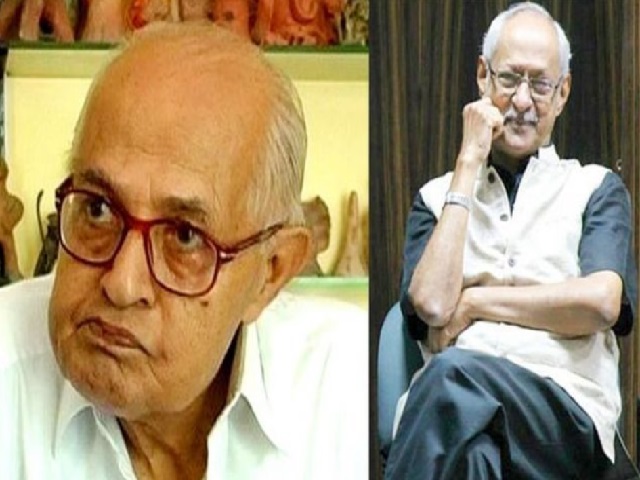 Nilmani Phookan (left) and Damodar Mauzo win Jnanpith Award
Jnanpith Award winner 2021: Eminent Assamese Poet Nilmani Phookan Jr. has won the 56th Jnanpith Award while the 57th Jnanpith Award has gone to the Konkani novelist Damodar Mauzo. Jnanpith Awards, India's highest literary honour is bestowed on the writers for their outstanding contribution to the Literature.
56th Jnanpith Award is announced for 2020 and the 57th Jnanpith Award is announced for the year 2021. Both Phookan and Mauzo are the winners of the Sahitya Akademi Award and are known for their significant contribution to the respective regional literature. Damodar Mauzo is based out of Majorda, Goa and Nilmani Phookan is from Guwahati, Assam.
Winner of 56th Jnanpith Award- Assamese Poet Nilmani Phookan
Assamese Poet Nilmani Phookna has received the highest literary honour 'Jnanpith Award'. He has been honoured for his lifelong devotion to literature.
It is also for the third time that Assam has received Jnanpith Award. Before Nilmani Phookan, Birendra Kumar Bhattacharya in 1979 and Mamoni Raisom Goswami in 2000 were also awarded the literary honour.
Famous works of Jnanpith Awardee Nilmani Phookan
Padma Shri Awardee Nilmani Phookan is a poet of renown and is known for his works-
Kobita
Gulapi Jamur Lagna
Surya Henu Nami Ahe Ei Nodiyedi
Manas-Pratima
Phuli Thaka Suryamukhi Phultor Phale
Awards & Recognition
| | |
| --- | --- |
| Year | Awards |
| 2001 | Gyanpeeth Award for Lifetime Contribution in Literature |
| 1981 | Sahitya Akademi Award in Assamese |
| | President of Assam Sahitya Sabha |
Konkani Writer Damodar Mauzo- Winner of 57th Jnanpith Award
Damodar Mauzo, a 77 years old Konkani writer has been awarded the 57th Jnanpith Award. Mauzo is known for his novels such as Tsunami Simon and Karmelin and the short stories including Other Stories from Goa and Teresa's Man.
The books written by Jnanpith Award winner Damodar Mauzo have also been translated into various Indian languages. While commenting on the news of receiving the Jnanpith Award, Mauzo said that he was elevated while receiving the honour but also realized that there are many writers of the same calibre and better than who deserved the highest literary honour.
This is also the second time that a Konkani writer won Jnanpith Award. The first one was awarded in 2006 to Ravinder Kelelar.
Famous works of Damodar Mauzo
| | | | |
| --- | --- | --- | --- |
| Short Fiction | Novels | Children's Books | Biographical |
| Gathon (1971) | Sood (1975) | Ek Ashillo Babulo (1976) | Oshe Godle Shenoy Goembaab (2003) |
| Zagranna (1975) | Karmelin (1981) | Kani Eka Khomsachi (1977) | Unch Haves Unch Mathem (2003) |
| Rumad Ful (1989) | Tsunami Simon (2009) | Chittarangi (1995) | A Documentary film titled 'Bhai Mauzo' (2014) |
| Bhurgim Mhugelim Tim (2001) | | | |
| Sapan Mogi (2014) | | | |
Jnanpith Award
The famous Jnanpith Award is the oldest and highest literary award. It is honoured annually by Bharatiya Jnanpith to an author for their outstanding contribution to the literature. Jnanpith Award was instituted in 1961 and is bestowed only on the Indian writers who write in the Indian languages that are included in the 8th schedule of the Constitution of India and English.
Full List of winners of Jnanpith Award
Year

Winners

Language

2000
(36th)

Mamoni Raisom Goswami

Assamese
2001
(37th)

Rajendra Shah

Gujarati
2002
(38th)

Jayakanthan

Tamil
2003
(39th)

Vinda Karandikar

Marathi
2004
(40th)

Rehman Rahi

Kashmiri
2005
(41st)

Kunwar Narayan

Hindi
2006
(42nd)

Ravindra Kelekar

Konkani

Satya Vrat Shastri

Sanskrit
2007
(43rd)

O. N. V. Kurup

Malayalam
2008
(44th)

Akhlaq Mohammed Khan 'Shahryar'

Urdu
2009
(45th)

Amarkant

Hindi

Sri Lal Sukla

Hindi
2010
(46th)

Chandrashekhara Kambara

Kannada
2011
(47th)

Pratibha Ray

Odia
2012
(48th)

Ravuri Bharadhwaja

Telugu
2013
(49th)

Kedarnath Singh

Hindi
2014
(50th)

Bhalchandra Nemade

Marathi
2015
(51st)

Raghuveer Chaudhari

Gujarati
2016
(52nd)

Shankha Ghosh

Bengali
2017
(53rd)

Krishna Sobti

Hindi
2018
(54th)

Amitav Ghosh

English
2019
(55th)

Akkitham Achuthan Namboothiri

Malayalam
2020
(56th)

Nilamani Phookan

Assamese
2021
(57th)

Damodar Mauzo

Konkani
Take Weekly Tests on app for exam prep and compete with others. Download Current Affairs and GK app
एग्जाम की तैयारी के लिए ऐप पर वीकली टेस्ट लें और दूसरों के साथ प्रतिस्पर्धा करें। डाउनलोड करें करेंट अफेयर्स ऐप
Android
IOS