Legendary sprinter Usain Bolt retires, his last race marred by injury
Usain Bolt has said a goodbye to his gigantic athletics career by rejecting a wheelchair offered by concerned officials, rolling up his shorts and hobbling in pain across the finish line with his Jamaican 4x100m teammates in support.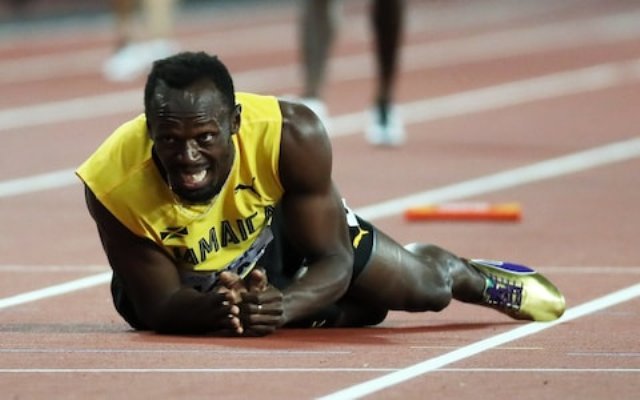 Legendary sprinter Usain Bolt retires, his last race marred by injury
Usain Bolt, the greatest sprinter of modern times, retired from the Athletics world on 13 August 2017. But the farewell ended in pain as he injured himself while running the last lap of the men's 4x100m relay race at the World Athletics Championships in London.
While running the final race of his career, the 30-year-old Bolt, after taking the baton from his Jamaican teammate Yohan Blake, suffered cramps on his left hamstring as he tried, in vain, to chase down his rivals in the race.
Bolt went down on his keens with hands on his head in dejection and was then lying alone on the tracks for a while before Blake and the other teammates, Julian Forte, Yohan Blake and Omar McLeod, gathered around him.
The towering Jamaican, who had dominated the sprint race like nobody else, was helped to his feet. As he limped over the finishing line, the crowd applauded him. Britain won the gold in 37.47 seconds while United States (38.01) and Japan took the silver and bronze respectively.
Earlier on 5 August 2017, the fastest man on earth, Usain Bolt stunned the world after finishing third in the 100 meters Final of World Athletics Championship at London. In his farewell 100 meters, Bolt clocked a time of 9.95 seconds but was left behind by veteran American sprinter Justin Gatlin who clocked 9.92 seconds to claim Gold, his compatriot Christian Coleman came second with 9.94 seconds.
Since 2008, when Bolt set his first world record, he had not lost a championship race and collected 19 gold medals in 100, 200 and 4x100 meters. The only time, he did not win the gold was in 100 meters at the 2011 world championships, when he was disqualified for a false start and the 2008 Olympic 4x100, a gold won by Jamaica that was subsequently stripped because a teammate tested positive for banned substances.