Lok Sabha passes NIA (Amendment) Bill 2019: Know important features
Some important amendments have been done in National Investigation Agency (amendment) Bill.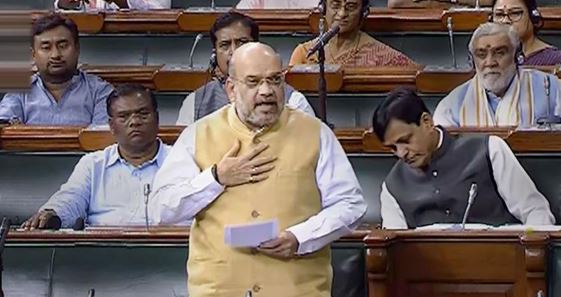 Lok Sabha passes NIA (Amendment) Bill 2019
The Lok Sabha passes The National Investigative Agency (Amendment) Bill, 2019 on July 15, 2019. Special powers have been given to the officers of NIA through this amendment bill. This bill mandates the setting up of Special Courts for NIA. The bill was passed by Lok Sabha after detailed discussion by Home Minister Amit Shah in the house.
Three important amendments have been done to the National Investigation Agency (NIA) Act of 2008. These amendments enable the NIA to investigate offences related to the sale and manufacture of prohibited arms, human trafficking, fake currency, cyber terrorism and crime related to the Explosive Substance Act, 1908.
Major Amendments in NIA Bill 2019
• First important amendment is that circle of investigation has been extended. At present, the NIA can investigate offences under Acts such as the Atomic Energy Act, 1962, and the Unlawful Activities Prevention Act, 1967.
• Now NIA will be able to investigate cases related to human trafficking, terrorism, cyber-crime or terrorism. After amendment NIA will also be able to handle cases related to prohibited arms and ammunition.
• Another major change under this amendment is that NIA's jurisdiction has been extended. Now officers of NIA will have same powers as police officers. This will be applicable across the country.
• After amendment, Bill gives NIA officers the power to investigate offences committed outside India.
• NIA's jurisdiction will be subject to international treaties and domestic laws of other countries.
• Another change done in NIA is related to the establishment of special trials courts for the offences that come under NIA's purview.
• The existing Act allows the Centre to constitute special courts for NIA's trials. But the Bill enables the Central government to designate session courts as special courts for such trials.
Scheduled offences
As per PRS Legislative Research, the schedule to the Act specifies a list of offences which are to be investigated and prosecuted by the NIA. These include offences under Acts such as the Atomic Energy Act, 1962, and the Unlawful Activities Prevention Act, 1967. The Bill seeks to allow the NIA to investigate the following offences, in addition: (i) human trafficking, (ii) offences related to counterfeit currency or bank notes, (iii) manufacture or sale of prohibited arms, (iv) cyber-terrorism, and (v) offences under the Explosive Substances Act, 1908.
Importance of NIA Amendment Bill 2019
This amendment Bill of NIA allow government agency NIA to probe terror cases targeting Indians and Indian assets abroad, provides more power the centre government to designate existing session courts as special NIA courts. Union Home Minister Amit Shah said in the house that the bill aims at eliminating terrorism and that the Modi government will ensure it is not misused.
Also Read | Lunar Eclipse 2019: When, Where and How To Watch This Astronomical Phenomena