MoU for Plantation of Rudraksh Trees; CTBTO Offers India Observer Status – Current Affairs
Project aims at planting 10,000 Rudraksh trees in the Ganga Basin area in Uttarakhand in association with the local community.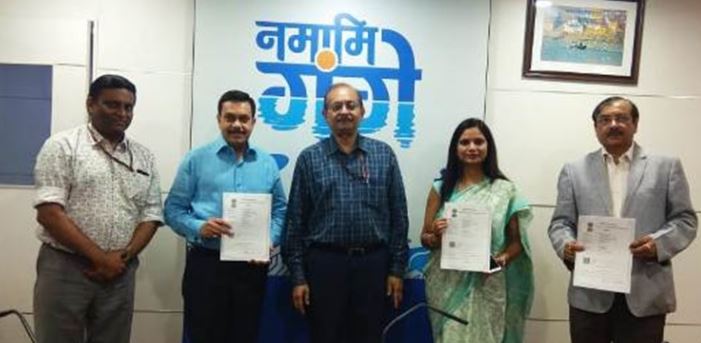 MoU signed for Plantation of 10,000 Rudraksh Trees
Story 1: MoU signed for Plantation of 10,000 Rudraksh Trees in Uttarakhand
To create a greener ecosystem in Ganga Basin National Mission for Clean Ganga has signed a Memorandum of Understanding (MoU) with HCL Foundation and INTACH. Its objective is to undertaking project of Plantation of Rudraksh Trees in Uttrakhand. It is a CSR initiative under Namani Gange Programme.
It was signed in the presence of NMCG Director General Rajiv Ranjan Mishra, Executive Director (Projects) G. Ashok Kumar and other officials from HCL Foundation, INTACH and NMCG.
Key Highlights
• Project aims at planting 10,000 Rudraksh trees in the Ganga Basin area in Uttarakhand in association with the local community.
• This project will also address the issue of unemployment as locals will get work in this project.
• Namami Gange Mission project will give inclusive and sustainable solutions for a cleaner ecosystem along the stream of 97 towns and 4,465 villages on the Ganga stem.
About Rudraksh Tree
• Elaeocarpus ganitrus or Rudraksh Tree is a large evergreen tree. It has broad-leaves whose seed is traditionally used for prayer beads in Hinduism and Buddhism.
• Seeds of this tree are known as Rudraksh. It can be produced by several species of Elaeocarpus. But E. Ganitrus is most popular species which is used in the making of organic jewellery or mala.
• Rudraksh tree develops the fruit in three to four years. It is mainly found in Gangetic plain, foothills of Himalyas, Nepal, Indonesia etc.
Namami Gange Mission
Namami Gange, is an Integrated Conservation Mission, approved as 'Flagship Programme' by the Union Government in June 2014 with budget outlay of Rs.20,000 Crore to accomplish the twin objectives of effective abatement of pollution, conservation and rejuvenation of National River Ganga.
Focus areas of Namani Gange Programme are:
• Sewerage Treatment Infrastructure
• River-Surface Cleaning
• Afforestation
• Industrial Effluent Monitoring
• River-Front Development
• Bio-Diversity
• Public Awareness
• Ganga Gram
Liked the article? Do watch our videos too!
Story 2: Nuclear Test Ban Body CTBT Offers India Observer Status
India's growing influence at international level can be understood from this point that the Comprehensive Nuclear-Test-Ban Treaty Organisation (CTBTO) has recently invited India to become an 'observer' in its meetings.
The executive secretary of the Comprehensive Test Ban Treaty Organization (CTBTO), Lassina Zerbo, has invited India to be an observer in the CTBT.
Benefits
• India will get rights to data from the International Monitoring System - IMS, also to a network that includes 337 facilities (321 monitoring stations and 16 radionuclide labs) located in 89 countries.
• This is an advance system that can be detected even small nuclear explosions using seismology, hydro-acoustics, infrasound and radionuclide technology.
• India will be able to access information of its neighbouring countries and their nuclear initiatives.
About CTBT
• The Comprehensive Nuclear-Test-Ban Treaty (CTBT) is an international treaty that is banning all nuclear explosions - everywhere, by everyone.
• The Treaty was negotiated at the Conference on Disarmament in Geneva and adopted by the United Nations General Assembly. It opened for signature on 24 September 1996.
• Since then 182 countries have signed the Treaty.
• Last country to do so was Trinidad and Tobago on 8 October 2009 which also ratified the Treaty on 26 May 2010.
• Total 154 countries have ratified the Treaty – most recently Ghana on 14 June 2011.
Importance of CTBT
It is believed that CTBT is the last barrier on the way to develop nuclear weapons. It curbs the development of new nuclear weapons and the improvement of existing nuclear weapon designs. When the Treaty enters into force it provides a legally binding norm against nuclear testing. The Treaty also helps prevent human suffering and environmental damages caused by nuclear testing.
Difference between Sign and Ratify CTBT
Signature: The signature to a treaty indicates that the country accepts the treaty. It commits not to take any actions that would undermine the treaty's purposes. A treaty is signed by a senior representative of a country such as the president or the foreign minister.
Ratification: The ratification symbolizes the official sanction of a treaty to make it legally binding for the government of a country. This process involves the treaty's adoption by the legislature of a country such as the parliament.
Download our Current Affairs& GK app from Play Store/For Latest Current Affairs & GK, Click here