NASA researchers found evidence of water on Ultima Thule Surface
Ultima Thule is 4 billion miles from Earth and has captured scientists' curiosity since they discovered it had a snowman-like appearance.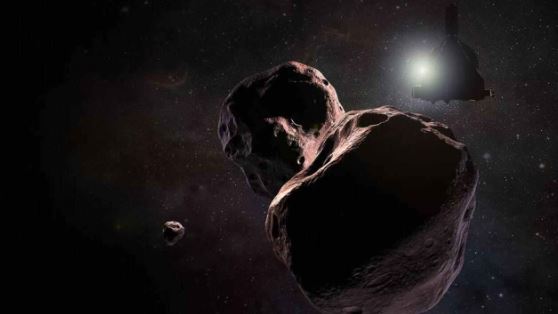 Image: NASA
NASA has recently discovered evidences of water, ice and organic molecules on Ultima Thule's surface. NASA has published the first profile of Ultima Thule revealing details about the complex space object.
On Ultima Thule researchers are investigating on features like bright spots and patches, craters and pits, hills and troughs on it. NASA's New Horizons spacecraft discovered Kuiper Belt object 2014 MU69, nicknamed Ultima Thule early this year.
About Ultima Thule
• Ultima Thule is 4 billion miles from Earth and has captured scientists' curiosity since they discovered it had a snowman-like appearance.
• NASA's New Horizons spacecraft flew past the icy object nicknamed Ultima Thule in Kuiper belt.
• Ultima Thule is deep within the so-called Kuiper Belt, or Twilight Zone, well beyond the orbit of Neptune.
• It is a contact binary, with two distinctly differently shaped lobes. It consists of a large, strangely flat lobe nicknamed "Ultima" connected to a smaller, somewhat rounder lobe dubbed "Thule" at a juncture.
• The lobes likely once orbited each other until some process brought them together in what scientists have shown to be a "gentle" merger.
• The alignment of the axes of Ultima and Thule indicates that before the merger the two lobes must have become tidally locked, meaning that the same sides always faced each other as they orbited around the same point.
Ultima Thule's Colour: NASA researchers found that Ultima Thule has reddish in colour and is considered to be the reddest outer solar system object ever visited by spacecraft. Researchers believe the organic molecules on the surface have contributed to its vibrant colour.
Liked the article? Do watch our videos too!
Other investigations: New Horizons researchers are also investigating a range of surface features on Ultima Thule.The largest depression is a 5-mile-wide (8-kilometer-wide) feature the team has nicknamed Maryland crater – which likely formed from an impact. Some smaller pits on the Kuiper Belt object, however, may have been created by material falling into underground spaces, or due to exotic ices going from a solid to a gas (called sublimation) and leaving pits in its place.
About New Horizons
• The New Horizons spacecraft is now 4.1 billion miles (6.6 billion kilometers) from Earth, operating normally and speeding deeper into the Kuiper Belt at nearly 33,000 miles (53,000 kilometers) per hour.
• New Horizons launched on January 19, 2006 and conducted a six-month-long reconnaissance flyby study of Pluto and its moons in summer 2015.
• The goal of the mission is to understand the formation of the Plutonian system, the Kuiper belt, and the transformation of the early Solar System.
• The spacecraft collected data on the atmospheres, surfaces, interiors, and environments of Pluto and its moons. It is also studying other objects in the Kuiper belt.