Pakistan suspends all bilateral trade with India over Kashmir; know its impact on India
Pakistan's Prime Minister Imran Khan chaired a crucial meeting of the National Security Committee (NSC).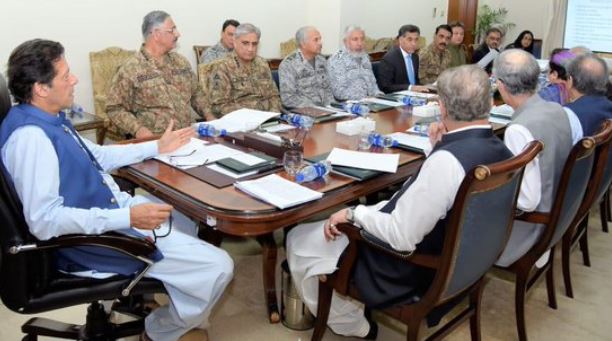 Image Source: twitter.com/pid_gov
Pakistan announced a five-point plan that included suspension of bilateral trade in response to the Indian government's move to end special status for Jammu and Kashmir. Pakistan has also expelled the Indian envoy, Ajay Bisaria, in Islamabad.
The decision was taken after Pakistan's Prime Minister Imran Khan held a crucial meeting of the National Security Committee (NSC), attended by top civil and military leadership. It was decided in the meeting that Pakistan will suspend the bilateral trade and review the "bilateral arrangements" with India.
Major Highlights
• It was decided in the meeting that Pakistani ambassadors will no longer be in New Delhi and their counterparts in Pakistan will also be sent back.
• It was mentioned in a statement released by Govt. of Pakistan that the committee decided to downgrade of diplomatic relations with India and suspension of bilateral trade with India.
• Pakistan government has also decided to raise the issue in the United Nations including its Security Council.
• Pakistan Prime Minister Imran Khan asked armed forces of Pakistan to remain vigilant.
• As per the media reports, Pakistan decided to celebrate August 15 as a black day, however, August 14 is Pakistan's Independence Day.
Impact on India
Pakistan's decision to suspend trade relations with India would hardly impact India. According to the reports, the move will have minimal impact on India's overall trade scenario. A key reason for the nominal impact of trade suspension on the Indian economy is that a large part of the trade between the countries takes place through informal route.
According to the recent report released by the Indian Council for Research on International Economic Relations (ICRIER), the total exports from India to Pakistan in the financial year 2018-2019 was around USD 2 billion. But the latest data of informal exports as per the ICRIER report which goes back to 2012-13, was USD 3.9 billion, nearly twice the current value of formal exports.
Background
Government of India revoked Article 370 recently to withdraw the special status given to Jammu and Kashmir and bifurcated the state into two Union Territories, Jammu and Kashmir, and Ladakh. Apart from Pakistan, China also expressed its concerns over naming Ladakh a separate Union Territory.
Also Read | Abhinandan Varthaman and Balakot pilots to get top military honours