President gives away National Safety Awards (Mines) for the years 2013 & 2014
The award for each mine was received jointly by one management representative and one workers' representative.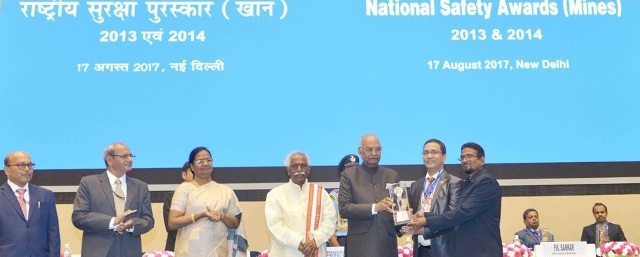 President gives away National Safety Awards (Mines) for the years 2013 & 2014
President Ram Nath Kovind on 17 August 2017 presented the National Safety Awards (Mines) for the years 2013 and 2014. The awards were given away at a function held at Vigyan Bhavan in New Delhi.
In all, there were 37 Winner prizes and 34 Runner-up prizes which were given away to the winning mines in the award function organized by the Ministry of Labour and Employment.
The awards were given in different categories to different organisations. Few of them includesCoal Mines – Belowground with difficult mining conditions (winner Jamadoba Tata Steel Ltd.), Coal Mines – Belowground (others) (winner Parbelia Colliery Eastern Coalfields Ltd) and Metal Mines – Mechanised Opencast (winner Bhimtanagar Sukinda Chromite Mine Tata Steel Ltd) among others.
Here is the list of the winners of the National Safety Awards (Mines)

Speaking on the occasion, President Kovind said that India is endowed with an impressive mineral wealth and at present, the mineral sector contributes 2.6 per cent of our national GDP. He also added that the sector provides direct employment to over one million people on a daily average basis and helps the lives of their families.
In addition, the President said that in recent decades, the Indian mining industry has progressed appreciably in production and productivity through intensive mechanisation and adoption of new technology.
The President said that he was confident that the National Safety Awards in Mines will continue to be an excellent motivator for upholding safety and welfare standards in the mines of our country. The safety practices of the award winning mines from today's event should be case studies for students of mining engineering and management. Students should also visit such mines as part of their familiarisation programmes.
About National Safety Awards (Mines)

The National Safety Awards (Mines) was launched by the Union Ministry of Labour in the year 1982-83. The awards were launched to recognize and encourage any notable and exemplary performance for prevention of accidents in mines.
These awards were given away for the first time in the year 1984 for the contest years 1982 & 1983 and thereafter, regularly every year.
For the purpose of the contest for National Safety Awards (Mines), all mines have been divided into 7 different groups depending upon the type of mineral and nature of workings. The indicators of safety performance for determining the eligibility of these awards are:
• Longest accident-free period (LAFP) in terms of man shifts worked during three consecutive years ending with the contest year
• Lowest injury frequency rate (LIFR) during three consecutive years ending with the contest year
(Source: PIB)