Radar imaging satellite RISAT-2B; NITI Aayog proposal for AI push - Current Affairs
RISAT-2B launched successfully by ISRO from Sathish Dhawan Space Centre SHAR, Sriharikottah.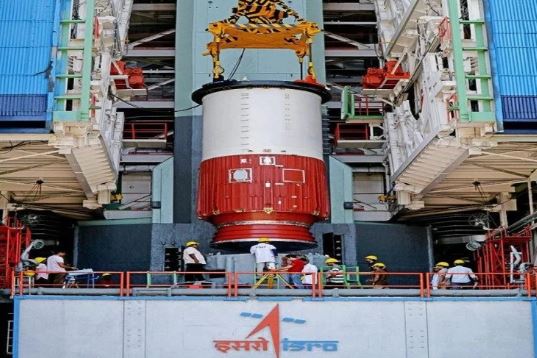 India to launch radar imaging satellite RISAT-2B
Story 1: ISRO successfully launched radar imaging satellite RISAT-2B
Indian Space Research Organisation (ISRO) successfully launched its radar imaging satellite RISAT-2B on May 22, 2019. It is radar imaging earth observation satellite. To launch this satellite ISRO used launch vehicle PSLV-C46 from Sriharikota.
Launch was taken place from first launch pad and the 300 kg RISAT-2B was placed into an orbit of 555 km with an inclination of 37 degree to the equator. This is the fourth flight unit of the RISAT programme and it would be used for reconnaissance, strategic surveillance and disaster management.
RISAT-2B Features
• The satellite has a mass of 615 kg and feature an X-band SAR (Synthetic Aperture Radar). It is built for a 5 year operational life.
• RISAT 2B will be launched into a 37° inclined orbit at 555 km orbital height.
• RISAT 2B, RISAT 2BR1 and RISAT 2BR2 will be launched in 2019 on Indian PSLV launch vehicles.
Benefits
• Regular remote-sensing or optical imaging satellites work like a light-dependent camera that cannot perceive hidden or surreptitious objects in cloudy or dark conditions.
• Satellites that are equipped with an active sensor, the synthetic aperture radar (SAR), can sense or 'observe' Earth in a special way from space day and night, rain or cloud.
• A radar imaging satellite is complex to assemble. Interpreting its images is equally complex.
• It will mark the resumption of a vital ring of Indian all-seeing radar imaging satellites after seven years.
• It will add to the reconnaissance capability from about 500 km in space. A constellation of such space-based radars means a comprehensive vigil over the country.
Liked the article? Do watch our videos too!
Story 2: Niti Aayog plans Artificial Intelligence push with Rs 7500 cr proposal
The National Institution for Transforming India (NITI Aayog) proposed a Rs. 7500 crore plan to give a strong push to Artificial Intelligence in India. This fund will help to create a new cloud platform and to build new research institutes. NITI Aayog requested cabinet Government to invest Rs. 7,500 crore initially over a three year period and set up a high level task force to oversee its roll-out and implementation.
This whole mission will be monitored by a task force. This task force will be headed by a member of NITI Aayog. However, representation from all ministries and states, experts will also be there in task force.
Major Highlights
• NITI Aayog's plan includes investments in 20 ICTAI, 5 CORE, and setting up of AIRAWAT for increasing AI technology in the country.
• High level task force will be set up to monitor implementation.
• Education, healthcare, agriculture, urbanisation and mobility will be the major sectors where artificial intelligence will work.
• According to the NITI Aayog proposal five research centers and 20 AI adoption centres are planned.
• As per the proposal, if implemented, it can add USD 957 billion to India's GDP by year 2035.
• Also, India's annual growth can go up by 1.3% by 2035.
About CORE and ICTAI
International centres for transformational Artificial Intelligence (ICTAI) and Centre of Research Excellence (CORE) are part of the two-tier AI development plan proposed by NITI Aayog in its 2018 discussion paper. It was titled 'National Strategy for Artificial Intelligence'. CORE centres were proposed to focus on pushing technology frontiers through creation of new knowledge. While, the International Centres of Transformational AI (ICTAI) were given a mandate to develop and deploy application-based research.
Download our Current Affairs& GK app from Play Store/For Latest Current Affairs & GK, Click here