These Bollywood celebrities have not yet congratulated PM Modi on his win
While many big celebrities came forward to congratulate PM Modi on his landslide win, these celebs notably stayed silent.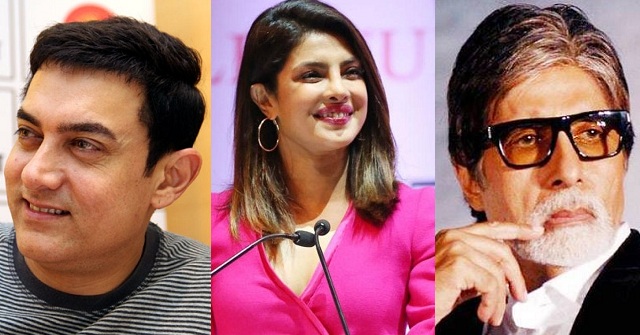 These Bollywood celebrities have not yet congratulated PM Modi on his win
As the news of Narendra Modi's impending victory in the Lok Sabha General Elections 2019 came in, the bigwigs of Bollywood wasted no second in congratulating PM Modi and his party.

From Salman Khan, Shahrukh Khan, Akshay Kumar, Ajay Devgan, Dharmendra, Abhishek Bachchan, Karan Johar to south stars such as Rajnikanth and Mohanlal, all took to social media to wish Modi on his landmark mandate, regardless of who they were rooting for during the election period.

Following the declaration of the complete results of the Lok Sabha elections, in which the BJP came out as the clear winner, PM Modi replied back to the celebs, thanking them for their congratulatory messages.

However, the absence of congratulatory messages from some big celebrity names is noteworthy.

Following are ten celebs who have not yet wished PM Modi:

1. Aamir Khan

Ever since Narendra Modi-led NDA took the helm of the government in 2014, Aamir Khan has had a good relationship with the Prime Minister. He had even supported Modi's demonetization decision. PM Modi had in fact, tweeted to both Salman and Aamir with reference to their blockbuster film, saying "It is time to inspire and motivate youth in your own Andaz to vote so that we can strengthen Apna Democracy & Apna country."

Aamir Khan had responded with a tweet saying, "Absolutely right sir, Hon PM. Let us all engage as citizens of the biggest democracy in the world. Let us fulfill our responsibility, and avail of our right to get our voice heard. Vote!"

Yet, the actor for unknown reasons has not yet congratulated PM Modi on his big win.
2. Amitabh Bachchan

PM Modi had also tweeted to Amitabh Bachchan prior to the election campaigning, urging him along with Shahrukh Khan and Karan Johar to creatively ensure high voter awareness and participation in the Lok Sabha Elections 2019. Amitabh Bachchan has previously been the brand ambassador of Modi-led NDA Government's 'Incredible India' campaign.

The Senior Bachchan has also failed to congratulate the Prime Minister on his second innings for unknown reasons.
3. Ranveer Singh

Ranveer Singh, who had earlier this year posted a picture of him hugging the Prime Minister with a caption that read– "Jaadoo ki Jhappi! Joy to meet the Honourable Prime Minister of our great nation" has also for unknown reasons missed out on wishing the Prime Minister on his election victory.

Ranveer Singh was a part of the Bollywood delegation that had met up with PM Modi in Delhi in January to discuss various issues faced by the fraternity.
4. Priyanka Chopra

Priyanka Chopra, the national and global UNICEF Goodwill Ambassador for Child Rights was on an official visit to Ethiopia when the election results were announced. This perhaps could be a reason why the actress missed out of wishing Narendra Modi on his second term.

PM Modi had attended the Priyanka Chopra and Nick Jonas' wedding reception in Delhi in December 2018.
5. Mahesh Bhatt

Mahesh Bhatt, who has been openly critical of Narendra Modi and his Hindu nationalist ideas, also notably stayed silent on Modi's win in the current elections.

In fact, after the final result was declared, he tweeted a picture with a caption that read, "Aisse Dastoor Ko Subhae Beynoor Ko, Mein Nahin Maanta, Mein Nahin Jaanta" - Modi has unleashed dangerous Hindu nationalist ideas. They'll only get stronger with a second term."
6. Javed Akhtar

Javed Akhtar is another B-towner who has been an open critic of Narendra Modi, throughout the election campaign. He also markedly opted out of wishing PM Modi on his win.
7. Farhan Akhtar

In contrast to his parents, Farhan Akhtar has been quite vocal of his support for Prime Minister Narendra Modi and his initiatives. He had even backed demonetization, calling it a super move by Modi government in war against black money. Yet, the actor has not yet congratulated the Prime Minister.
8. Sonakshi Sinha

Sonakshi Sinha, whose father Shatrughan Sinha left BJP for Congress in the recent elections also noticeably did not wish PM Modi on his victory.
9. Deepika Padukone
Actress Deepika also failed to wish the Prime Minister for unknown reasons.
10. Alia Bhatt

Alia Bhatt, who was a part of the Bollywood delegation that met the Prime Minister in January, also missed out on wishing the Prime Minister on his win.