Top 5 Current Affairs: 22 August 2017
The bench that pronounced the judgement on Triple Talaq issue comprised judges from different religious communities -- Sikh, Christian, Parsi, Hindu and Muslim.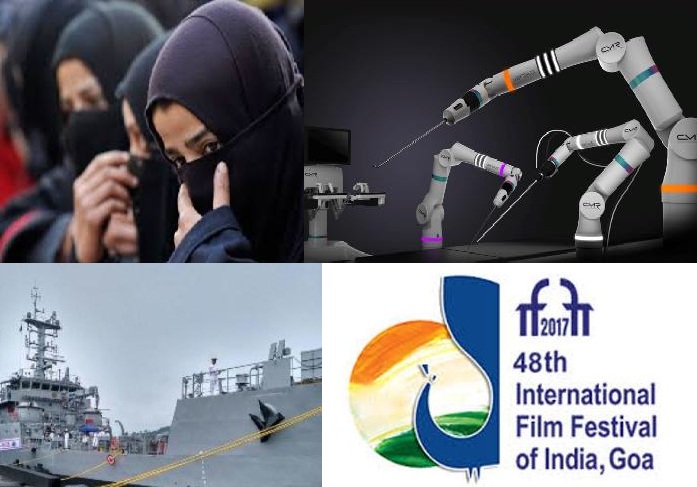 Top 5 Current Affairs: 22 August 2017
SC declares triple talaq as unconstitutional & illegal
Supreme Court on 22 August 2017 set aside the practice of divorce through triple talaq among Muslims, terming it unconstitutional, illegal and void. In a 3:2 majority judgment, the apex court held that triple talaq is against the basic tenets of Quran and hence unacceptable.
The three judges also said the triple talaq is manifestly arbitrary and violative of the Constitution and must be struck down.
While Justices Kurian Joseph, RF Nariman and UU Lalit held triple talaq as violative of the Constitution, Chief Justice JS Khehar and Justice S Abdul Nazeer were in favour of putting on hold for six months the practice and asking the government to come out with a law.

Navy inducts landing craft utility ship
The Indian Navy on 21 August 2017 inducted a landing craft utility ship, LCU L52. The ship will be deployed for a variety of activities including transporting battle tanks and other heavy weapons systems.
The ship - LCU L52 - was commissioned by Lt Governor of Andaman and Nicobar Islands Jagdish Mukhi at an event in Port Blair. The Navy said in a statement in New Delhi that LCU L52 is the second Landing Craft Utility (LCU) Mk-IV class to be inducted into the Indian Navy.

40-member panel named to select films for IFFI
The Information and Broadcasting (I&B) Ministry on 21 August 2017 constituted a 40-member 'preview committee' with filmmaker Vivek Agnihotri as its convenor to select movies for the international film festival at Goa.
An official statement in New Delhi said other members of the new committee include Agnihotri's wife and actress Pallavi Joshi, author and Padma Shri-awardee Narendra Kohli and actress Hrishitaa Bhatt. Film editor Aarti Bajaj, film critic and screenwriter Khalid Mohamed, and film director Aniruddha Roy Chowdhury are among the other members of the newly-constituted committee.

British scientists create world's smallest surgical robot named Versius
World's smallest surgical robot named Versius has been developed. Developed by British scientists, Versius can transform everyday operations for tens of thousands of patients.
The robot was developed by a team of 100 scientists and engineers using low-cost technology originally developed for mobile phones and space industries. Versius is controlled by a surgeon at a console guided by a 3D screen in the operating theatre.

K Chandrashekhar Rao selected for Global Agriculture Leadership Award 2017
K Chandrashekhar Rao, the Chief Minister of Telangana, was selected for the prestigious Global Agriculture Leadership Award 2017 by the Indian Council of Food and Agriculture (ICFA) on 21 August 2017.
He was selected for the award for his innovative services rendered to the welfare of farmers and the farm sector. Rao launched various initiatives for the welfare of farmers in the state such as providing free power to farmers, waving off 1 lakh loan of every farmer, supplying fertilizers in time and announced to credit 4000 per acre per crop to every farmer.