Top 5 Current Affairs: 25 August 2017
Odisha's rooftop solar programme aims at harnessing renewable solar capacity through people's participation to further strengthen the grid and reduce power losses in the state, benefiting the public.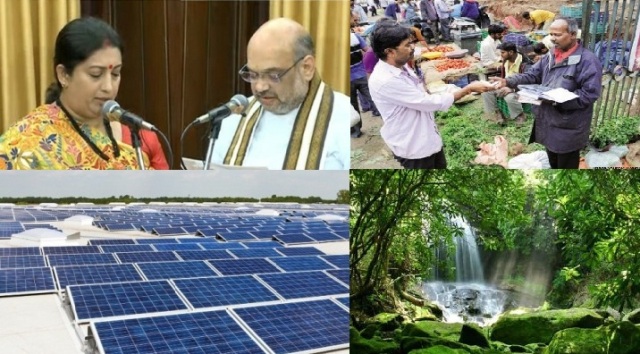 Top 5 Current Affairs: 25 August 2017
Amit Shah, Smriti Irani takes oath as Rajya Sabha members
BJP President Amit Shah and Information and Broadcasting Minister Smriti Irani took oath as Rajya Sabha members on 25 August 2017.
Chairman M Venkaiah Naidu administered the oath office to both the leaders at his chamber in Parliament House. They have been elected from Gujarat. This is Shah's first stint as a Parliamentarian.

Microsoft India to develop 'farm price forecasting model' for Karnataka farmers
The Agriculture Department of Karnataka and software giant Microsoft India have signed a Memorandum of Understanding (MoU) to develop a unique 'farm price forecasting model'.
The first-of-its-kind initiative will use the latest IT tools to aid farmers, administrators and other stakeholders to understand the market behaviour in advance. The move will enable the farmers of Karnataka, who struggle with the market's unpredictability, to be more prepared. The project will be supervised by the Karnataka Agriculture Prices Commission (KAPC).

Odisha CM Naveen Patnaik launches rooftop solar programme
Naveen Patnaik, the Chief Minister of Odisha, has launched a grid-connected rooftop solar programme through a net-metering system at the State Secretariat in the capital city of Bhubaneswar. The Chief Minister also launched an online web portal of the programme.
The solar programme will be implemented by Odisha Renewable Energy Development Agency (OREDA).

Brazil opens Amazon national reserve for mining
The Government of Brazil has abolished a vast national reserve in the Amazon to open up the area to mining. The area covers 46000 sq km and straddles the northern states of Amapa and Para. The area is believed to be rich in gold, zinc, phosphate, manganese and other minerals.
The government went on to state that nine conservation and indigenous land areas within it would, however, continue to be legally protected.
Aadhaar-PAN linkage to continue: UIDAI CEO
Linking of Permanent Account Number (PAN) with biometric identifier Aadhaar will continue as previously directed and so will be the quoting of the 12-digit Aadhaar number for availing various government subsidies.
UIDAI CEO Ajay Bhushan Pandey said this after the Supreme Court verdict holding privacy as a fundamental right. He said the verdict, in no way, stops quoting of Aadhaar for various schemes as well as filing of income tax returns.