World Kidney Day 2019: The Burden of Chronic Kidney Diseases
The World Kidney Day is observed annually on the second Thursday of March. It is a joint initiative of the International Society of Nephrology (ISN) and the International Federation of Kidney Foundations (IFKF).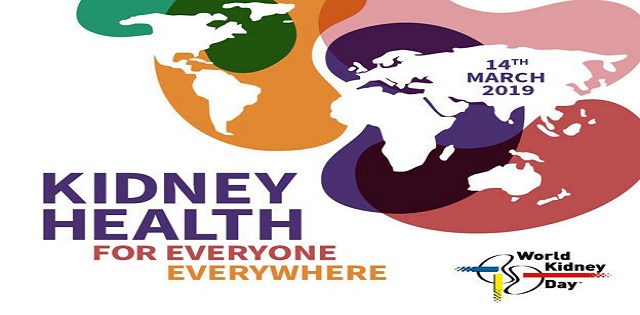 World Kidney Day 2019: The Burden of Chronic Kidney Diseases
Second Thursday of March: World Kidney Day

The World Kidney Day 2019 was observed on March 14, 2019, the second Thursday of March, with an aim to raise awareness of the importance of our kidneys.
Theme 2019
The theme of World Kidney Day 2019 was "Kidney Health for Everyone Everywhere".
The theme calls for Universal Health Coverage (UHC) for prevention and early treatment of kidney disease. The ultimate goal of a UHC policy is to promote population health by ensuring universal, sustainable and equitable access to essential healthcare of high quality.
The Day is observed all across the world with hundred events taking place from public screenings in Argentina to Zumba marathons in Malaysia.

The Day is just an awareness campaign that aims to create awareness about preventive behaviors, about risk factors, and about how to live with a kidney disease.

The Burden of Chronic Kidney Diseases

• Globally, 850 million people are estimated to have kidney diseases from various causes.

• Chronic kidney diseases (CKD) cause at least 2.4 million deaths per year and are now the 6th fastest growing cause of death.

• Acute Kidney Injury (AKI) is an important driver of chronic kidney diseases that affects over 13 million people worldwide and 85 percent of these cases are found in low and middle-income countries (LMICs).

• Around 1.7 people are estimated to die annually because of Acute kidney injury.

• CKD and AKI together are important contributors to other diseases and risk factors including cardiovascular disease, diabetes, hypertension, obesity, as well as infections such as HIV, malaria, tuberculosis and hepatitis.

• In children, the CKD and AKI not only lead to extensive mortality during childhood but also result in medical issues beyond childhood.
What is a Chronic Kidney Disease?
The Chronic Kidney Disease (CKD) is a progressive loss in kidney function over a period of months or years.
Every human possesses two kidneys and each of the kidneys has about a million tiny filters called 'nephrons'. If nephrons are damaged, they stop working, thus leading to kidney failure.
Boerhavia Diffusa : A herb for decaying kidneys

The Boerhavia Diffusa (BD) is a plant herb, as per ayurvedic claims, that possesses antiaging, disease prevention, and life strengthening traits.

Commonly found in tropical forests, wastelands and agricultural fields as a weed, the herb relieves one from the back pain that occurs in the cases of kidney stones.

World Kidney Day

• The World Kidney Day is observed annually on the second Thursday of March.

• It is a joint initiative of the International Society of Nephrology (ISN) and the International Federation of Kidney Foundations (IFKF).

• The International Society of Nephrology (ISN) is a not-for-profit society dedicated to advancing the diagnosis, treatment, and prevention of kidney diseases in 126 countries.

• The IFKF, a not-for-profit federation founded in 1999, has membership of over 60 kidney foundations and patient groups in over 40 countries. IFKF advocates improving the health, well-being and quality of life of people with kidney disease.

Source: worldkidneyday.org