Google Doodle Today on Coronavirus: Stay Home and Save Lives
Google Doodle on Wednesday dedicated a special doodle on Coronavirus or COVID-19. On hovering the doodle, it reads 'Stay Home. Save Lives: Help Stop Coronavirus'.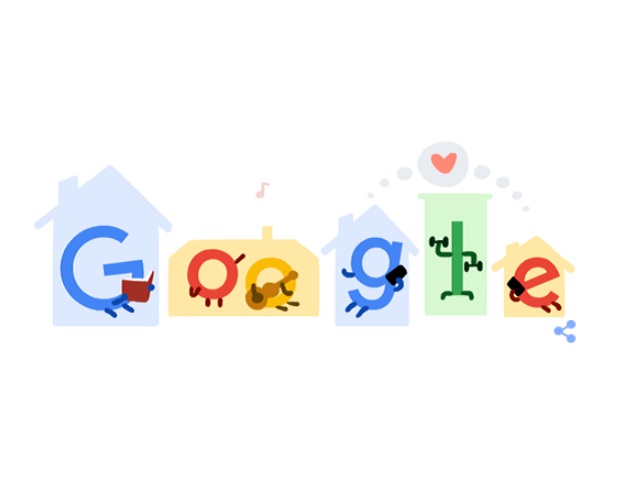 Google Doodle Today on Coronavirus
Google Doodle on Wednesday dedicated a special doodle on Coronavirus or COVID-19. On hovering the doodle, it reads 'Stay Home. Save Lives: Help Stop Coronavirus'. The doodle consists of a home shaped theme where alphabets represent human beings staying at home and doing various activities such as reading, playing musical instruments, physical activities, etc.
Thank You Coronavirus helpers: Google Doodle thanked all the frontline workers on 18th April
Upon clicking on the google doodle, you will be redirected to a new page to contain the spread of the highly contagious coronavirus. The tips are as follows:
1- Clean your hands often. Use soap and water, or an alcohol-based hand rub.
2- Maintain a safe distance from anyone who is coughing or sneezing.
3- Don't touch your eyes, nose or mouth.
4- Cover your nose and mouth with your bent elbow or a tissue when you cough or sneeze.
5- Stay home if you feel unwell.
6- If you have a fever, a cough, and difficulty breathing, seek medical attention. Call in advance.
7- Follow the directions of your local health authority.
It further appealed to avoid unneeded visits to medical facilities and allow healthcare systems to operate more effectively.
The page has several sections on the left-hand side of the page-- Overview, Symptoms, Prevention, Treatments and Statistics.
COVID-19: Overview
Clicking on the overview section, you will land on a page with top stories and WHO website on the COVID-19 pandemic.
COVID-19: Symptoms
The symptoms button will take you to another page stating the common symptoms that most people infected from COVID-19 experience:
Common symptoms include fever, tiredness and dry cough. People infected with COVID-19 may also experience aches and pains, nasal congestion, runny nose, sore throat and diarrhoea.
On an average, it takes 5-6 days for COVID-19 symptoms to show and may take up to 14 days in some people.
People will mild symptoms must self-isolate themselves and seek medical attention if they experience fever, cough and difficulty in breathing.
COVID-19: Prevention
In addition to the above-mentioned tips, you will also see an announcement by the Ministry of Health and Family Welfare, Government of India. The announcement reads:
Stay Home. Stay Lives. Help Stop Coronavirus.
1- STAY home.
2- KEEP a safe distance.
3- WASH hands often.
4- COVER your cough.
5- SICK? Call the helpline.
COVID-19: Treatments
This sections stated that there's no specific vaccines or medicines for COVID-19. Till then, people can practise self-care tips below:
1- If a person feels sicks, he must take rest, drink plenty of fluid, and eat nutritious food. He must stay in a separate room from other family members, and use a dedicated bathroom if possible. The surfaces that are touched frequently must be cleaned and disinfected.
2- Everyone must maintain a healthy diet, sleep, stay active, and make social contact with loved ones through the phone or over the internet. Children need extra love and attention from adults during difficult times. Keep to regular routines and schedules as much as possible.
3- It is normal to feel sad, stressed, or confused during a crisis. Talk to people you trust-- friends and family.
COVID-19: Statistics
It is the last section and shows the stats of the people infected in your country first and you can always switch to worldwide cases.
Many parts of the world are under complete lockdown to contain the spread of the disease and the scientists and researcher around the globe are working hard to make a vaccine for the deadly virus. In addition to this, let us not forget the Coronavirus helpers-- doctors, nurses, farmers, etc. who are working on the frontlines amidst the COVID-19.
COVID-19 Map: List of all the countries in the world affected by Coronavirus pandemic