7 useful websites for college students
There is no denying the fact that college life is difficult for students who have just come out of school where everything was planned and there was no additional burden like that of balancing the new independent life with academics and extracurricular activities.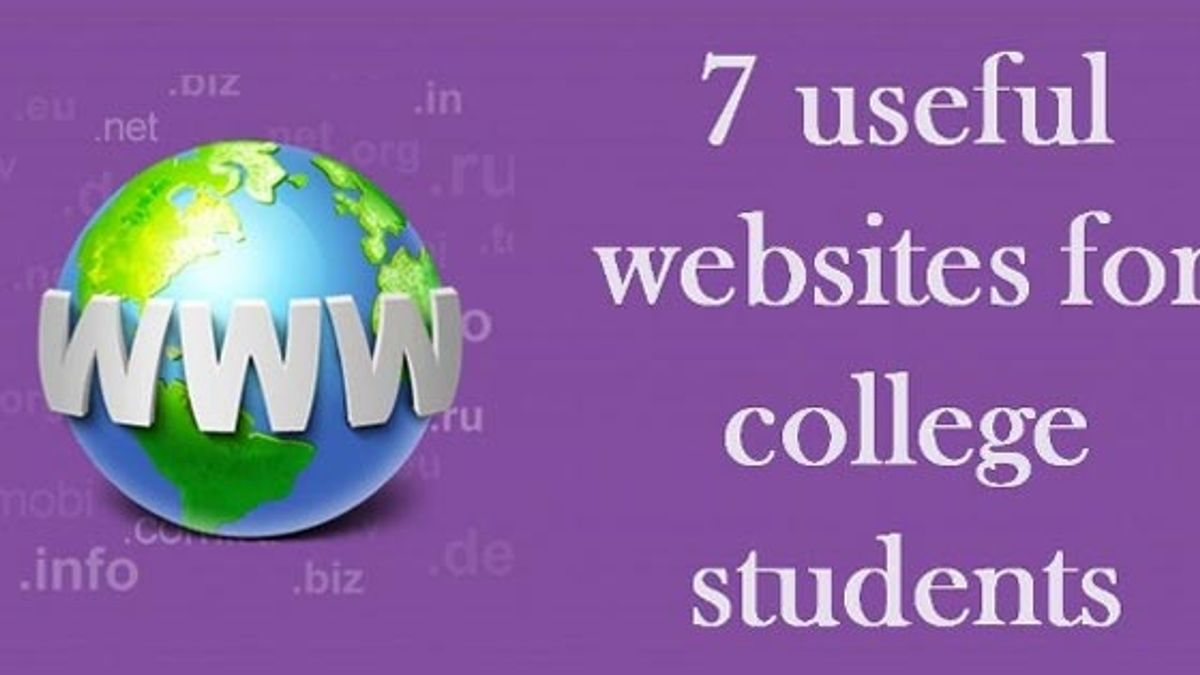 7 useful websites for college students
Introduction
Thankfully, there are apps and websites which help the students with everything ranging from relationships to studies and household chores. All the assistance they need is just a click away and easier than ever to avail services.
Here, we are listing 50 such websites which can make your road to graduation smooth:
Edx
Open edX is the 'open-source platform' that where students can take free courses. This website gives the students a chance to study a variety of courses from the some of the best universities in the world, at their own pace. Universities like Harvard, Berkeley, MIT, Princeton and Boston University etc are charter members of edx. Students can take up 1,300+ courses in subjects such as humanities, math, computer science which have seen an enrolment of over 33 Million students.
Wolfram|Alpha
Have you ever just wanted someone to do your homework for you? We are sure there have been many such instances. This website allows the students to get knowledge and answers—not by searching the web, but by doing dynamic computations based on a vast collection of built-in data, algorithms and methods. The makers of the site want 'systematic knowledge' to be available to everyone. There are a lot of categories of subjects and topics for which the website provides help. Some of them are: Art, culture, food, weather and linguistics.
XMind
This website allows you to mind map information for better learning. A mind map is hierarchical and shows relationships among pieces of the whole. It is often created around a single concept, drawn as an image in the center of a blank page, to which associated representations of ideas such as images, words and parts of words are added. Major ideas are connected directly to the central concept, and other ideas branch out from those. It claims to be the 'most popular mind mapping tool in the world' and explains important concepts through diagrams and puts them in presentation form.
TalkTyper
Another evidence of how easy technology can make things. A TalkTyper allows the user to speak into the microphone and converts their speech into text. This is good for those last minute situations when the students need to write some assignment in a hurry. The website also allows you to edit text. This is especially useful for people with physical disabilities like dyslexia or dysgraphia as the user just has to speak and see the words appearing on the screen. From there, the paragraph can be copy and pasted to the desired doc file.
Quetext
Quetext allows you to check if the text in your document is plagiarised or not. This is a highly useful tool for papers you are submitting as doc files as the professor can easily check if you have copied text from the internet or actually written it yourself. It shows you the plagiarism percentage which should be less if you do not want to invite bashing. It also shows you the original source of the text which has directly been copy pasted so that you can go to the required site, read the sentence and make necessary changes.
CamScanner
As the name suggests, this app allows the users scan receipts, notes, invoices, whiteboard discussions, business cards, certificates, etc which can later be converted into docs in PDF or JPEG format. These documents can be easily shared with a group of people or be printed with a nearby printer or directly fax docs to over 30 countries right from the app. The students can also take premium subscription which costs money but has additional features like editing of OCR results and notes of the entire doc, exporting as .txt file, 10G extra cloud space and 40 extra collaborators.
Slack
If you want to communicate with friends and peers but also want to keep it professional and efficient, Slack may be a good website to do that. You can create groups on the platform and also make use of drop boxes to share files with others who are a part of your slack community. It is better than other platforms like Whatsapp and Facebook because it is completely professional and there are comparatively less distractions. The website makes group projects considerably easier.
Conclusion
These are some of the websites which will aid you in your education at college. We might curse technology for bringing in so many distractions for students, which is largely an established fact. However it only makes sense to make use of this technology for our good while we have the luxury to use it.