8 warning signs that suggest you are part of evil work culture at your office
Look for these 8 warning signs in your office which will tell you that you are part of evil work culture that will only hamper your productivity.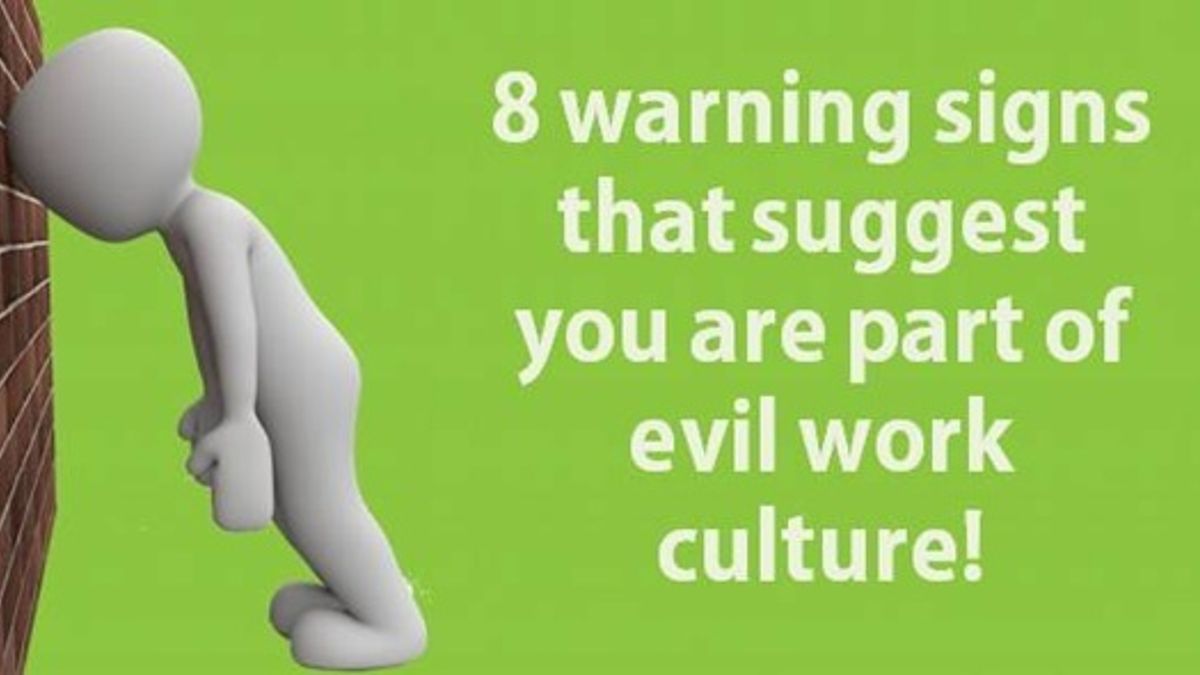 8 signs which suggest you are part of evil work culture
Office is one place where majority of working professionals spend their time. With almost every professional required to put in an 8-9 hour work day, people end up spending a major chunk of 24 hour deadline in their office. And anyone who has been working for a while will tell you that, while working does give you a sense of satisfaction, it is only possible if the work you do and work culture followed at your office is right.
Therefore, new age professionals have cordial work culture among their top priorities while picking the job. But, from afar, all companies and organizations promote themselves as the harbinger of perfect work culture where employees flourish and prosper. But, the reality is far from this. If you also want to identify if you are part of an organization that follows evil work culture, start looking for any of the following signs in your company.
All Sticks no Carrots
When we enter the corporate world, with all the rosy dreams of getting regular appraisal and rewards from the boss and colleagues, these dreams are often shattered by the evil office culture. There will be times that you will slog yourself to achieve the targets and as a matter of fact you would also want to get the recognition for the same because you took extra pains and went an extra mile. But, don't get upset when you get to receive criticism for the work done. Human errors will also be pointed out as major blunders in the work!
All sticks, reprimands, criticism become part and parcel of the job which will eventually demotivate you to work further. When you know that you went beyond your comfort zone to achieve the targets and you still became a victim of tongue-lashings by your boss, you are surely working in an evil environment.
Look out that your organization doesn't follow this approach. If it does then you are surely working in a evil culture.
Bureaucratic Setup
Another outstanding feature that is the forbearer of the evil work culture is 'Bureaucracy'. The quote mentioned below succinctly summaries the mechanism in which bureaucracy pulls down the efficiency of getting the tasks accomplished.
Image source: Cyriel Kortleven
Once you get promoted to managerial level, you will feel handcuffed by this unique feature. The task that might seem simple will take days to get accomplished because a hierarchy is involved in deciding whether to implement this decision or not!
Meanwhile, questions will be put on your efficiency if the project gets delayed and you will be blamed regardless of considering the time taken in seeking approval in the bureaucratic setup. Do not get bogged down by these aspects because this is another to diagnose that you are one among the wicked ones here.
Only Bottomline matters
It cannot be denied that business operates for profit making in the society, but to achieve these profits, employees invest their time and energy! Your organisation might be running in huge profits, but if you find aspects such as employees welfare taking a back-seat then it can be a cause of worry.
Employees in the modern times are not considered as liability but as the assets for the long term survival of the business. When an organization doesn't have policies in place to take care of the needs of the employee's then job turnover and absenteeism becomes a common trend among employees. Seeing other employees being engaged also propels the others to look out for good options because they feel that the current organization is a misfit and will not bother about the growth of the employees however hard they work for them.
Bullies all around
Although it is hard to believe that after graduating from school and colleges when you land up a place which is said to be full of intellectuals, you will face BULLYING! But, yes the fact remains a fact. You can face bullying anywhere! As per a report published by Workplace Bullying Institute, 27% of respondents had current or previous experience with workplace bullying, while 72% were aware of workplace bullying incidents.
It might often seem to some employees that they do not bully, rather it is their working style, but you need to be careful with such people. Take a look at one of the scenarios that you must have encountered or might become a part of:
When you start to feel intimidated, offended, and harassed by your manager and co-workers, do not sit quiet. Blow the whistle in the respective department that takes care of the employee welfare. Bearing a bully while working in the same office makes no sense. It will invigorate negative energy in you and will put down your performance drastically.
Lack of human connect
Looking for help and don't know whom to connect with? This could be another sign for the increasing resentment towards your job. When you have no appropriate person to connect for grievance redressal, it becomes troublesome to work in a place where your see a hazy career growth.
When people and process are in place, it becomes easy to stay with the organization for a long term. But when people and processes are not employee-friendly you might feel alienated at workplace and would often think of switching the job.
Try to connect with the Human Resource department to seek help when you do not whom to reach for a particular issue. You can also rely on your manager when things seem to take a toll on you! Say not to evil vibes at work to the maximum possible extent.
No team work, only internal competition
Do you often witness inefficient use of meeting's time, lack of consistent communication, cold feelings, and staggering differences in opinion at work among your team mates? If these issues are cropping up and are not getting resolved then it is a sign that your team doesn't believe in team work rather is more focused on individualistic performance.
Watch out if you are also suffering from the 'I' or 'ME' syndrome while being a part of TEAM in your organization. As it is not a good omen of a positive working culture!
If internal competition among the team members is bringing down your performance to a stand-still, connect with your manager about the same and try to resolve the issue. It has been said that 'We sail and sink together'. So even if you achieve your targets and the team lags, you won't be able to grow alone!
Zero Work-Life Balance
When was the last time you spent a peaceful Sunday with your family? If it is getting hard to remember then it is time that you analyse the time that you are spending on balancing your work-life. Getting home late and reaching early to meet the deadlines, constantly surrounded with the thoughts of work can often cause anxiety in your life.
If it getting tough to get a break from work to enjoy some time with your family and friends then this is also an alarming sign of evil work environment. You might end up in a situation in which she is stuck in the cartoon below:
Even after taking an off from the work you get constantly troubled by official calls and messages that demands your attention can also spoil your work-life balance. As a result your will always remain stressed due to work life.
Keep Calm
&
Say No to
Evil Vibes