Eyeing a job in your dream company? Here are the tips to crack interview
Do you have few companies in your mind where you want to work? Here are some tips for you to crack job interview.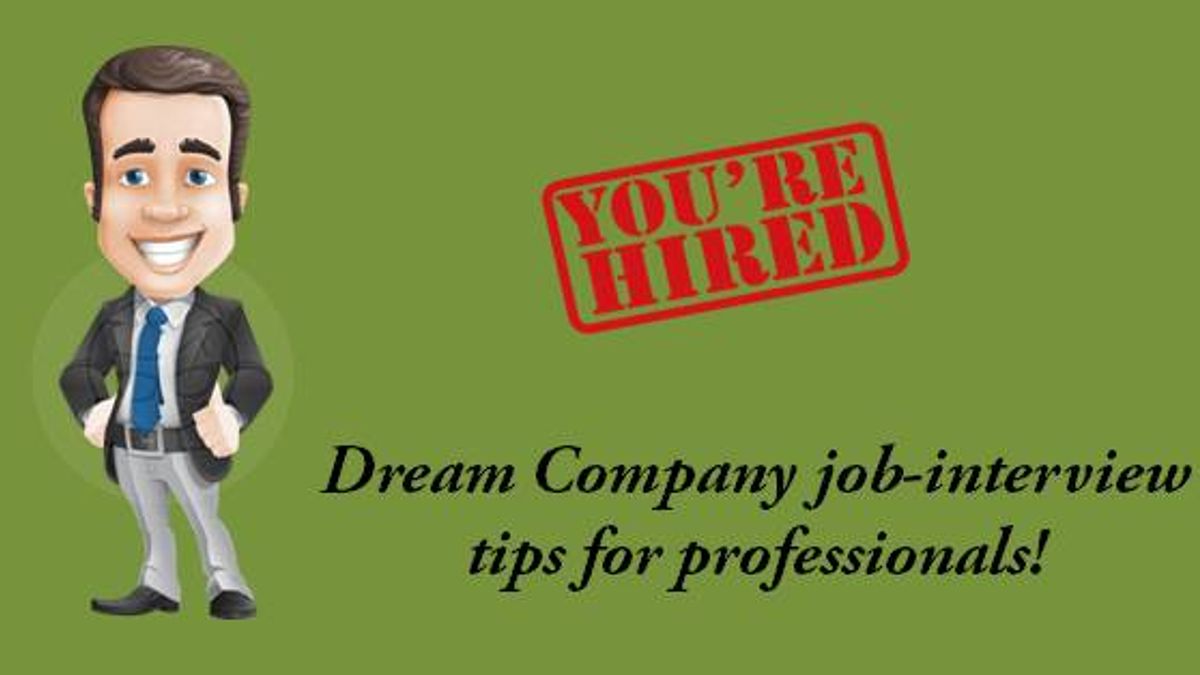 Dream Company job-interview tips for professionals
Confidence is the key to success. One who isn't confident in facing the challenges and problems can't achieve success. At every phase of life, we must try to overcome every challenge with confidence. But, it gets more important to win over them confidently if you're employed in the corporate company and want to get success and growth. So, for success and growth, you need to develop and demonstrate it at work. But, you don't have enough time to spend on just improving your confidence. People around are competing and no doubt are constantly looking for a moment to bypass you. If you don't meet the expectations of the organization where you work, you can lose even the opportunities like salary hike, promotion, and other performance appraisal benefits that you deserve.
So, making efforts to improve performance at work can be the way to develop confidence. For it, there are some tips. About some of them, we have explained in this article. Take a look!
Sit straight
Sitting straight shows how much you're confident and ready to face the new challenges and problems at work. Apart from it, it reflects your preparedness, and positivity about whatever comes to you as a challenge. On another hand, leaning against the chair means either you don't have any interest in the things or, the challenges and problems have worn your enthusiasm down. So, always sit straight on your chair especially when you're at your workplace.
Be attentive
One who loses an opportunity to understand the challenges and problems also loses the way to overcome them. To have an insightful understanding of anything, you need to be attentive and alert while analyzing. If you fail to understand about a problem or a challenge, then you might fail to face them efficiently. And efficiency is something that boosts confidence. So, to boost your confidence, you first need to develop an insightful understanding of the problems and challenges that you face at work. Keeping it in your practice would improve your confidence and efficiency that could lead you to success and growth.
Face your failures, bravely
One, who doesn't have the knack to learn from his mistakes and failures, can never become able to achieve success in his life. And if you're habitual of turning your face from mistakes and failures, then you can never learn anything valuable. To learn great lessons of success, you first need to face your mistakes and failures bravely, and then, to overcome all of them. You will begin to feel confident in facing the new challenges and problems at work once you succeed in making your performance error-free and result-gaining. It is a simple and easy going way to success and growth. So, don't turn your face from your failures, shortcomings, and other personality traits that you lack. Instead, face and overcome them. It would boost your confidence at work.
Embrace challenges and risks
Do you fear to take risks and face challenges at work? If yes, then forget about the position that you have been dreaming to achieve for a long time. Generally, the management of the corporate companies offers promotions only to those who are efficient and confident in facing new challenges at work. Though, taking risks and facing new challenges may sometimes cost you a lot but could add new skills, knowledge, and expertise in your work profile. Learning new skills and gaining more knowledge is the only thing that can enrich your experience and improve your confidence. So, get out of your comfort zone and begin to face new challenges and problems at work. It would build your confidence that could take you to the new horizons of success and growth.
Always wear a smile on your face
A smiling face does a lot more than letting the people around know you're happy. It lowers the heart rate, reduces stress, increases productivity, kills pain, and increases attention that jointly develops confidence. Apart from it, it also builds a positive environment around you. So, try always to wear a smile on your face. It would make others feel good about you. And, you will feel refreshed as well.
Finally
In the professional world, one of the most important personality traits that matter for success and growth of a professional is the confidence. If a professional isn't confident, he/she can't get any form of the success at work. But, building confidence isn't very easy. Despite the fact, it can be developed by following some tips at work. About some of them, we have explained in this article. It would help you to develop your confidence at work.