IIM Kozhikode launches PhD (Management) for working executives
Looking for pursuing doctoral degree in Management? IIM Kozhikode launches PhD (Management) for working executives. Read on to find out about the course.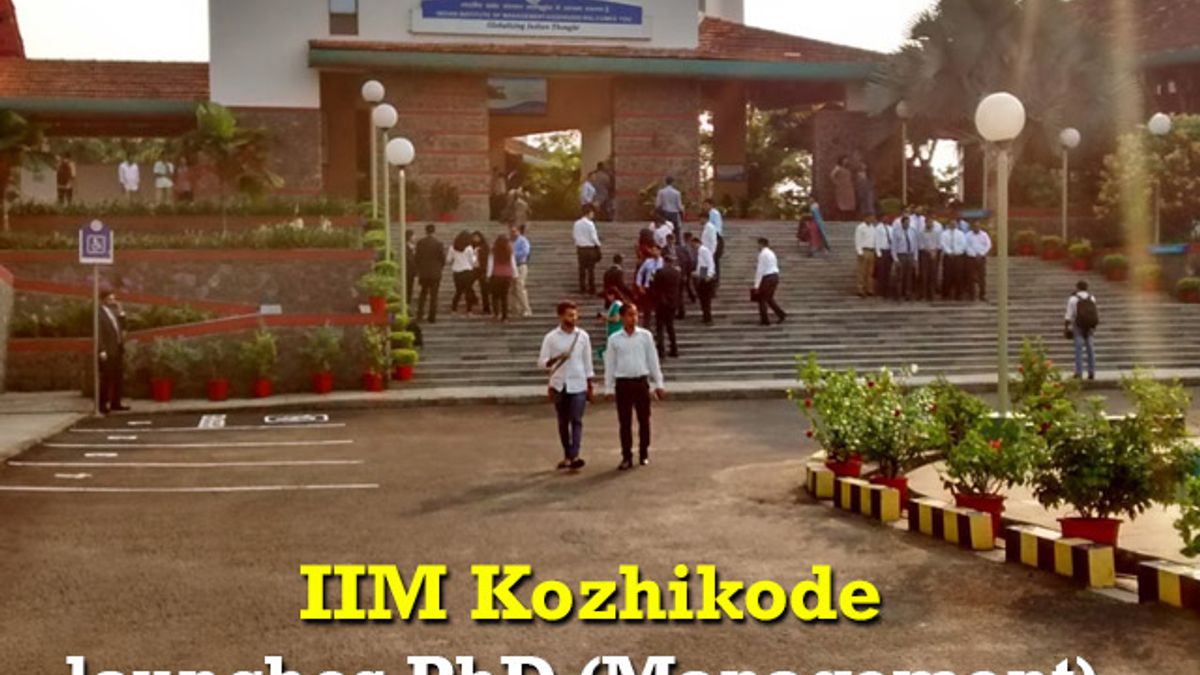 IIM Kozhikode launches PhD (Management)
Indian Institute of Management (IIM) Kozhikode has recently launched PhD in management for the working executives. As for the basic eligibility criteria, working executives with least eight years of work experience can apply for pursuing the doctoral degree. An added advantage of this programme is that IIM Kozhikode does not want the working executives to quit their jobs in order to let them enrol for the PhD in Management.
On running this unique programme, Professor Debashis Chatterjee, director of IIM Kozhikode said in a statement that "This is the first time in India that we are defining a PhD in the form of a practice track. While you are in the job you can bring real-life problems to your doctoral research for investigation and discover the solutions with the kind of clarity that only a deeply embedded knowledge system can bring".
Objective of PhD (Management)
The PhD (Management) aims to help industry executives explore research based careers at both academic institutions as well as research roles in public/private sector organizations. Specially designed for the working executives, this programme is meant to provide rigorous, world-class, inter-disciplinary training in different areas of business management.
About PhD in Management at IIM-K
Candidates enrolling for the PhD in management programme can complete the doctoral degree in a span of 3-5 years. Professor Rudra Sensarma, Dean (Research) said "The programme is unique on account of its flexibility in scheduling that is designed to accommodate the busy work life of an executive, said Professor Rudra Sensarma, Ddean (Research)."
PhD in Management allows research specialisation in domains such as economics, finance, strategy along with other interdisciplinary or sectoral specialisations such as in banking, manufacturing, sports or tourism as per the participant's area of interest. This is another USP of the programme at IIM-K.
Candidates can apply for the subjects mentioned below to seek admission:
Economics
Finance Accounting & Control
Information Technology & Systems
Marketing Management
Organizational Behaviour & Human Resources
Quantitative Methods & Operations Management
Strategic Management
How to apply for PhD in Management at IIM-K?
Applications can be filled in online format only. Click on the link provided below to reach the registration page
Candidates need to pay an application fee of INR 1000/- online through the link provided with the application form.
Online application process has commenced from April 1, 2019. The last date for submission of Online Application is June 5, 2019 for all the interested and eligible candidates.
Selection Criteria
IIM-K will shortlist on the recommendation of respective areas based on their Profile. After the recommendations, candidates will be invited for a Personal Interview (and/or Written Test for selected areas if any) at the institute's campus. Accommodation will be available to the candidates (on concessional rate) inside campus for attending the interviews.
Programme Fees
Candidates need to pay Rs. 650,000/- only (excluding GST) to pursue this programme.
For more news related to the management programmes across India, subscribe to our newsletter and do not miss out on any news in the domain of management education.