Love to talk less? Here's how you can thrive in an extrovert workplace
Here, we are providing you the complete idea on how you can thrive in an extrovert workplace even when you like to talk less.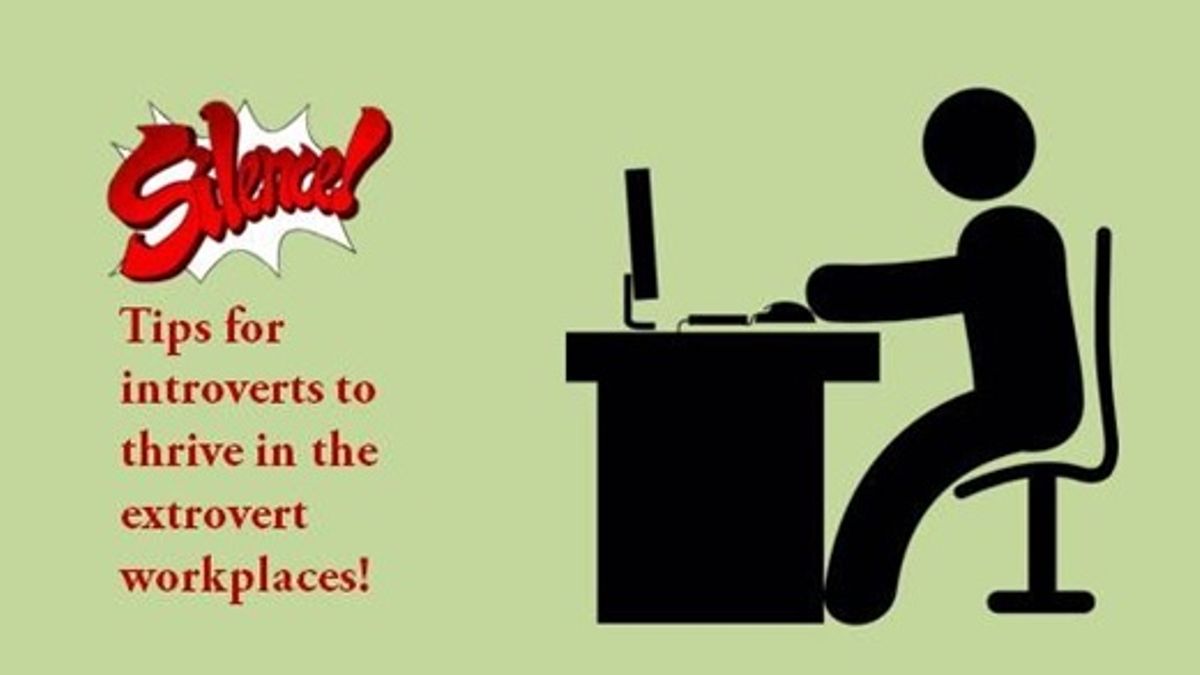 Tips for introverts to thrive in the extrovert workplaces
From punching in to punching out, we, generally, see the professionals are engaged in some formal or informal discussions almost all the while in their offices. Companies encourage such type of 'talk-together culture', as it helps them in developing a friendly environment at work that helps the professionals as well as the companies to face the daily challenges and achieve the target. Such kind of a workplace, generally, increases the productivity of a professional who is an extrovert by his nature. But for an introvert professional, it may be a daunting situation to stay productive, because an introvert professional, usually, feel their productivity in solitude. Staying productive while working in such an environment that does not meet your innate preference is a big challenge. In this article, we have explained how some preparations and strategies can help you to thrive in an extrovert workplace while being an introvert professional. Take a look!
Hosting meetings
To discus about work plan and strategies to achieve organisation's goal, team meeting is organized in every corporate company. It is generally headed by the team leaders who actively explain the strategy, ask team members for ideas, and take the account of current status of work. Sometimes, they ask their team members to host the meeting. It is a golden opportunity that can take your career to new heights. You might fail to grab this opportunity if you fail to effectively host that meeting. To face such a situation, write the agenda of the meeting and start discussing about it. All you need to do is welcome everyone and keep the meeting moving. It will reflect that you take initiative and try to develop leadership qualities in you.
Handling objections and confrontations
Mostly, professionals are able to thrive in a noisy environment while introverts prefer a quiet place and require professional environment to handle disagreements and confrontations. To handle the situation, try to figure out what to say when you face it. While facing an objection from one of your co-workers, show that you respect them and value their opinion. You can make the time to formulate your thoughts, replying them politely with general response such as "I understand your problem and thank you for acknowledging me" and "Let me think over it and i will get back to you as soon as possible" and "If you don't have any problem can I talk to you tomorrow". It would help you to effectively face the objections and convince them with well-thought out logical answers.
Following the workflow process
Mostly, the professionals are able to work efficiently and give good results even in disorganised work environment. But, introverts can work more efficiently as compared to extrovert professionals in quiet, calm and regulated workplace. If you're an introvert professional and working in a company where there is messy work process then you might face difficulties to meet your job responsibilities. To avoid it, try to schedule a meeting with your manager and discuss about the work plan. And try to schedule such meeting on weekly or even daily basis. You will begin to work more efficiently and achieve your targets as well as goals of the organization if such a work process is established at your workplace. Therefore, establishing proper work process is something that can help you achieve your targets and grow as a true professional.
Managing stress
Exhausting energy by working in a noisy and disorganized workplace is something that can lead to a stressed reaction. But, those who prefer to remain silent naturally turn inward. The sign of stress may come to forefront in form of withdrawal. If you are among those who choose to 'withdrawal' in such situations, then it might be harmful for your professional life. To avoid it, take time to rest in solitude and divert your attention on your thoughts and internal feelings. Scheduling regular breaks can also help you to control the level of the stress. In this way, you can manage you stress. It would help you to keep your performance unaffected from what is going around you.
Finally
The introvert professionals can efficiently work and perform even in a noisy and disorganized work environment while following some rules at work. Hosting team meetings, establishing proper work flow process, objection handling techniques, and stress management tips are among those which can help them a lot. In this article, we have tried to explain how an introvert professional thrive in an extrovert workplace.
If you feel we have missed out on any other important thing that can help the professional in achieving long-term success, please share them in the comment selection below. To help your family members, friends, and relatives for long-time success, you can also share this article with them. To continue reading such articles, please subscribe to our newsletter. We would gladly send interesting articles related to success mantra and Monday blues directly to your inbox.