Anusuiya Uikey, Biswa Bhusan appointed Governors of Chhattisgarh and Andhra Pradesh
Anusuiya Uikey and Biswa Bhushan appointed as Governors of Chhattisgarh and Andhra Pradesh respectively.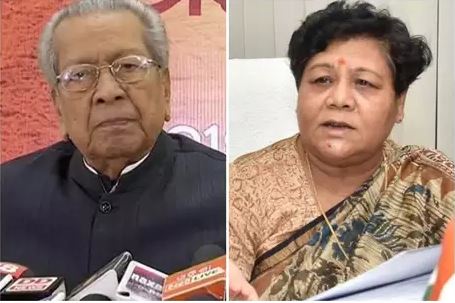 Biswa Bhushan and Anusuiya Uikey
Rajya Sabha member Anusuiya Uikey has been appointed as Governor of Chhattisgarh and Senior Bhartiya Janta Party (BJP) leader Biswa Bhushan Harichandan appointed as Governor of Andhra Pradesh. Anusuiya Uikey is a sitting member of Rajya Sabha.
President Ram Nath Kovind finalized their names by a formal order issued by Rashtrapati Bhavan. A statement released by Rashtrapati Bhavan said that The President of India is pleased to make appointments of Sushri Anusuiya Uikey as Governor of Chhattisgarh, Shri Biswa Bhusan Harichandan as Governor of Andhra Pradesh.
About Anusuiya Uikey
• Newly appointed governor of Chhattisgarh Anusuiya Uikey is an elected MP in Rajya Sabha from Madhya Pradesh.
• She has replaced Anandiben Patel, who as Governor of Madhya Pradesh was also holding the additional charge of Chhattisgarh due to sudden demise of Chhattisgarh Governor Balram Das Tandon on August 2018.
• She was previously holding the post of Minister of Women and Child Development in the Madhya Pradesh government.
• She became a member of the national commission for women in year 2000.
• At Social Work front she has also done her best efforts for awareness of the rights of tribal women. She was leading a campaign for tribal women's empowerment.
• Anusuiya Uikey is the first tribal women to hold the post of Governor of Chhattisgarh since the formation of state in 2000.
Also Read | Kalraj Mishra appointed Himachal Pradesh Governor, Acharya Devvrat sent to Gujarat
About Biswa Bhushan Harichandan
• Veteran BJP leader Biswa Bhushan Harichandan has been appointed as Governor of Andhra Pradesh.
• Biswa Bhusan has replaced ESL Narasimhan, who is serving as Governor for Andhra Pradesh since December 2009.
• He became member of Bharatiya Jana Sangha in 1971 and became its National Executive Member till the formation of Janta Party in 1977. Later, he joined the BJP and was its President for Odisha from 1980 to 1988.
• Biswa Bhushan was also detained during Maintenance of Internal Security Act (MISA) among several other leaders during Emergency.
Also Read | Lok Sabha passes NIA (Amendment) Bill 2019: Know important features