When and Where to watch Union Budget 2019 Live: Rs 20 coin to be introduced shortly
Finance Minister Nirmala Sitharaman said that Rs 1, 2, 5, 10 and 20 coins inaugurated by Prime Minister Narendra Modi will be made availabe for public shortly.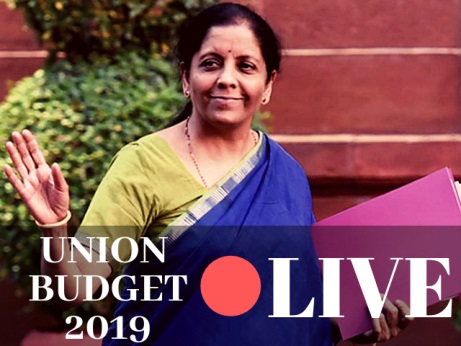 Nirmala Sitharaman
Nirmala Sitharaman before starting taxation announcement declared that visually impaired friendly coins will be introduced to the public shortly. She also appreciate honest taxpayers of India.
This budget is followed by interim budget, which was presented by Union Minister Piyush Goyal earlier this year. Nirmala Sitharaman's task is to give Indian economy boost amid global slowdown. Ahead of the Budget presentation today, the Chief Economic Advisor to the Government of India Krishnamurthy Subramanian presented the Economic Survey of India on July 04, 2019.
Major Highlights
12:44 pm: Finance Minister Nirmala Sitharaman announced 25% tax for companies with Rs 400 crore turover. She said that this will cover 99.3% of all companies.
12:40 pm: No income tax who are earning upto Rs. 5 lakh, she also said that govt. aims to simplify tax admin and bring greater transparency.
12:29 pm: Rs. 100 lakh crore boost for housing sector infrastucture announced by Finance Minister. RBI to regulate housing sector loans, she announced.
12:25 pm: Nirmala Sitharaman said that Rs. 4 lakh crore NPAs have been recovered by Banks via IBC. Public Sector banks to get Rs. 70K crore infusion.
12:21 pm: Presenting union budget 2019 Nirmala Sitharaman said that NPAs of commercial banks have reduced by over Rs 1 lakh crore over the last year.
12:13 pm: Nirmala Sitharaman said that new women SHG interest subvention programmes will be launched. Women in rural areas trying to launch initiatives will be assist under government schemes.
12:09 pm: Finance Minister announced that a new channel is proposed to be started under Doordarshan bouquet to provide a platform for startups to disseminate information in the industry.
12:05 pm: FM Nirmala Sitharaman announced that Electronic Fundraising Platform, a social stock exchange, to be set up to list social enterprises and voluntary organizations working for social welfare objectives.
11:58 am: Finance Minister Nirmala Sitharaman announced that we aim to make India open defecation free by October 2, on 150th birth anniversary of Mahatma Gandhi.
11:54 am: A Gandhipedia is being developed to sensitize youth and society at large on positive Gandhian values.
11:48 am: Jal Shakti Ministry will look after water related issues like water crises. Har Ghar Jal mission will ensure water for every household by 2024.
11:40 am: Pradhanmantri Matsya Sampada Yojna will help the industry to mitigate all the challenges. This scheme will help people to reduce their issues related to the industry.
11:35 am: Big announcement on space sector by finance minister. India to market space products globally. New Space India Limited, a public sector enterprise, has been incorporated.
11:28 am: Finance Minister announced that govt will create a payment platform for MSMEs to enable filing of bills and payment on the platform itself. KYC norms would be make more investor friendly.
11:24 am: Nirmala Sitharaman announced Pradhanmantri Karamyogi Scheme. This new scheme will need only one aadhar card to avail its benefits.
11:21 am: She said that it is estimated that railway infra will need investment of Rs 50 lakh crore between 2018 and 2030.
11:17 am: Highlihting FAME II scheme she said that main objective of the scheme is to provide necessary charging infra and incentivising easy and affordable mode of transportation for the common man.
11:14 am: Nirmala Sitharaman said that it took us over 55 years to Indian economy to reach USD 1 trillion. She also highlights benefits of One Nation, One Travel Card scheme.
11:06 am: Finance Minister Nirmala Sitharaman announced that vision for decade is USD 1.8 to USD 2.7 trillion economy in next five years.
11:04 am: Finance Minister Nirmala Sitharaman started presending Union Budget for year 2019-20. She started reading budget with informaton on election results.
10:42 am: Cabinet has approved Budget 2019 in the meeting. Now Nirmala Sitharaman will start presenting annual Union Budget in the Lok Sabha shortly.
10:34 am: Pre-Budget cabinet meeting is going on. Before this, Finance Minister has taken a permission from President Ram Nath Kovind to present Union Budget in the Parliament.
10:30 am: Nirmala Sitharaman reaches Parliament to present the Union Budget 2019. PM Narendra Modi has also reached Parliament.
10:04 am: Nirmala Sitharaman will present her first budget. She is first full-time woman finance minister to announce India's annual budget. This will be the 89th Union budget, including interim ones.
10:00 am: Finance Minister Nirmala Sitharaman has arrived at the North Block. Nirmala Sitharaman has handed over a copy of the Union Budget to the President.
Also Read | Union Budget 2019 live online streaming Nirmala Sitharaman: Budget speech to begin at 11 am
Where to watch
You can watch the budget speech live on DD News' Youtube channel, Lok Sabha TV. To watch the budget speech live on DD News you can click here.
How to download budget document
The Finance Minister will begin her budget speech at 11 am at Parliament. The Budget document can also be downloaded from the Government of India's official website indiabudget.gov.in.
Also Read | Nirmala Sitharaman Income Tax Budget 2019 Live Updates: Prime Minister Narendra Modi arrives at Parliament
Also Read | Economic Survey 2019: Free Download PDF from this direct link