Chandrayaan-2 Mission: All you need to know
Chandrayaan-2 mission will be launched from the Satish Dhawan space centre in Sriharikota. Chandrayaan-2 will explore the South Pole of the Moon.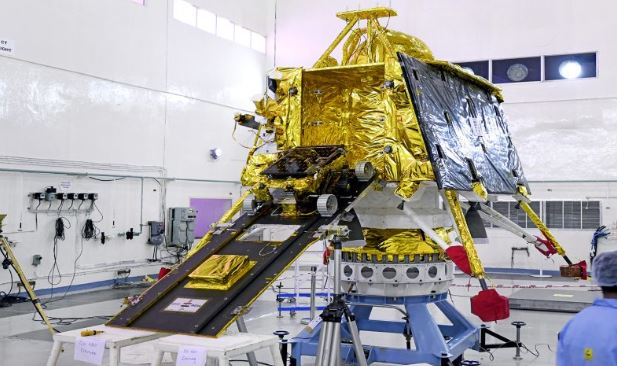 Photo Credit: ISRO
Chandrayaan-2 Mission launch date and time: This is India's second aircraft to the Moon, ISRO believe that there is a possibility of presence of water in that area. ISRO's lunar mission that will discover that area of the Moon where no country has ever visited before. ISRO says that objective behind this mission is to improve our understanding of the Moon, discoveries that will benefit India and humanity as a whole.
With Chandrayaan-2 mission India is trying to become fourth country after Soviet Union, US and China who have already launched their lunar missions. ISRO Chairman K Sivan said that Chanrayaan-2 will be launched on July 15 at 02:15 a.m and it will land on South Pole of Moon by 6-7 September.
Why to Moon?
Since Moon is the most nearby cosmic body where scientific discoveries can be done and documented. Moon is a perfect place to demonstrate those technologies that can be used for deep-space missions. Chandrayaan-2 will try to showcase a new age of discovery, increase our understanding of space, stimulate the advancement of technology, promote global alliances, and inspire a future generation of explorers and scientists.
Why to explore Lunar South Pole?
According to the scientists lunar South Pole is quite interesting as this lunar surface area always remains in shadow. It is also believed as much larger than that at the North Pole. Possibility of presence of water is very high in that side of moon which is also called shadowed areas. In addition, South Pole region has craters that are cold traps and contain a fossil record of the early Solar System. Chandrayaan-2 will attempt to soft land the lander -Vikram and rover- Pragyan in a high plain between two craters, Manzinus C and Simpelius N, at a latitude of about 70° south.
Cost of Chandrayaan-2 Mission
Complete cost of Chandrayaan-2 mission is about Rs 978 crore. Total amount is including Rs 603 crore for the orbiter, lander, rover, navigation and ground support network and Rs 375 crore for the heavy rocket - Geo-stationary Satellite Launch Vehicle with an indigenous cryogenic engine.
Fat Boy: ISRO's heavy rocket
ISRO's heavy-lift rocket Geosynchronous Satellite Launch Vehicle - Mark III (GSLV Mk III), is nicknamed as 'Baahubali'. It will carry Chandrayaan-2 to the Moon. It is all gearing up for the historic launch. Rs. 375 crore GSLV Mk III rocket will fly about 16 minutes and put into orbit the Chandrayaan-2 spacecraft.
ISRO officials call the 640-tonne GSLV Mk III rocket as 'fat boy', the Telugu media nicknamed it 'Baahubali.'
Three segments of Chandryaan-2 Mission
i. Orbiter: At the time of launch, the Chandrayaan-2 Orbiter will be capable of communicating with Indian Deep Space Network (IDSN) at Byalalu as well as the Vikram Lander. One year is total life of Orbiter and it will be placed in a 100X100 km lunar polar orbit for this lunar mission.

ii. Lander – Vikram: The Lander of Chandrayaan 2 is named Vikram after Dr Vikram A Sarabhai, the Father of the Indian Space Programme. It is designed to function for one lunar day, which is equivalent to about 14 Earth days. The Lander is designed to execute a soft landing on the lunar surface.

iii. Rover — Pragyan: Chandrayaan 2's Rover is a 6-wheeled robotic vehicle named Pragyan, which translates to 'wisdom' in Sanskrit. It can travel up to 500m and leverages solar energy for its functioning. It can only communicate with the Lander.
What's Next
ISRO's Gaganyaan mission will be next priority for the organization. Objective of this mission is to bring three Indians to the space, more important, one of which will be women.
Also Read | Chandrayaan 2.0 launch: Want to watch it live, here is the registration link