Chandrayaan 2.0 launch live on 22 July: Where and How to register?
Chandrayaan 2.0 launch live on 22 July: The ISRO has opened online registration to watch Chandrayaan 2 Mission live at Sriharikota. You can register yourself on this link.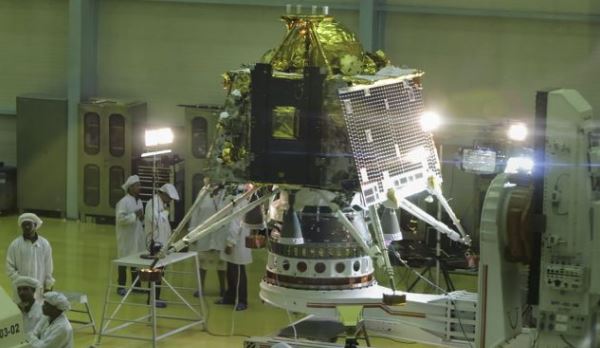 Chandrayaan 2
Watch Chandrayaan 2.0 launch live on 22 July: The Indian Space and Research Organization has just announced the new launch date for Mission Chandrayaan 2 on 22 July 2019 at 2.43 PM IST from Sriharikota. With the announcement of the new launch date, ISRO also invited the registration to watch this event live directly from Satish Dhawan Space Center, Sriharikota. To watch this event live, you have to register yourself at this link- https://www.shar.gov.in/VSCREGISTRATION/index.jsp.
"Online registration for witnessing the launch of #GSLVMkIII-M1/#Chandrayaan2 from viewer's gallery at Satish Dhawan Space Centre SHAR, Sriharikota will commence from 1800 hrs IST on July 19, 2019" ISRO tweeted.
ISRO has also provided a contact number for any queries: +91-7382768500
By registering yourself, you will be able to watch the Mission Chandrayaan 2 launch live with their naked eyes from the Rocket Space Theme Park, Sriharikota. ISRO has established a launch view gallery for the public to witness launches live from ground zero. At present, there are limited facilities for accommodating visitors to view the launch at Sriharikota. This would allow thousands of viewers to witness the launch.
ISRO Launch View Gallery
ISRO also accommodates a limited number of visitors to witness launch from the space port of India, which is insignificant compared to the demand today. In order to cater this ever increasing demand for witnessing rocket launches, ISRO has come out with a visitor's gallery at Satish Dhawan Space Centre, Sriharikota. In the first phase, 5,000 capacity Launch Viewing Gallery is constructed in the form of a stadium, and placed at an appropriate location with clear line of sight to the two launch pads of the Sriharikota Range. The visitors can view launch from this gallery in real time with naked eyes. Large screens are also placed to visually explain the various intricacies of launcher and satellites. In addition, pre and post launch activities will be telecasted and explained through these screens to the viewers.
ISRO update
Online registration process for witnessing the forthcoming GSLV MKIII-M1 / Chandrayaan-2 mission will commence at 6 PM IST on 19 July 2019, said an update from ISRO. It means that like the previous two launches that took place in Sriharikota, viewers will be able to witness Chandrayaan 2 launch as well. The ISRO Chandrayaan 2 launch has been scheduled to take place on 22 July at 2:43 pm IST from Sriharikota.
How to register to watch ISRO Chandrayaan 2 Launch Live
• Go to the ISRO officail website for registration (https://www.shar.gov.in/VSCREGISTRATION/index.jsp).
• Once, the registration link is active, you'll have to register with your valid email ID.
• Then proceed to Submit.
• ISRO then will send you a verification link that you need to verify by clicking on it.
• Fill your details.
• Read and accept the terms & conditions.
Also Read | World Cup 2019: Rohit Sharma sets several records- hits 4th century; crosses 1000 runs; Highest Run Scorer