China's foreign plastic ban throws recycling sector into chaos; US lists giraffes as threatened species – Current Affairs
Earlier, China received the bulk of scrap plastic from around the world, processing much of it into a higher quality material that could be used by manufacturers.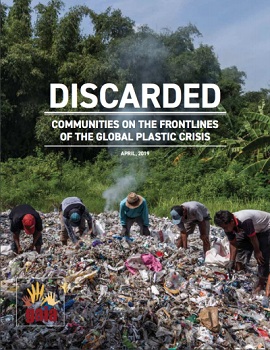 China's foreign plastic ban throws recycling sector into chaos
Story 1- China's foreign plastic waste ban throws plastic recycling sector into chaos: Report

According to a new report, the Chinese Government's ban on the import of foreign plastic waste has thrown the world recycling sector into chaos. The ban forced countries like the US and UK to find new ways to deal with their own trash, which has resulted in huge pile-ups of plastic waste in Southeast Asian nations.

The report titled 'Discarded: Communities on the frontlines of the global plastic crisis', by the Global Alliance for Incinerator Alternatives (GAIA) and Greenpeace, highlights the impact of China's waste ban on communities in Southeast Asia.
Earlier, China received the bulk of scrap plastic from around the world, processing much of it into a higher quality material that could be used by manufacturers.
However, at the beginning of 2018, China announced that it was going to stop accepting almost all foreign plastic waste, including unsorted mixed papers and post-consumer plastics as well as many other recyclables in an effort to improve its own environment and air quality.
The move left many developed nations struggling to find places to send their waste as well as the companies that ship the plastic waste scrambling to find alternatives.
The plastic waste collection centers used to send nearly everything, ranging from plastic to paper and glass, to China but now 80 percent is processed by local companies, with most of the rest shipped to India.
Following the ban, imports of plastic waste in mainland China have dropped from 600,000 tonnes per month in 2016 to about 30,000 a month in 2018, as per data cited by the new report from Greenpeace and environmental NGO GAIA.
Impact
As an impact of the move, plastic waste was redirected in huge quantities to Southeast Asia, where Chinese recyclers shifted base altogether.
With a large Chinese-speaking minority, Malaysia was a top choice for Chinese recyclers looking to relocate. According to official data, plastic imports in the nation tripled from 2016 levels to 870,000 tonnes in 2018.
With the large influx of packaging from everyday goods, such as foods and laundry detergents, from nations such as Germany, Australia, Brazil, the UK and the United States, huge mounds of plastic waste, dumped in the open, piled up.
Malaysia is not the only nation that has been affected by plastic waste stockpile, Thailand and Vietnam were also hit hard.
While these nations initiated steps to limit plastic imports, the waste was simply redirected to other countries without restrictions, such as Indonesia and Turkey, as per the Greenpeace report.
Not only is the waste pile-up an environmental hazard, resulting in contamination of water supplies, crop death, but it is also hazardous to the air quality due to rising toxic fumes from the incineration of low quality plastic waste.
Why don't developed countries recycle their own plastic waste?

In developed nations, the cost of plastic recycling is very high, as a result in some cases, those collecting plastic and other recyclables have resorted to sending it to landfill sites as the scrap has piled up too quickly.

Some have been quicker to adapt to the new environment, such as some local authority-run centers that collect recyclables in Adelaide, southern Australia.

According to the campaigners of the issue, with only an estimated nine percent of plastics ever produced recycled, the long-term solution to the plastic waste crisis is for companies to make less and consumers to use less.
Story 2- US lists giraffes as threatened species

The Trump administration on April 25, 2019 initiated its first move towards extending protection for giraffes under the Endangered Species Act. The decision comes after legal pressure from environmental groups.

According to the United States Fish and Wildlife Service, its initial review has determined that there is substantial information that the listing may be warranted for giraffes.

The findings, which are to be published in the Federal Register, will begin a more in-depth review and public comment process that could lead to import restrictions on hunting trophies and body parts from giraffes, including hides and bones.

Key Highlights

• The group, which designates endangered species, added giraffes to its "Red List" in 2016. It determined that the species as a whole is "vulnerable" to extinction and classified two subspecies as "critically endangered."

• There are now only about 68,000 mature giraffes left in the wild, with their number falling each year.

• A coalition of environmental and conservation groups petitioned the Fish and Wildlife Service in early 2017 to protect giraffes under the Endangered Species Act.

• After the administration took no action for nearly two years, the groups sued in December.

According to Anna Frostic, managing wildlife attorney for the Humane Society of the United States and Humane Society International, the United States cannot stand idly by and allow thousands of US imports of giraffe parts every year without any regulation while these animals are on a path to extinction.

Background

Biologists have warned for years that the world's tallest land mammal is at increasing risk of extinction from habitat loss, poaching and other threats. The wild giraffe population in Africa has declined by nearly 40 percent in just 30 years.

Giraffes are often hunted for meat in the nearly two dozen African countries. They increasingly are targeted by wealthy trophy hunters as other big-game animals have become scarcer.

More than 21,400 bone carvings, 3,000 skin pieces and 3,700 hunting trophies were imported into the United States over the past decade.
Download our Current Affairs & GK app from Play Store/For Latest Current Affairs & GK, Click here