Current Affairs 26 March 2019 Digest 6: Peter Tabichi wins Global Teacher Award; Dhanush artillery guns inducted
Peter has dedicated his life to helping others. He gives 80% of his teaching salary to local community projects, including education, sustainable agriculture and peace-building.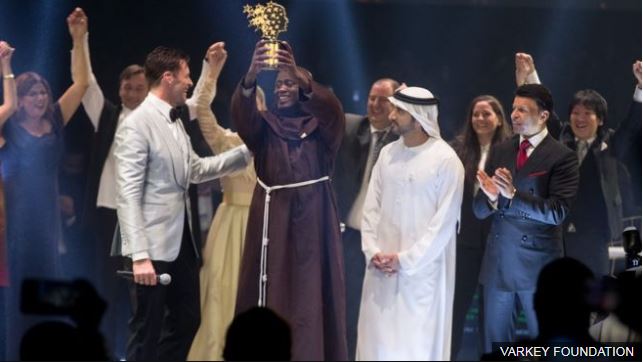 Peter Tabichi wins Global Teacher Prize
Story 1: Kenyan science teacher Peter Tabichi wins USD 1 million Global Teacher Prize
Peter Tabichi, a science teacher from Kenya, wins prestigious Global Teacher Prize on March 24, 2019. Tabichi has been crowned the world's best teacher and awarded USD 1 million prize, leaving behind 10,000 nominations from 179 countries.
Peter has dedicated his life to helping others. He gives 80% of his teaching salary to local community projects, including education, sustainable agriculture and peace-building. The winner of the 2019 USD 1 million prize was announced on stage by movie star Hugh Jackman.
About Peter Tabichi
Peter teaches science at Keriko Mixed Day Secondary School in Pwani Village, situated in a remote, semi-arid part of Kenya's Rift Valley.
School had only one computer, poor internet, and a student-teacher ratio of 58:1 Tabichi ensures quality education to all of his students.
Peter started a talent nurturing club and expanded the school's Science Club, helping pupils design research projects of such quality that 60% now qualify for national competitions.
His Mathematical Science team also qualified to participate at the INTEL International Science and Engineering Fair 2019 in Arizona, USA.
About Global Teacher Prize
The Global Teacher Prize is an annual USD 1 million award by the Varkey Foundation to a teacher who has made an outstanding contribution to the profession. Nominations of teachers who meet specific criteria are open to the worldwide public, and teachers can also nominate themselves. The judging is done by the Global Teacher Prize Academy, consisting of head teachers, education experts, commentators, journalists, public officials, tech entrepreneurs, company directors, and scientists from around the world. The first annual Global Teacher Prize was awarded in March 2015 to Nancie Atwell, an innovative and pioneering English teacher and teacher trainer in rural Maine in the United States.
Previous Winners
| | | |
| --- | --- | --- |
| Year | Winner | Country |
| 2015 | Nancie Atwell | USA |
| 2016 | Hanan Al Hroub | Palestinian |
| 2017 | Maggie MacDonnell | Canada |
| 2018 | Andria Zafirakou | England |
| 2019 | Peter Tabichi | Kenya |
Story 2: Indian Army to induct Dhanush artillery guns today
The indigenously upgraded artillery gun Dhanush will be inducted by Indian Army on March 26, 2019 at the Gun Carriage Factory in Jabalpur.
In February 2018 Ordnance Factory Board (OFB) had received the bulk production clearance for manufacturing of 114 Guns. Now, Gun Carriage Factory (GCF) Jabalpur is ready with 6 Dhanush guns for issuance to the Army.
Dhanush Artillery guns
Dhanush is a 155mm x 45mm calibre artillery gun. It has been developed by Ordnance Factory Board (OFB), Kolkata and manufactured by Jabalpur-based Gun Carriage Factory (GCF).
It is upgraded version of Swedish 155-mm Bofors howitzers, which India procured in the mid-1980s, based on its original designs.
It has strike range of 38 kilometres which is about 10 km better than the Bofors guns.
Its 81% components are indigenously manufactured and it will be scaled up to 90% by the end of 2019.
Each of this gun costs about Rs 14.50 crore while each shell costs Rs. 1 lakh.
It also has night firing capability in direct fire mode.
Its armament system comprises a barrel, muzzle brake, breech mechanism and recoil mechanism to fire 155 mm calibre ammunitions.
It has several significant advance features, including an all-electric drive, high mobility, quick deployability, auxiliary power mode, advanced communication system and automated command and control system etc.
Importance of Dhanush Artillery guns
This project would enhance the army's firepower by having more guns of higher calibre. Induction of the gun is part of the army's replacing of calibre such as 105 mm and 120 mm with medium guns. This move includes the induction of M777 Ultra Light Howitzer and the K-9 Vajra self-propelled gun in November 2018.
Apart from that, Dhanush artillery gun is equipped with navigation based sighting system, on board ballistic computation and an advanced day and night direct-firing system. The self-propulsion unit allows the gun to deploy itself in mountainous terrains with ease.