Current Affairs 29 March 2019 Digest 4: Brunei to make gay sex punishable with death, Venezuelan opposition leader banned
Brunei has announced the enforcement of a strict Sharia law, under which those found guilty of adultery or gay sex would be subjected to death by stoning.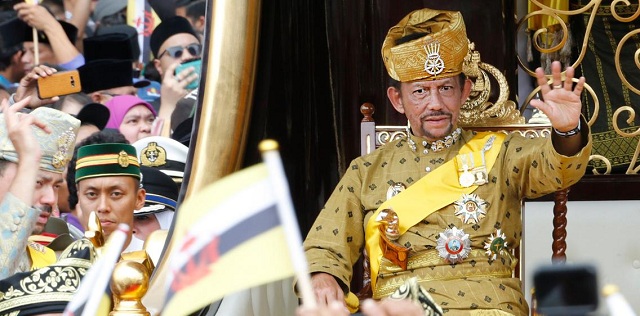 Brunei to make gay sex, adultery punishable with death by stoning
Story 1- Brunei to make gay sex, adultery punishable with death by stoning
At a time when countries across the world are liberalizing laws especially regarding the LGBTQ community, Brunei, a small Southeast Asian nation, announced the enforcement of a strict Sharia law, under which those found guilty of adultery or gay sex would be subjected to death by stoning from April 3, 2019.

The harsh Islamic law had been put on hold for four years amidst heavy criticism. Brunei had first announced its introduction in 2013, which resulted in vast international protest. Following the outcry, Brunei, a sultanate of about 430,000, had delayed carrying out the harshest provisions of its Shariah law.

Key Highlights

• The nation has now, quietly decided to implement the harsh punishment beginning April 3, 2019.

• While homosexuality was already illegal in Brunei, with a punishment of up to 10 years in prison, the new laws will make it a capital offence and allow penalties including whipping and stoning.

• Brunei had the death penalty on the books ever since it was a British colony, but in practice, executions were never typically carried out.

• Besides prescribing death by stoning for gay sex, the new laws prescribe amputation of hand or feet as a punishment for robbery. The penalty would be amputation of the right hand for first-time offenders, and the left foot for a second offence.

• Under the new laws, a person can be convicted of adultery or having gay sex only if there are multiple Muslim witnesses.

• The law will apply to Muslims and non-Muslims alike, although some offenses, such as apostasy, apply specifically to Muslims, who make up about two-thirds of Brunei's population.

Reactions

The move has set off a renewed outcry from the human rights groups with several of them calling the decision cruel and inhuman.

The Amnesty International has urged Brunei to "immediately halt" the implementation of the new penalties.

According to most critics, some of the potential 'offences' should not even be deemed crimes at all, including consensual sex between adults of the same gender."

Background

• The sovereign Islamic nation is ruled by Sultan Hassanal Bolkiah, whose wealth amounts to billions of dollars, courtesy Brunei's oil riches.

• Sultan Hassanal Bolkiah gained power as the head of the state on January 1, 1984, when the nation gained its independence from the United Kingdom.

• In recent decades, the Sultan has advocated a conservative vision of Islam that has clashed with the more moderate strains generally practiced in the region and with the royal family's own luxurious lifestyle.

• In October 2013, Sultan Hassanal Bolkiah announced his intention to impose Penal Code from the Sharia law on the country's Muslims, which make up roughly two-thirds of the country's population.

• The main aim was to implement the law in three phases, culminating in 2016 and making Brunei the first and only country in East Asia to introduce Sharia law into its penal code. The move attracted international criticism.
Brunei was admitted to the United Nations on September 22, 1984, becoming the organisation's 159th member.
The tiny, oil-rich kingdom of just over 450,000 people is located on the island of Borneo, close to moderate Islamic nations of Indonesia and Malaysia.
In comparison to its neighbors, Brunei has grown conservative in recent years, including banning the sale of alcohol.
Brunei is the first country in the region to adopt Sharia law, an Islamic legal system which outlines strict corporal punishments.
State of LGBT Rights globally
Where is Homosexuality illegal?
According to the International Lesbian, Gay, Bisexual, Trans and Intersex Association (ILGA), there are currently 71 countries that criminalise same-sex relations including gulf nations, several African and European Union nations.
In fact, many of the states criminalising homosexual relations are Commonwealth countries with legal statutes originating from British colonial times.
The nations where homosexuality is punishable by death include Iran, Sudan, Saudi Arabia and Yemen and parts of Somalia and northern Nigeria, where the sharia law is imposed.
Where is same-sex marriage legal?
• Same-sex marriage is now legal in 26 countries across the world, as per ILGA. Australia officially became the 26th country to legalize same-sex marriage in December 2017.
• Germany also changed its laws in 2017 to allow same-sex marriage, as did Malta, Bermuda and Finland.
• Gay marriage is also legal in the United Kingdom despite Northern Ireland's ban.
• In Austria, same sex couples will be able to marry from this year.
• The Supreme Court of India decriminalised homosexuality by declaring Section 377 of the Indian Penal Code unconstitutional on September 6, 2018.
Story 2- Venezuela′s Juan Guaido barred from public office for 15 years
Venezuela has barred opposition leader Juan Guaido from holding public office for 15 years. The announcement was made by the nation's Comptroller General Elvis Amoroso on March 28, 2019.

The decision was taken following an investigation that showed irregularities in his financial records. The decision will be for the maximum period established in the decree with the scope, courage and strength of the law against corruption.

Key Details

• The opposition leader, who had invoked the constitution to assume the interim presidency, was recognized by many nations including the United States as the country's rightful interim ruler, as against current President Nicolas Maduro.

• Guaido's claim to the interim presidency was based on the claim that Maduro's 2018 re-election was illegitimate and that he became a usurper when his second term began in January.

• Maduro dismisses Guaido's claim to the presidency as a US-backed effort to seize power in Venezuela, which is struggling under hyperinflation and crippling blackouts that have left millions of citizens without power this month.

Why has Guaido been barred from public office?

According to Venezuela's comptroller, Elvis Amoroso, Guaido failed to explain how he paid for foreign trips since joining the opposition-run legislature.
In February 2019, the comptroller had launched an audit of Guaido for alleged irregularities in his personal financial disclosures and receiving funds from unauthorised sources.
Last month, Guaido had toured the South American nations to gain diplomatic support for pushing Maduro from power.

Guaido called Amoroso's announcement as void, saying that he lacked legitimacy. He had stated that the only body that can appoint a comptroller is a legitimate parliament.

The US government, which backs Guaido and does not recognize Maduro, also dismissed the decision.
The move shows that the ruling Socialist Party, which has blocked rising opposition politicians since more than a decade, may be preparing additional measures against Guaido.
The 15-year sentence is the maximum penalty for public servants who commit irregularities.
Guaido is currently the head of the congress, which Maduro's government has refused to recognise since 2016 when the opposition took it over after a landslide election victory.
The other opposition leaders who have fallen to similar bans include Leopoldo Lopez, who began leading street protests after he was barred from holding office on accusations of making improper use of public funds and two-time presidential candidate and opposition leader Henrique Capriles.
Background

Venezuelan President Nicolas Maduro won another six years of term on May 20, 2018 in an election that has been called as a sham by the opposition and other countries including the United States.

The vote came amid opposition calls for a boycott. According to the election commission, the final turnout was projected to be 48 per cent -well below the average for recent Venezuelan elections. When Maduro had first won office in 2013, there was an 80 per cent voter turnout.

While Maduro's administration attempted to get people to come to vote, the opposition was largely sitting out the race, as according to them participating in the elections meant giving validation to the fraud elections.

Madura had first called for the snap elections in January 2018. The move was criticized by the opposition as illegitimate and unfair, given that it came at a time when many of his main rivals were jailed, sidelined or exiled.

The United States along with most of the European Union and Latin American countries has said that they would not recognise the result of the elections.

Juan Guaido declared himself as the interim president of Venezuela on January 24, 2019 and was swiftly recognised by the United States and key Latin American nations.