Current Affairs Daily Quiz: 23 June 2022
Current Affairs Daily Quiz 23 June: Find below the Daily Current Affairs questions and answers that cover topics such as International Olympic Day, Vanijya Bhawan, G7 Summit, among others.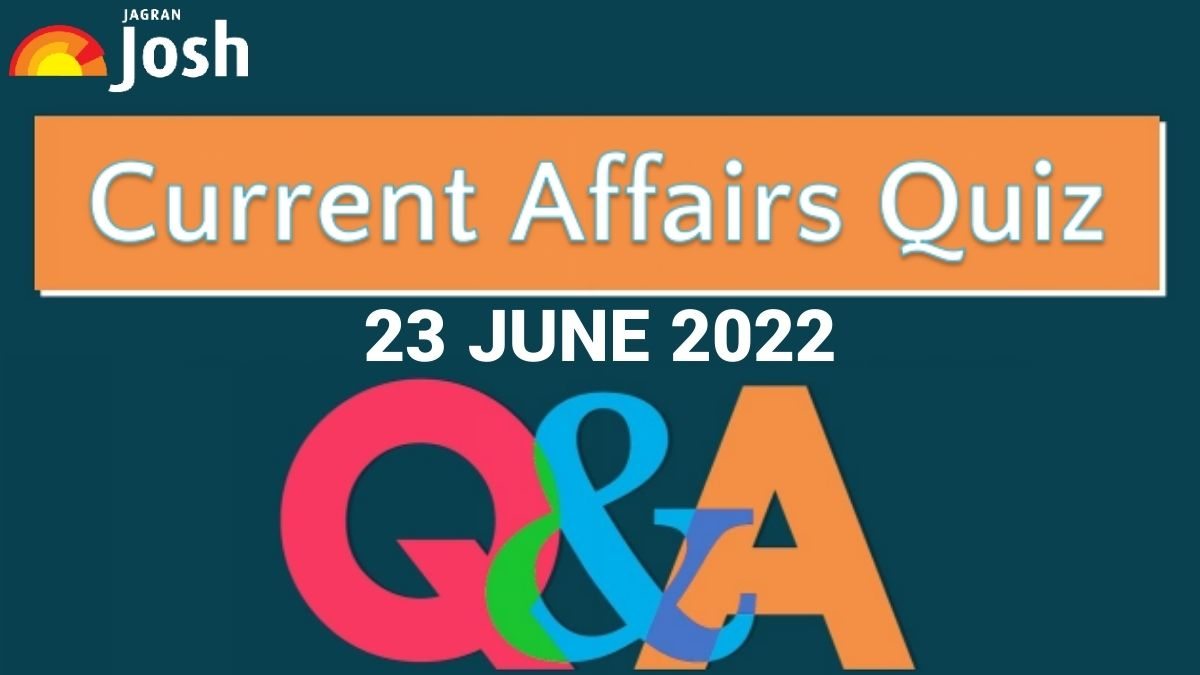 Current Affairs Quiz
Current Affairs Questions for UPSC: The Current Affairs Quiz section of Jagran Josh aims to help every competitive exam aspirant to revise Current Affairs of the day at ease. The Current Affairs questions and answers cover topics such as International Olympic Day, Vanijya Bhawan, G7 Summit, among others.
1. When is the International Olympic Day observed?
a) 18 June
b) 20 June
C) 24 June
d) 23 June
2. Vanijya Bhawan is the new premises of which Union Ministry?
a) Ministry of Commerce and Industry
b) Ministry of Home Affairs
c) Ministry of Ayush
d) Ministry of Corporate Affairs
3. Which country has announced 'Digital Nomad Visa'?
a) Malaysia
b) Singapore
c) Indonesia
d) Vietnam
4. Which country will host the G7 Summit in June 2022?
a) United Kingdom
b) Italy
c) Germany
d) France
5. Who will lead Indian Women's Hockey team for Commonwealth Games 2022?
a) Savita
b) Deep Grace Ekka
c) Sushila Chanu Pukhrambam
d) Navjot Kaur
6. Which nation is hosting the 14th edition of BRICS Summit?
a) Russia
b) India
c) Brazil
d) China
7. World Health Network has declared which disease as a public health emergency?
a) H1N1
b) Monkeypox
c) Nipah Virus
d) Norovirus
Answers
1. (d) June 23rd
International Olympic Day is observed annually on June 23 all over the world to celebrate health, sport and being together. The theme of International Olympic Day 2022 was "Together, For a Peaceful World'. The idea of celebrating International Olympic Day was first adopted at the 42nd IOC Session in St Moritz. The chosen date celebrates the founding of the International Olympic Committee at Sorbonne, Paris, on June 23, 1894, where Pierre de Coubertin revived the Olympic Games.
2. (a) Ministry of Commerce and Industry
Prime Minister Narendra Modi inaugurated the new premises of Ministry of Commerce and Industry called 'Vanijya Bhawan' on June 23, 2022. Vanijya Bhawan has been constructed near the India Gate. It is designed as a smart building that incorporates the principles of sustainable architecture with a special focus on energy saving.
3. (c ) Indonesia
Indonesia will soon start offering a five-year visa called 'digital nomad visa' that will allow the remote workers to live there tax-free as long as their earnings come from outside the country. The visa will allow its holders to stay in Indonesia for a period of five years without paying taxes provided their income doesn't come from within Indonesia.
4. (c ) Germany
The 48th Edition of the G7 Summit is scheduled to be held at Schloss Elmau in Upper Bavaria, Germany from June 26 to June 28, 2022. The goal of the German G7 Presidency is " Progress towards an equitable world ". This will be the first G7 summit of German Chancellor Olaf Scholz and Japanese Prime Minister Fumio Kishida. The G7 members include Canada, France, Germany, Italy, Japan, the United Kingdom and the United States.
5. (a) Savita
Savita Punia has been named the captain of the Indian Women's Hockey Team for Commonwealth Games 2022. Deep Grace Ekka has been named vice-captain of the Indian squad. Hockey India announced an 18-member squad for the Commonwealth Games 2022 on June 23, 2022. The Commonwealth Games is scheduled to start in Birmingham, England on July 28, 2022.
6. (d) China
The 14th BRICS Summit will be hosted by China between June 23 and June 24, 2022. The BRICS Summit will be held in the virtual format under the theme of 'Foster High-Quality BRICS Partnership, Usher in a new era for Global Development'. The five participating nations in BRICS Summit 2022 include- Brazil, Russia, India, China, and South Africa.
7. (b) Monkeypox
The World Health Network (WHN), an independent coalition of scientists formed against the COVID-19 threat has declared the Monkeypox outbreak a public health emergency of global concern. The scientists have urged the World Health Organization (WHO) to make a formal declaration. Over 3,500 monkeypox cases have been confirmed in 58 countries across the world. The designation of Monkeypox as a public health emergency by WHO indicates that the outbreak is not limited to a single country or the region and should be addressed by immediate actions to prevent community transmission.
Take Weekly Tests on app for exam prep and compete with others. Download Current Affairs and GK app
एग्जाम की तैयारी के लिए ऐप पर वीकली टेस्ट लें और दूसरों के साथ प्रतिस्पर्धा करें। डाउनलोड करें करेंट अफेयर्स ऐप
Android
IOS