Current Affairs in Short: 11 January 2019
ISRO has announced that it is well prepared to meet the targets of launching Gaganyaan manned mission to outer space by December 2021. The space agency is also conceiving a mission to Venus by 2023.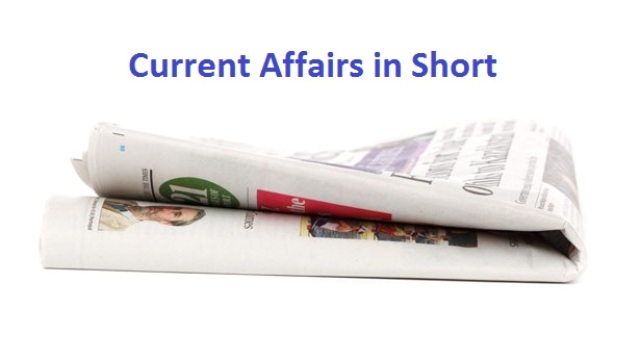 Current Affairs in Short: 11 January 2019
First manned mission to space by December 2021: ISRO

• ISRO announced on January 11, 2019 that it is well prepared to meet the targets of launching Gaganyaan manned mission to outer space by December 2021.
• Addressing a press conference, ISRO Chairman Dr K Sivan said that a human space centre has been set up for the mission.
• Under the Gaganyaan project, India is planning to send three astronauts to outer space for seven days and bring them back.
• Speaking on other missions, the Chairman said that 332 launches are planned in 2019, the most important being the Chandrayaaan -2 mission to the moon in mid-April.
• Besides, GSAT-20 Satellite for high bandwidth connectivity will be launched in September-October and ISRO is also conceiving a mission to Venus by 2023.

FSSAI asks food businesses to comply with new packaging norms by July 1

• Food Safety and Standards Authority of India (FSSAI) has said that food businesses would need to comply with new packaging regulations that bar use of recycled plastics and newspapers to wrap food articles by July 1, 2019.
• In a release January 10, FSSAI CEO Pawan Agarwal said the new packaging regulations would raise the bar of food safety in India to the next level.
• The new regulations prohibit packaging material made of recycled plastics including carry bags for packaging, storing, carrying or dispensing articles of food.

US military removes some equipment from Syria

• The US military has removed some equipment from Syria, a defence official confirmed it January 10, 2018 following a report that the drawdown ordered by President Donald Trump is now underway.
• President Trump's shock announcement on December 19 that he was withdrawing all 2,000 American troops from the conflict-wracked West Asian country concerned allies and prompted the resignation of his then defence chief Jim Mattis.
• Though the removal of troops is not on the cards immediately, withdrawing equipment is a means of showing progress towards this goal.
• The National Security Adviser John Bolton has set out stringent conditions for the proposed withdrawal, saying the defence of allies must first be assured.

Su Tseng-chang appointed as Taiwan PM

• Taiwan President Tsai Ing-wen appointed Su Tseng-chang as Prime Minister of the state on January 10 2019, during a Cabinet reshuffle following the ruling Democratic Progressive Party's heavy losses in local elections.
• Su is a former premier appointed in 2006 by then-President Chen Shui-bian and was a chairman of Tsai's Democratic Progressive Party for two terms.
• His appointment follows the widely-expected resignation of William Lai, the second premier to quit since Tsai took office in 2016.

Trump pushes wall plan in US-Mexico border visit

• President Donald Trump reached McAllen, Texas on January 10, 2019 to push his demand for controversial US-Mexico border wall.
• The President is visiting the US-Mexico border for the first time amid an extended government shutdown with no deal in sight.
• Trump said that more barriers on the frontier with Mexico are needed to protect the United States from the torrent of violent crime committed by illegal immigrants.
• The opposition Democrats are refusing to approve 5.7 billion dollars in wall funding, saying that overwhelming numbers of illegal immigrants do not commit serious crimes and Trump is promoting the project to satisfy his right-wing base.
• The standoff has resulted in a partial government shutdown with hundreds of thousands of federal employees going without pay.

Cabinet approves re-promulgation of triple talaq ordinance

• Union Cabinet has approved a proposal to re-promulgate the ordinance making instant triple talaq a criminal offence.
• The ordinance makes all declarations of instant triple talaq void and illegal and the practice a punishable offence with imprisonment of three years.
• Besides this, in order to boost healthcare infrastructure in the country, the Cabinet has approved the establishment of three more AIIMS, two in Jammu and Kashmir and one in Gujarat.

US, N Korea will meet halfway in nuclear talks, hopes China

• Chinese President Xi Jinping has offered North Korean leader Kim Jong Un backing in deadlocked nuclear talks with the US, insisting the two sides should meet halfway.
• The North Korean leader had visited Beijing by train this week for two days of discussions. The discussions were seen as a strategy session ahead of a second summit between the North Korean leader and US President Donald Trump.
• At their first meeting in Singapore in June, Kim and Trump signed a vaguely worded document with Kim pledging to work towards the denuclearisation of the Korean peninsula.
• But progress has since stalled with Pyongyang and Washington, which stations 28,500 troops in South Korea.
• North Korea wants relief from the multiple sets of sanctions imposed on it over its nuclear weapons and ballistic missile programmes, while the US wants the measures to remain in place until Pyongyang gives up its arms.