Current Affairs in Short: 23 October 2019
Union Minister Prakash Javadekar launched the first national protocol to enumerate the snow leopard population.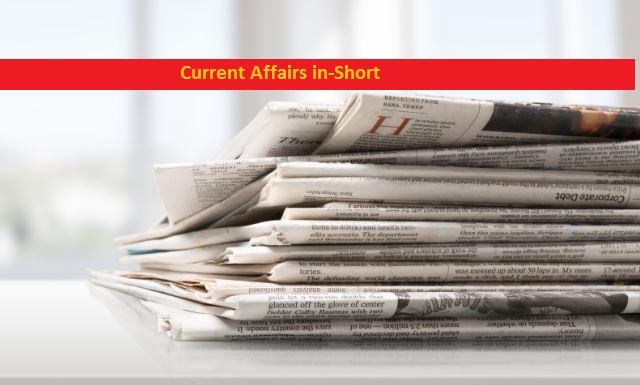 Current Affairs inshort
First national protocol to enumerate snow leopard population in India
• On the occasion of International Snow Leopard Day Union Minister Prakash Javadekar launched the first national protocol to enumerate the snow leopard population.
• The objective of this day is to conserve and protect the snow leopards and preserve the beautiful wildlife of the Himalayas.
• It is believed that India has 400 to 700 snow leopards across Jammu and Kashmir, Uttarakhand, Arunachal Pradesh, Himachal Pradesh, Sikkim and Ladakh.
Fast-track Brexit deal by PM Boris Johnson rejected by British Parliament
• The British Parliament has rejected the idea of fast-track Brexit deal presented by PM Boris Johnson.
• The House of Commons voted against the short time-table but supported the Withdrawal Agreement Bill.
• Earlier, Brexit bill had cleared the first parliamentary hurdle with members of parliament backing it 329 votes to 299.
Also Read | UN launches 'Feed Our Future' cinema ad campaign in India
Cabinet agrees to hike MSP for Rabi crops
• The Union Cabinet has approved a plan to increase the minimum support price (MSP) for wheat by up to Rs 85 to Rs 1,925 per quintal
• This decision was taken at a meeting of the Cabinet Committee on Economic Affairs (CCEA).
• It was also approved in the meeting that MSP for all Rabi Crops for 2019-20 will be increased. MSP for pulses has increased by up to 325 per quintal.
BSNL and MTNL revival plan approved by Govt
• The cabinet committee has approved the revival package for Mahanagar Telephone Nigam Limited (MTNL) and Bharat Sanchar Nigam Limited (BSNL).
• As per the media reports, the government has approved a package of Rs. 14000 crore for the revival of BSNL and MTNL.
• About 22,000 employees are working in MTNL while about 163000 people are working with BSNL.
Center Government to regularize unauthorized colonies in capital
• Hardeep Puri, Minister of Housing and Urban Affairs, said that the union cabinet decided to regularize all unauthorized colonies located in Delhi.
• Union Minister stated that about 50 lakh people are living in these unauthorized colonies and government has decided to approve colonies for their betterment.
• Hardeep Singh Puri said that Delhi's current population is more than 2 crore and more than 40 lakh people will be benefitted with this decision.
Also Read | Sourav Ganguly takes charge as BCCI President
Also Read | Current Affairs in Short: 22 October 2019