Current Affairs in Short: 27 January 2020
The Maharashtra government has launched the Shiv Bhojan Scheme on the occasion of 71st Republic Day.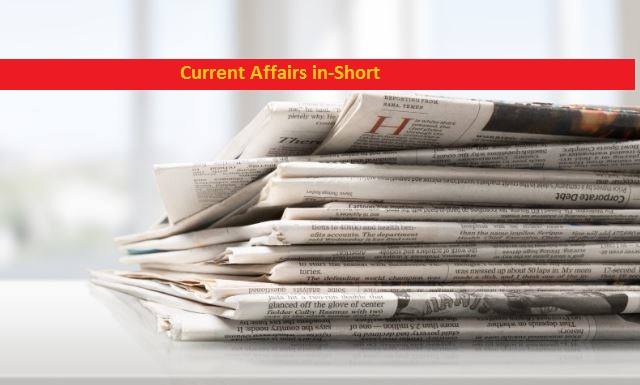 Current Affairs in-short
Maharashtra Govt launches 'Shiv Bhojan' Scheme
• The Maharashtra government has launched the Shiv Bhojan Scheme on the occasion of 71st Republic Day. A plate of food will be given for 10 rupees under this scheme.
• The government will provide complete meat at the cost of Rs. 10 to the poor and underprivileged people. All the districts will be covered under the scheme.
• The state government has initially set a budget of Rs 6.4 crore for this pilot project for the first three months. The thali will include two roti, one vegetable, rice, dal and a sweet item.
Bharat Parv 2020 begins in New Delhi
• Bharat Parv 2020 is being celebrated from January 26 to 31 in front of the Red Fort at Gyan Path and Red Fort Ground.
• The objective of Bharat Parv is to encourage Indians to travel to various tourist places in India and to communicate the spirit of 'Dekho Apna Desh'.
• This year's theme of Bharat Parv is – 'One India-Best India' and '150 years of Mahatma Gandhi.' There is no entry fee but visitors must show their identity proof to enter the festival.
Ganga-Volga Dialogue held
• The Ganga-Volga Dialogue was held in New Delhi between Russia and India. This dialogue was organized by the Ministry of External Affairs of India in association with Dr. Shyama Prasad Mukherjee Research Foundation
• The theme of this dialogue was – 'Connectivity'. There were several important issues were discussed like digital connectivity, culture, tourism, health, manufacturing technology, economy, entrepreneurship etc.
• The rapidly changing international situation was discussed in this dialogue. Apart from this, the methods of implementation of the decisions taken at the India-Russia summit held in Vladivostok in 2019 were also discussed.
B Anand becomes secretary of National Commission for Minorities
• The government of India has recently appointed senior bureaucrat B Anand as the secretary of the National Commission for Minorities.
• B Anand is a 1987-batch Indian Administration Service (IAS) officer of Tamil Nadu cadre. He is presently working as the financial advisor and additional secretary of science and technology.
• Apart from that, Sanjay Kumar Singh has been appointed as the additional secretary for the department of agricultural research and education.
India donates 30,000 doses of Measles Vaccine to Maldives
• India has recently supplied more than 30,000 measles and rubella vaccine drugs to the Maldives.
• World Health Organisation (WHO) declared the Maldives a measles-free country in 2017 but this year the disease has spread in the Maldives once again.
• India and Maldives share good bilateral relations for a long time. The Government of India is also building a cancer hospital in the Maldives with 100 beds facility.