Current Affairs in Short: 31 January 2020
US President Donald Trump has formed the Corona Virus Task Force to deal with the global outbreak of Coronavirus.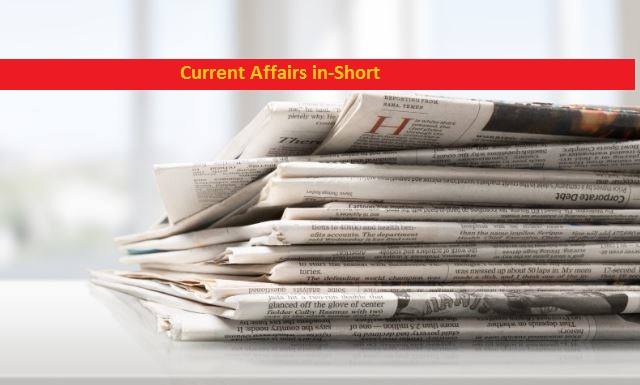 Current Affairs in short
Donald Trump creates Coronavirus task force to monitor global outbreak
• US President Donald Trump has formed the Corona Virus Task Force to deal with the global outbreak of Coronavirus.
• The Coronavirus workforce would be led by Secretary of Health and Human Services Alex Azar and would be given instructions through the National Security Council.
• US, India, UK, Germany and other countries have issued advisories to its citizens against travelling to China.
Indian coast interceptor boat C-448 commissioned
• The Indian Coast Guard commissioned a 'C-448' high-speed boat in Mangaluru, Karnataka. The Chief Secretary of Karnataka also attended the commissioning ceremony.
• The 'C-448' is an interceptor boat, to be used for patrolling and rescue operations near the Mangaluru coast.
• The boat is equipped with world-class communication and navigation equipment. This boat is very useful for maritime surveillance.
1,615 NDFB cadres surrender arms, ammunition in Assam
• Recently 1615 militants of Assam's banned militant group National Democratic Front of Bodoland (NDFB) have surrendered. Earlier, on January 27, 2020, the historic Bodo Agreement was signed by the Government of India.
• According to this agreement the Bodoland Territorial Area District will have exclusive rights for the local people. Outsiders in this area must obtain permits to work.
• This agreement will provide political rights to Bodos living in Assam. The agreement was signed in the presence of Union Home Minister Amit Shah, Assam Chief Minister Sarbananda Sonowal and NDFB leaders.
Wipro CEO Abidali Neemuchwala steps down
• The chief executive officer (CEO) of the country's biggest information and technology sector company, Wipro, Abidali Neemuchwala, has resigned. He joined the Wipro in April 2015 as COO and Group President.
• Abidali was earlier working with TCS. His term at Wipro was due to end on January 31, 2021. Abidali Neemuchwala has more than 25 years of experience in the IT sector.
• Wipro's founder and company owner Azim Premji stepped down as executive chairman and managing director in July last year. Rishad Premji took over the command of the company after his retirement.
Bala Devi becomes first Indian woman footballer to bag contract with a foreign club
• A 29-year-old footballer Bala Devi from Manipur has become the first Indian footballer to associate with a foreign football club.
• She has been associated with the famous European club Rangers for 18 months. Bala Devi has also been the captain of the Indian women's football team.
• She is the highest international goal-scorer in South Asia. In 2015 and 2016 she was awarded AIFF Woman Player of the Year title.