Current Affairs Quiz: 22 January 2020
The day's updated quizzes cover topics such as Crystal Award 2020, 50th World Economic Forum and first female President of Greece among others.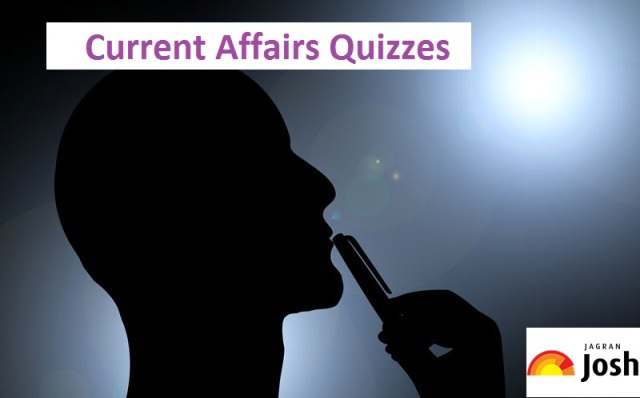 Current Affairs Quiz
22 January 2020: The Current Affairs Quizzes section of Jagranjosh aims to help every competitive exam aspirant to revise the day at ease. The day's updated quizzes cover topics such as Crystal Award 2020, 50th World Economic Forum and first female President of Greece among others.
1. Which Indian actress won the Crystal Award 2020 at the 50th World Economic Forum?
a) Priyanka Chopra
b) Alia Bhatt
c) Deepika Padukone
d) Dia Mirza
2. Which country has elected Katerina Sakellaropoulou as its first woman President?
a) Ethiopia
b) Greece
c) Italy
d) Ireland
3. Which city is hosting the 50th World Economic Forum event?
a) Davos
b) Vienna
c) Shanghai
d) Madrid
4. What is the name of the human robot that has been developed by ISRO to send to space?
a) Vyommitra
b) Vayusana
c) Pragya
d) Suryavanshi
5. ISRO has identified how many astronauts for its upcoming manned mission- Gaganyaan?
a) Five
b) Three
c) Two
d) Four
6. Which country launched e-passport facility on January 22, 2020?
a) India
b) Bangladesh
c) Myanmar
d) Sri Lanka
7. Which deadly virus outbreak in China killed 9 people and infected over 400 people?
a) Coronavirus
b) Platuvirus
c) Hadilvirus
d) Moronvirus
8. Which Indian city recently secured first position in JLL City Momentum Index 2020?
a) Delhi
b) Mumbai
c) Kolkata
d) Hyderabad
9. Which of the following countries was recently declared as Reciprocating Territory by India?
a) UAE
b) South Africa
c) Jordan
d) Bangladesh
10. Which global institution recently released World Investment Trends Monitor-2019 report?
a) UN
b) WEF
c) World Bank
d) UNCTAD
Answers
1. (c) Deepika Padukone
The popular Indian actress, Deepika Padukone was awarded the Crystal Award 2020 during the opening session of the World Economic Forum on January 21, 2020. She was honoured with the award for her leadership in raising awareness about mental health illness.
2. (b) Greece
Greece has elected Katerini Sakellaropoulou as the first woman president in the country's history. The 63-year-old was elected to the top post in a historic parliamentary vote on January 22, 2020, which saw 261 of the total 294 MPs vote in favour of her.
3. (a) Davos
The 50th World Economic Forum (WEF) will be held in Davos, Switzerland from January 21-24, 2020. The forum will see the participation from over 50 heads of state from 117 nations across the world.
4. (a) Vyommitra
Vyommitra is the first human robot to be developed by the Indian Space Research Organisation. ISRO plans to send the half-humanoid to space in its first unmanned mission under Gaganyaan programme. The human robot can simulate most of the human body functions.
5. (d) Four
ISRO has identified four astronauts for its upcoming Gaganyaan mission. The training of the astronauts is scheduled to begin in the third week of January in Russia. Gaganyaan will be a crewed orbital spacecraft, which will take the astronauts to space for a minimum of seven days by 2022. The mission is a part of the Indian Human Spaceflight Programme.
6. (b) Bangladesh
Bangladesh's Prime Minister Sheikh Hasina launched e-passport facility for all citizens of the nation in Dhaka on January 22, 2020. The e-passports will have an embedded chip in them that will contain all the required bio-metric data of the passport holder including photograph and other information that is there on the regular passport. The facility will also have digital security features.
7. (a) Coronavirus
Chinese government has reported a sharp rise in the number of people infected with the mysterious Coronavirus. Government of India has also issued an advisory to the major airports of India to avoid any risk of Coronavirus.
8. (d) Hyderabad
Hyderabad was recently selected as the world's most dynamic city. Hyderabad topped the list among 129 cities across the world. However, Bangalore ranked 2nd and while Delhi got 6th position.
9. (a) UAE
The Ministry of Law and Justice recently declared United Arab Emirates (UAE) to be a "reciprocating territory". It allows the law on the subject of execution of decrees of Courts in India by foreign Courts and vice versa.
10. (d) UNCTAD
The United Nations Conference on Trade and Development recently released the World Investment Trends Monitor-2019 report. The report describes that India ranked among the top-10 recipients of FDI in 2019. India's FDI during this period was USD 49 billion.