Devendra Fadnavis resigns as Maharashtra Chief Minister
Devendra Fadnavis' resignation comes on the backdrop of the failure of BJP-Shiv Sena alliance to form a government.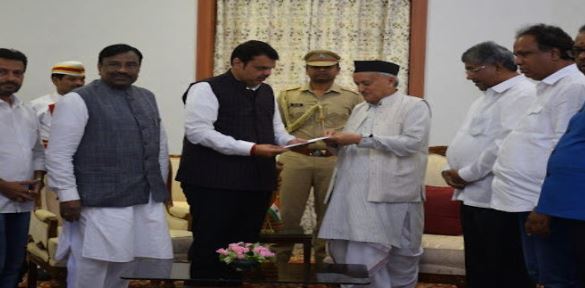 Image: Twitter
Maharashtra Chief Minister Devendra Fadnavis has resigned from his post after meeting Governor BS Koshyari at Raj Bhavan. He tendered his resignation to Governor a short while ago. Devendra Fadnavis' resignation has come on the backdrop of the failure of the BJP-Shiv Sena alliance to form a government. State assembly tenure was supposed to end at midnight on November 9, 2019.
The wait for the formation of a new government in Maharashtra will take more time because the BJP has not yet claimed to form the government, while the Shiv Sena has been repeatedly adamant on sharing the chief minister's post.
Devendra Fadnavis' Resignation
Devendra Fadnavis addressed a press conference after submitting his resignation to the Governor. He said that he is thankful to the BJP, its senior leaders and the people of India for allowing him to serve them for five years. He said that the Governor has accepted the resignation. He said that he is satisfied with the work done in the last five years. However, there are still many problems in the state.
Devendra Fadnavis said that the people of Maharashtra have given a clear majority to the Shiv Sena and the BJP. BJP has emerged as the biggest party by winning the most seats in the state. He said that BJP's strike rate of victory in the elections was 70 per cent.
Also Read | What is OCI Card: Eligibility criteria, exemption, disqualification
What is current political scenario?
BJP and Shiv Sena alliance have got a clear majority in the assembly election results but both parties could not find a way to form the government. Shiv Sena leaders have already said that BJP should come to the Shiv Sena only when it is ready to share the post of Chief Minister in Maharashtra with its ally party. On the other hand, Shiv Sena leaders have met NCP and other aspects of the formation of government were discussed. However, no concrete result has come out.
Maharashtra Assembly Results
Maharashtra assembly results were declared 14 days ago but the government has not been formed there yet. The alliance got more than 160 seats while BJP got 105 seats. Shiv Sena won 56 seats while Congress and NCP have secured 44 and 54 seats respectively.
Also Read | Ayodhya Verdict Date: Check here when the SC judgment is coming
Also Read | Current Affairs Quiz: 7 November 2019