DRDO successfully test fires indigenously developed Anti-Tank Guided Missile system
DRDO successfully flight tested indigenously developed MPATGM in the ranges of Kurnool, Andhra Pradesh.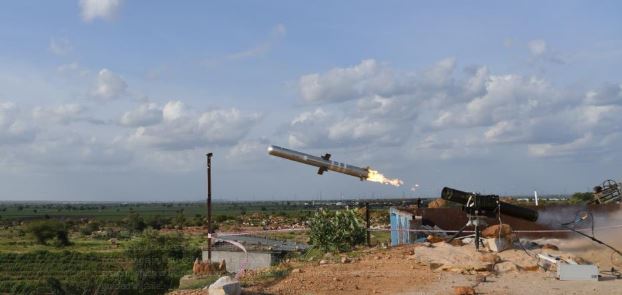 Image: ANI
Defence Research and Development Organisation (DRDO) successfully test-fired an indigenously-developed Man-Portable Anti-Tank Guided Missile (MPATGM) system on September 11. This test was conducted at Kurnool, Andhra Pradesh.
This missile system will be used by Army very soon as it was the third series of successful testing of MPATGM. Rajnath Singh congratulated DRDO for the successful test of the missile.
MPATGM Test
According to the reports released by government agencies, the missile was launched from a man-portable Tripod launcher and the target was mimicking a functional tank. The missile hit the target in top attack mode and destroyed it with precision. A state-of-the-art infrared imaging seeker along with advanced avionics was used to launch the missile. Ministry of Defence said that all the mission objectives were met. The results of the test paved the way for the Army to develop the next generation man-portable anti-tank guided missile indigenously.
About Man-Portable Anti-Tank Guided Missile
• The Man-Portable Anti-Tank Guided Missile (MPATGM) is an indigenous missile which is based on the fire-and-forget system.
• It has been developed by DRDO in partnership with Bharat Dynamics Limited.
• It is low weight (approx 14.5 kg) with command launch unit weighing 14.25 kg.
• It can hit a target up to 2.5 km; it is equipped with an advanced Imaging Infrared Radar (IIR) with state-of-the-art avionics.
• India started working on MPATGM in 2005.
• The first trial of the MPATGM was conducted on September 15, 2018, and Second trail was made on 16 September 2018.
• After that, DRDO test-fired this missile for the first time on 13 March 2019 and the second test was conducted on 14 March 2019 in the Rajasthan desert.
List of India's Anti Tank guided missile
• DRDO Anti Tank Missile.
• Amogha missile.
• Nag missile.
• Man-Portable Anti-tank Guided Missile (MPATGM)
Download our Current Affairs & GK app for Competitive exam preparation. Click here for latest Current Affairs: Android|IOS