DRDO successfully test-flights Rustom 2 drone
Rustom 2 is capable of carrying different combinations of payloads like synthetic aperture radar, electronic intelligence systems and situational awareness payloads.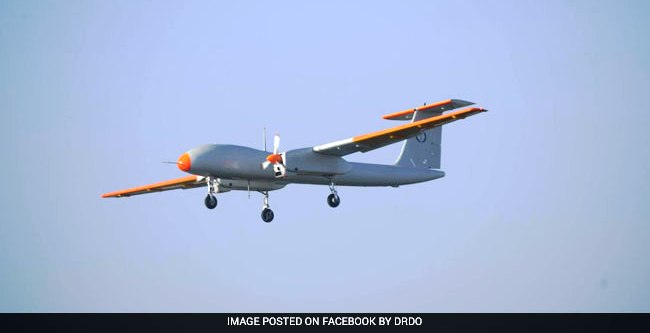 DRDO successfully test-flights Rustom 2 drone
The Defence Research and Development Organisation (DRDO) on February 25, 2018 successfully conducted the test-flight of India's home-made drone 'Rustom 2' at its Aeronautical Test Range (ATR) at Chitradurga, Karnataka.

This was the first flight-test to test out the user configuration of the drone with higher power engine.

Objective behind the development of Rustom 2

Rustom 2 is being developed on the lines of predator drones of the United States with an aim to carry out Intelligence, Surveillance and Reconnaissance (ISR) roles for the armed forces with an endurance of 24 hours.

The drone was developed for use by all three services of the Indian armed forces- Indian Navy, Indian Army and Indian Air Force.

Features of Rustom 2

• Rustom 2 drone is a medium-altitude long-endurance Unmanned Aerial Vehicle (UAV).

• It stands 2.4 metres tall with a wingspan of 20.6 metres and a length of 9.5 metres.

• It can fly at around 280 km per hour.

• It is capable of carrying different payloads like Medium Range Electro Optic (MREO), Long Range Electro Optic (LREO), Synthetic Aperture Radar (SAR), Electronic Intelligence (ELINT) and Situational Awareness Payloads (SAP).

• MREO and LREO sensors are placed inside its modular payload for capturing imagery and video.

• It can fly missions on manual as well as autonomous modes. The onboard way-point navigation system allows the drone to conduct missions autonomously.
Video: Check out the latest current affairs of this week


Developers of Rustom 2

The Rustom 2 drone has been designed and developed by Aeronautical Development Establishment of the DRDO. While, the aerospace major Hindustan Aeronautics Ltd and Bharat Electronics Ltd are its production partners.