What is Encephalitis that killed 104 kids in Bihar? Know Encephalitis symptoms, causes and prevention
Encephalitis that causes more then 100 kids' deaths in Bihar have been potentially linked to lychees. Bihar is struggling with an outbreak of Acute Encephalitis Syndrome (AES).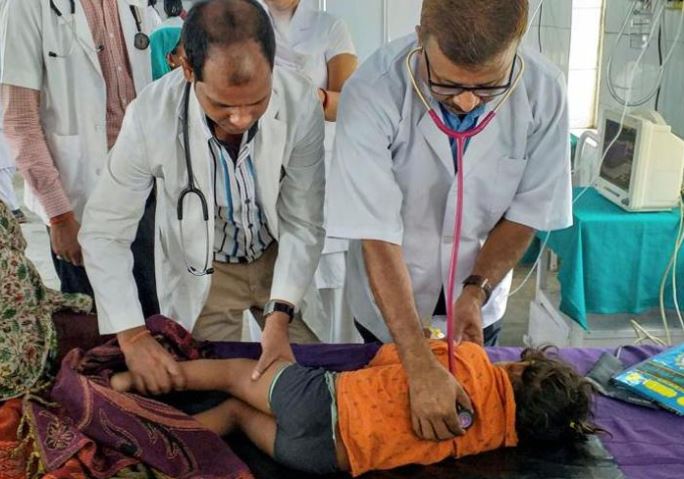 Encephalitis outbreak in Bihar
More then 100 children have lost their lives due to acute encephalitis syndrome (AES) in Bihar. This syndrome is locally known as Chamki Bukhar. Till now 83 children have died in Sri Krishna Medical College and Hospital (SKMCH), while 17 have lost their lives in Kejriwal hospital in the city.
Union Health Minister Dr Harshvardhan had recently visited Sri Krishna Medical College Hospital (SKMCH) in Muzaffarpur and assured that no essential work will be left to deal with the disease. He also said that to control the outbreak of this disease agencies should work together with International organizations and all children of affected areas should be vaccinated. Also people need to be aware of the disease.
Bihar Govt's ex-gratia package
Bihar Chief Minister Nitish Kumar had announced an ex-gratia package of Rs 4 lakh each to families of the children who died. He had also instructed the health department, district administration and doctors to take necessary measures to fight the disease. The state health department had cited hypoglycaemia, a condition caused by very low level of blood sugar and electrolyte imbalance, as the main reason for the deaths.
Lychee and Encephalitis
The toxic substance in lychee causes Acute Encephalitis Syndrome (AES),locally known as Chamki Bukhar, which is a form of brain fever that happens due to the inflammation of the brain. Experts believe that lychee toxins are particularly harmful when consumed on an empty stomach. Methylene cyclopropyl-glycine (MCPG) a chemical found in this fruit affects the brain when body sugar levels are low due to undernourishment.
Symptoms and Causes of Encephalitis
Common symptoms of Encephalitis include High fever, Headache, Sensitivity to light, Stiff neck and back, Vomiting, Confusion and if case is severe - seizures, paralysis and coma.
Japanese encephalitis virus (JEV) is the major cause of AES in India (ranging from 5-35 percent). Nipah virus, Zika virus are also found as causative agents for AES. Viruses are the main causative agents in AES cases, although other sources such as bacteria, fungus, parasites, spirochetes, chemicals, toxins, and non-infectious agents are other reasons of Encephalitis.
How to prevent Encephalitis?
The best way to prevent encephalitis is to avoid getting infected with the viruses or other germs that can cause it. Regular hand washing will help limit the spread of some of these germs. Staying as healthy as possible by eating a balanced diet and getting plenty of rest can help keep your immune system in shape. Immunizations are also an important way to protect people from diseases like chickenpox and measles.
Treatment for Encephalitis
• If one is suffering with Encephalitis then patient should be kept in Intensive Care unit (ICU) to keep eye on every minute.
• It can be treated by anti-inflammatory drugs, but no drug should be given at home once, consult to the doctor immediately.
• Most cases of encephalitis get resolved in a few days. In case of a severe condition, it may take a few weeks.
Also Read: Yashovardhan Birla declared 'wilful defaulter' by UCO bank
Take Weekly Tests on app for exam prep and compete with others. Download Current Affairs and GK app
एग्जाम की तैयारी के लिए ऐप पर वीकली टेस्ट लें और दूसरों के साथ प्रतिस्पर्धा करें। डाउनलोड करें करेंट अफेयर्स ऐप
Android
IOS