Nirmala Sitharaman Speech Day 5: Structural reforms announced for Health, Education, PSE sectors & state govts
PM eVIDYA - A programme for multi-mode access to digital/online education will be launched immediately.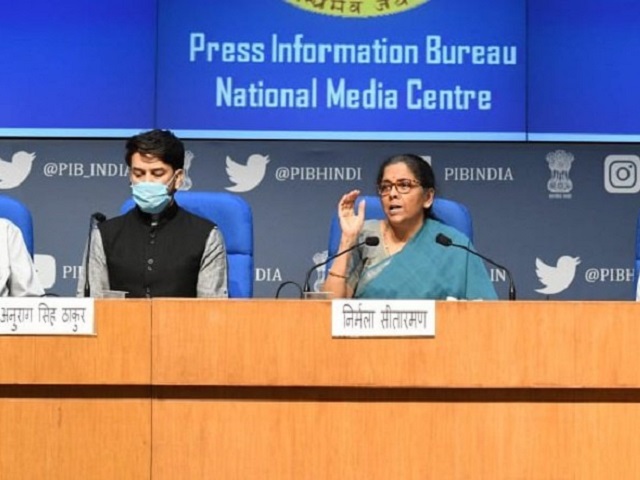 Finance Minister
Union Finance Minister Nirmala Sitharaman unveiled structural reforms for 7 sectors during the announcement of the 5th tranche of Atma Nirbhar Bharat package on May 17, 2020. This was final tranche of financial stimulus and policy measures for various sectors to help India become self-reliant.
The final tranche included measures measures to address India's economic situation amid coronavirus pandemic and it outlined structural reforms in seven key sectors including Health and Education, MNREGA, state governments, ease of doing business, decriminalisation of Company Act, Business during coronavirus era and policy related to PSUs.
With the announcement of the final tranche, the overall stimulus provided by the #AatmanirbharBharat Package amounts to Rs 20,97,053 crore:
7 Key Highlights from Nirmala Sitharaman's Press Conference Day 5
Relief measures for following 7 key sectors announced:
1. MNREGA
2. Health - rural and urban, including education
3. Businesses and COVID-19
4. Decriminalization of Companies Act
5. Ease of Doing Business
6 Public Sector Enterprises
7 State governments & related resources

1. MNREGA
Government to allocate an additional Rs 40,000 crore for MNREGA. This will help generate nearly 300 crore person days in total. This move will also help provide more work, including for returning migrant workers.
2. Health - Rural and Urban
Government has so far announced Rs 15,000 crore for health-related measures for containment of COVID-19, which includes health insurance worth Rs 50 lakh per person for healthcare professionals.
The public expenditure on health will now be increased further. Investments will be made in grass root health institutions. The move will help ramp up health and wellness centres in rural and urban areas.
To prepare India for future pandemics:
-Government will be setting up of infectious diseases hospital blocks in all districts.
-Integrated public health labs will also be set up in the districts.
-National Institutional Platform for health will be established by ICMR
-National Digital Health Blueprint will also be implemented
Education-Technology Driven Online Education Systems post- COVID-19
• PM eVIDYA - A programme for multi-mode access to digital/online education will be launched immediately.
• Manodarpan: An initiative for psychosocial support of students, teachers and families for mental health and emotional wellbeing will be launched immediately.
• New National Curriculum and Pedagogical framework for school, early childhood and teachers will also be launched.
• National Foundational Literacy and Numeracy Mission for ensuring that every child attains learning levels and outcomes in Grade 5 by 2025 will also be launched by December 2020.
• 200 new textbooks have also been added to e-Paathshaala.
• Swayam Prabha DTH channels to support and reach those who do not have access to the internet. While three channels have already been earmarked, another 12 will be added. This will benefit children living in urban and rural areas.
- Provision has been made for telecast of live interactive sessions with experts on the channels through Skype.
- The Government has also tied up with Tata Sky and Airtel to air educational videos to enhance the reach of these channels.
- The states have also been requested to share air time of around 4 hours daily to telecast their education related content on Swayam Prabha channels.
3. Businesses and COVID-19
Minimum threshold to initiate insolvency proceedings raised to Rs. 1 crore from Rs. 1 lakh, which largely insulates MSMEs).
Fresh initiation of insolvency proceedings suspended up to one year depending upon the pandemic situation.
Special Insolvency resolution framework for MSMEs under Section 240A of the code to be notified soon.
4. Decriminalization of Companies Act
Government to soon move an Ordinance for the decriminalisation of Companies Act violations involving minor technical and procedural defaults such as shortcomings in CSR reporting, inadequacies in board report, filing defaults, delay in holding AGM.
5. Ease of Doing Business
Private companies which list NCDs on stock exchanges will not be regarded as listed companies.
Other reforms include lower penalties for all defaults for small companies, one-person companies, producer companies & Start Ups.
6. Public Sector Enterprises
There is a need for a new policy where all sectors are open to the private sector while public sector enterprises (PSEs) will play an important role in defined areas. Accordingly, government will announce a new policy.
A list of strategic sectors requiring presence of PSEs in public interest will be notified. In strategic sectors, at least one enterprise will remain in the public sector but private sector will also be allowed.
In other sectors, the Public Sector Enterprises will be privatised. To minimise wasteful administrative costs, number of enterprises in strategic sectors will ordinarily be only one to four; excess will be privatised/merged/brought under holding companies.
7. State governments & related resources
•The centre like the states has faced a sharp decline in its revenues. Despite this, the Centre has consistently extended generous support to states in this hour of need:
•States net borrowing ceiling for 2020-21 is Rs. 6.41 lakh crores, based on 3% of GSDP. Out of this, 75 percent was authorised to them in March 2020 itself. States have so far borrowed only 14% of the limit authorised.
•Nevertheless, States have been asking for special increase in borrowing from 3% to 5%. In view of the unprecedented situation, Centre has decided to accede to the request and increase borrowing limits of States from 3% to 5%, for 2020-21.
•A part of the borrowing will be linked to specific reforms relating to sustainability of the additional debt, welfare of migrants, job creation, farmers' interest, power sector sustainability, and urban development, health & sanitation.
A new scheme will be notified in the following pattern:
-Unconditional increase of 0.50%
- 1% in 4 tranches of 0.25%, linked to reform action
- 0.50% if milestones are achieved in at least three out of four areas
8 Key Highlights from Nirmala Sitharaman's Press Conference Day 4
The key focus of the fourth tranche of Aatmanirbhar Bharat economic package was structural reforms in coal, mining, defence, civil aviation, space and atomic energy sector. The announcements were made by Union Finance Minister Nirmala Sitharaman on May 16, 2020. The Finance Minister highlighted how PM Modi had earlier pointed out that India has to be ready for tough competition. The FM reiterated that Aatmanirbhar Bharat is not about looking inwards, it is not an isolationist policy but making India rely on its strengths and ready to face global challenges.
Focus: Structural Reforms in New Sectors
Following 8 sectors key focus:
Coal
Minerals
Defence Production
Airspace management, Airports, MRO (Civil Aviation)
Power Distribution companies in Union Territories
Space- ISRO
Atomic Energy
1. Coal
Government will be bringing in commercial mining in coal sector on a revenue sharing basis. Government monopoly will be removed. Liberalised entries will be allowed for people to participate. India has the third largest valuable deposit of coal and we still import of coal and sometimes energy sectors suffer because of this. Hence, this requires regulation in the sector. We have abundant coal but we have been regulating and suffocating it. Coal is not environment-friendly, we are conscious of that stated the FM. Hence, gasification of coal will be explored.
Coal Gasification: The government will be giving incentives to successful bidders so that coal is converted into gas keeping in mind India's environment responsibilities, stated FM Sitharaman. Coal bed methane extraction will happen through auctions. Government is allocating Rs 50,000 crores for evacuation infrastructure for the coal sector.
2. Minerals
A seamless composite exploration, mining, production regime to be set up for mining of minerals. 500 mining blocks will be offered through this open and transparent system. Joint auction of necessary tools will happen to increase the aluminium industry's competitiveness. Distinction between captive and non-captive mines to be removed. Remaining mining minerals can be transferred now. The Ministry of Mines is developing a Mineral Index. Stamp duty will also be rationalised.
3. Defence Production
We shall notify a list of weapons and arms that will not be imported but will be obtained from India. This list will be updated every year. Indigenisation of some imported spares will also be initiated. A separate budget provision will also be given for domestic procurement. This will bring down the import bill of the defence department. Indian producers of defence equipment will be promoted.
The Government intends to improve the autonomy, accountability of ordinance supplies and corporatise ordinance factory boards. Corporatization of the ordinance factory boards is not same as privatisation. Ordinary indian citizens can also buy shares in them. This will make them more transparent for Indian citizens.
-FDI limits are being raised from 49 percent to 74 percent.
-Mechanism for time-bound defence procurement process will be set up.
-Realistic setting for GSQR will be made. Some time unrealistic quality requirements are made.
4. Civil Aviation
-Airspace Management:
Only 60 percent of Indian airspace is freely available. We may have been flying to certain destinations taking longer routes, informed FM Nirmala Sitharaman. Now optimum utilisation of the airspace will happen as it uses up more fuel and time.
The Government will rationalise the airspace- saving travel time,. fuel, pilots flying time. This is an environmental step that will have huge impact om India's fuel import bill. This will help save around Rs 1000 crore.
-PPP-Airports
Six more airports are for auction- AAI will do it on a public- private basis. Six more airports have been identified for second round of bidding. Additional investment will also happen in 12 airports for better world class facilities. Major airports in India will become better- with better customer facilities. The first and second round of investments are expected to include Rs 130000 crores. Six more airports will be identified for third round of bidding.
-MRO Hub
Making India an MRO Hub-(Maintenancem, repair and overhaul or aircraft). This was being done abroad for both civil and defence aircraft. Hence, the government plans to create an MRO ecosystem in India. Civil and defence aircraft will also benefit from this. This will bring down the maintenance cost of all airlines, which will have a ripple effect on the passengers.
5. Power Distribution in Union Territories
The Power Distribution in Union Territories will be privatised in line with a new Tariff policy, which will be announced soon.
6. Social Infrastructure Project
Total outlay worth Rs 8100 crores to be provided for social infrastructure. Government will provide 30 percent as viability gap funding.
7. Space
India has an extra ordinary space organisation in form of ISRO. ISRO has brought a lot of laurels for India in the space sector, pointed out FM Nirmala Sitharaman. However, there are many private institutions who have working in the space sector and developing technology related to it but they are unable to test their inventions or use ISRO's facilities due to Government's limitations in the sector.
Hence, now government will allow private sectors to get equal access to ISRO's facilities. The future space travel and launches will be opened for the private sector. The Government will also come up with a liberal geo-spatial data policy to provide the private sector access to remote-sensing data.
8. Atomic Energy
Research reactor in PPP model to be establishment for the production of medical isotopes. Medical isotopes are used for affordable treatment of cancer.
Facilities to be established in PPP mode to use radiation technology for food preservation, for perishable crops. This will help improve shelf life of perishable goods like onions.
Govt to set up synergy between research institutes and tech entrepreneurs.
Past policy reforms to fast-track investments
An empowered group of secretaries was formed to fast-track infrastructure investment. Project development cells were formed in each ministry to prepare investible projects in coordination with investors. The states are also being ranked on the basis of the attractiveness of their investment policies. Through this, the champion sectors will be promoted.
FM highlights past reforms that are worth recalling:
• DBT- The system has become very useful now.
• GST- It brought in one nation and one market.
• IBC
• Steps India took for ease of doing business
• Public Sector Bank Reforms
• Direct Taxation Reforms
• Power Sector Reforms
• Coal Sector
• Water and Irrigation
11 Key Highlights from Nirmala Sitharaman's Press Conference Day 3
The FM Nirmala Sitharaman's third tranche of announcements from the special economic package focused on agriculture, animal husbandry, fisheries, dairy sector and other allied activities. The Finance Minister announced 11 measures, out of which 8 were related to strengthening of infrastructure in agriculture and allied activities and 3 were related to governance and adminstrative reforms in agriculture.
1. Agriculture Infrastructure
Rs 1 lakh crore will be provided for aggregators, Farmer Producer Organizations (FPOs), primary agriculture cooperative societies to strengthen the farm gate infrastructure- cold chains, post harvest management infrastructure, storage centre and yards
2. Food Enterprises who are micro in size- Government to provide 10000 crore for micro food enterprises. The scheme promotes PM Modi's vision of "Vocal for Local with Global Outreach". It will be executed in a cluster-based approach. Health and wellness products, nutritional products and organic products will benefit from this fund. This is expected to benefit about 2 lakh MFEs, micro food enterprises.
Cluster base examples- Makhana cluster in bihar, Kashmir DSaffron, Ragi and coarse grains from Karnataka, bamboo shoots from North-east, turmeric from Telangana, Chilies from Andhra Pradesh, Tapioca from Tamil Nadu.
The scheme will lead to improved health and safety standards, integration with retail markets and improved incomes. Main focus to be on women, STs/SCs and aspirational districts.
3. PM Matsya Sampada Yojana
Government will launch Pradhan Mantri Matsya Sampada Yojana for integrated, sustainable, inclusive development of marine and inland fisheries to fill in critical gaps in the fisheries value chain. The move will provide employment to over 55 lakh persons and double India's exports to Rs 1 lakh crore.
-Rs 11000 crores will be allocated for marine, inland fisheries and aquaculture.
-Rs 9000 crores for Infrastructure- New fishing vessels to be provided and new fishing harbours to be built. During the annual fishing ban period, the fishermen will be provided with some kind of assistance such as personal insurance and boat insurance.
This will lead to additional fish production of about 70 lakh tonnes in the next 5 years. The main aim is to empower people through creation of skills and logistics to make India self-reliant. The main focus will be on islands, himalayan states, north-east and aspirational districts.
4. National Animal Disease Control Programme
The Government has launched National Animal Disease Control Programme with a total outlay of Rs. 13,343 crores for 100% vaccination of cattle, buffalo, sheep, goat and pig population in India. This is to eliminate foot and mouth disease among animals. This will also increase their traceability. Till date, 1.5 crore cows and buffalos have been vaccinated.
5. Animal Husbandry Infrastructure Development Fund:
Government to allocate 15000 crores as Animal Husbandry Infrastructure Development Fund. This is to support animal husbandry and dairy infrastructure. Government has invited private investments in dairy processing, value addition and cattle feed. Government will also provide incentives for industrial plants.
6. Herbal Cultivation
Rs 4000 crores to be allocated for National Medicinal Plants Board. Herbal plants to be cultivated in 10 lakh hectare of land. This will lead to income generation of about Rs 5000 crore. Additional income will be provided to farmers involved in this cultivation.
Besides this, herbal and medicinal plants to be grown on both sides of River Ganga. A corridor will be formed on both sides of the river now.
7. Honey Bee keeping initiatives
Rs 500 crores to be allocated for bee keeping initiatives. This will benefit 2 lakh bee keepers. Wax for all purposes are being imported in India currently. This import can be stopped. India can have its own polination agents.
8. Operation Green to be extended
The supply chain has been disrupted for the farmers and they are unable to sell their produce in the markets. The distress sale and reduction in price of perishable goods needs to be prevented. To enable this, Operation Green will be extended from TOP crops, Tomato, Onion and Potato to all crops. There will be 50 percent subsidy on transportation and 50 percent subsidy on storage to be provided.
Governance and administration reforms related matters
9. Essential Commodities Act
The Essential Commodities Act was promulgated in 1955, at a time when food shortage was common. Now, however, there is abundance of crops, which causes confusion and farmers and consumers suffer. The Government will now amend the Essential Commodities Act to enable better price realisation for farmers. Agriculture food stuffs including cereals, edible oils, oilseeds, pulses, onions and potato will be deregulated. Stock limit will be imposed under very exceptional circumstances like national calamities, famine with surge in prices.
10. Attractive Price for Farmers' produce
The government will work to ensure farmer get an adequate choice to sell their produce at an attractive price without any barriers. The Government will bring in law to implement agriculture marketing reforms to provide marketing choices to farmers. The law will provide adequate choices to the farmer to sell produce at attractive prices.
11. Standard mechanism for predictable price
To bring in certainty before the farmers begin sowing- a facilitative legal framework will be created to enable farmers for engaging with processors, aggregators, large retailers, exporters etc. in fair and transparent manner.
Measures initiated by Government to support Farmers during Lockdown
-MSP price purchases: 74300 crores of purchases based on MSP happended during the lockdown
-18700 crores have been transferred through dbt under PM Kisan Yojana in last 2 months
-Bheema Yojana Claims totalling 6400 crores have been cleared
Relief Measures for Dairy Industry
-560 lakh ltrs of milk was procured by cooperatives.
-117 crore ltrs have been extra procured
-Rs 4100 crore have been paid on the account to the dairy keepers
-New interest subvention scheme for dairy services
9 Key Highlights from Nirmala Sitharaman's Press Conference Day 2
The Finance Minister had announced a slew of relief measures in the second tranche of Aatmanirbhar Bharat economic package for the street vendors, migrant workers, small farmers, small traders and the lower middle class as a part of the second tranche of announcements made on May 14, 2020 towards building a Aatmanirbhar Bharat.
1. Migrant Workers
Free food grain supply to all Migrants for next 2 months: The central Government will engage with states to identify the migrants and provide them with relief measures. It is expected to benefit 8 crore migrants. Rs 3500 crore to be spent by the centre for this measure. The states will be the implementing agencies.
Under this scheme, migrant workers, who are not registered under NFSA and State Card, will be provided 5 Kg of grains and 1 Kg Chana per family per month, for next two months. The decision is expected to help 8 Crore Migrant Workers and cost the exchequer Rs 3500. Complete cost of this scheme will be borne by the Central Government.
Free 5 kg rice/ wheat and 1 kg chana to be provided at centre's expense per family.
One Nation, One Ration card: Hundred percent coverage of national portability of accounts. Ration cards to be used in any ration shop across the country.
Affordable Rental Accommodation: PM Awas Yojana, rental housing scheme, to be launched for migrants and urban poor. The government-funded housing in cities will be converted into Affordable Rental Housing Complexes (ARHC) under PPP mode through concessionaire for the urban poor and migrants.
-Manufacturing units, industries will be incentivised to develop Affordable Rental Housing Complexes on their private land and operate.
-State governments agencies and central government organisations to be incentivised to develop Affordable Rental Housing Complexes.
2. Shishu Loans Holders
Interest subvention support- Loans under Rs 50,000 to qualify for SOPs
Government of India to provide interest subvention support worth 2% for MUDRA-Shishu Loan payees for a period of 12 months. This will provide relief of Rs 1500 crores to MUDRA-Shishu loan payees. This is expected to benefit 3 crore Mudra Shishu loan holders.
3. Street Vendors
Special Credit Facility worth Rs 5000 crore to be provided to all street vendors. There are 50 lakh street vendors, who will be able to avail this special credit facility. Initial working capital of Rs 10000 to be provided.
4. Housing Sector
The centre has introduced a measure for the lower strata of middle income group, for those with 6-18 lakh annual income. The Credit Link Subsidy scheme, which was introduced by government in May 2017, was initially extended till March 31, 2020. The scheme is being extended for one more year till March 2021. Around 3.3 lakh families have benefited till now. Another 2.5 lakh families will benefit from this and get affordable houses.
Impact: This will spur job creation, heavy duty transportation, steel, cement sectors will improve- will have immediate impact on the demand sector.
5. Employment Generation for Tribals
Government to enable Rs. 6,000 crore employment push using Compensatory Afforestation Management & Planning Authority (CAMPA) Funds for the tribals and adivasis.
6. Small Farmers
The centre is providing Rs 30,000 crore additional emergency working capital fund through NABARD. This will be immediately released to help small and marginal farmers for post-harvest Rabi work and for preparatory work for Kharif crops. 33 State cooperative banks/ 300 district cooperative banks, 43 regional banks have come forward for this untapped lending.
Kisan Credit Card: Nearly 2 lakh crores of concessional credit to be provided through Kisan Credit cards. Fishermen and animal husbandry also to be included in the Kisan Credit Cards. This will enable all farmers to gain access to institutional credit at affordable rates.
Labour Code Changes / Proposal
• Universal Right to Minimum Wage and Timely Payment of Wages to all workers in unorganized sector
• National Floor Wage Concept to reduce regional disparities in wages
• Appointment letters to be issued to all workers including unorganized sector
• Annual Health Check-up for Workers
• Occupational Safety and Health Code to be applicable
• Definition of Inter-state Migrants changed to include migrants workers employed directly by employers as well as by contractors
• Portability of welfare benefits being considered for migrants
• ESIC Benefits to be extended to all districts
• Reskilling of workers who lost their jobs due to COVID
• All Jobs Opened for women workers including night shifts
• Social security fund for unorganized workers being planned
• Gratuity for Fixed Term Employment on completion of 1 year
MNREGA Benefits to Migrant Workers Going Back Home
• Migrant workers who are going back home are being actively enrolled.
• States/UTs have been advised to provide work to these migrant workers through MNREGA
• 14.62 Crore Person-Days of work generated until 13th May 2020
• Work offered to a total of 2.33 Crore wage earners in over 1.87 Gram Panchayats
• 40% more enrolment in the MNREGA as compared to last May
• Minimum wage hiked from 182 to 202 per day
• 'One India One Wage' proposal being considered
Measures for Urban Poor
•11000 Crore from State Disaster Fund made available to state governments to help urban poor.
•Funds to be used for management of shelter houses for urban poor and migrant poor.
•12000 Self Help Groups contributed to fight against COVID by manufacturing masks and sanitizers.
•7200 new Self Help Groups Formed for Urban Poor starting from 15th March.
• Government to provide 3 meals per day for urban homeless.
Liquidity Support to Farmers
•Between 1st March and 30th April 2020, a total of 64 Lakh Agricultural Loans have been extended to farmers amounting to Rs 86,000.
•NABARD provided refinancing of Rs 29500 Crore via Co-operative and Regional Rural Banks.
•Rs 4200 Crore provided under Rural Infrastructure Development Fund to States dedicated to development of rural infrastructure.
•Rs 6700 Crore allotted for allocation as working capital limit for procurement of agricultural produce to state governments.
Interest Subvention Loans for Farmers
As the first measure today, FM announced interest subvention loans which are extended to the farmers essentially for prompt repayment, has been further extended until 31st May 2020. According to the FM, a total of 3 crore farmers have availed the facility of 3-month moratorium which amounts to RS 4.22 lakh crore.
Interest Subvention and Prompt Repayment Incentive Scheme has been extended until 31st May 2020. Around 25 lakh new Kisan Credit Cards have also been sanctioned amounting to total credit limit for farmers to Rs 25,000.
In the first part, Sitharaman had announced relief measures for the MSMEs, EPF establisments, real estate sector, discoms and NBFCs to support their revival amid COVID-19 lockdown.
Also read: What is Atmanirbhar Bharat Abhiyan? 
15 Key Highlights from Nirmala Sitharaman's Press Conference Day 1
Union Finance Minister Nirmala Sitharaman in her first address on May 13, 2020 highlighted the comprehensive vision laid out by Prime Minister Narendra during his nationwide address on May 12 and stated the vision was formed after discussions at different ministerial levels with inputs from the concerned stakeholders. The Finance Minister was joined at the press conference by MoS Anurag Thakur and other finance ministry officials.
The new Aatmanirbhar Economic Package aims to restore economic growth and help build a self-reliant India. To enable the same, the government announced 3 lakh crore collateral-free automatic loans for the MSMEs and also re-defined MSME classification.
1. MSMES: Six major relief measures
Collateral-free loan: 3 lakh crore collateral-free automatic loan to be provided to MSMEs. Those MSMEs with 25 crores outstanding loan. The firms with upto 100 crores turnover to benefit from this. Around 45 MSME units to benefit from this. (4 Year Tennure, with 12th month moratorium)
Subordinate Debt: The government will infuse Rs 20,000 crores in the stressed MSMES. The stressed MSMEs have a problem of equity. Two lakh MSME's are likely to benefit from this.
Fund of funds to be created: To benefit who have the potential and viable, who need handholding because of COVID-19. The fund with corpus of Rs 50,000 crore will provide support to MSMEs that have growth potential. Global Tender to be disallowed upto Rs 200 Crore
MSMEs definition changed
MSME sector is being redefined to help them scale up their operations. Earlier, MSMEs use to curtail their businesses to avoid being falling out from the limits. Now the new definition of MSME is being revised with revision in the investment allowed in MSMEs. Along with this, another qualifying criteria related to turnover is being introduced in the definition. Similarly, the distinction between manufacturing and service sector are also eliminated.
-Investment-limit that defined MSMEs is being defined upwards.
-Additional criteria to define an MSME brought in- turnover.
-Manufacturing and Servicing MSMEs will be the same.
Garment procurement: Global tender will be disallowed for government procurement upto 200 crore.
Local Trade Fairs not possible: Within the next 45 days, all the receivables of the MSMEs from central government and PSUs will be cleared.
2. Economic Measures for EPF Establishments
The government had announced earlier that it will pay the EPF amount on behalf of both the employees and the employer for a period of 3 months. The government is now extending the same for another 3 months till August 2020. Government
Liquidity Relief for all EPF Establishments: The EPF support to businesses announced earlier as part of PM Garib Kalyan Yojna is being extended until next three months. Government will pay share of employee and employer both for total of 6 months till August 2020. This will provide liquidity relief of about Rs 2500 Crore. This is expected to benefit around 72.22 Lakh employees.
Statutory EPF Contribution being Reduced to 10%
For next 3 months, private employers and their employers need to pay only 10% for next three months putting more money in their hands. This benefit will extend to Government employees but not to Central PSUs / Government Employers, who will continue to pay 12% share. This will lead to Rs 6750 crore liquidity support in hands of employees and employers.
3. NBFCs and Micro Finance Institutions
Government to ease liquidity for cash-strapped NBFCs.
Rs 45,000 crore for NBFCs under credit guarantee scheme.
Rs 30000 crore to be infused in micro finance units and NBFCs.
4. Discoms: Power Distribution Firms
Emergency liquidity worth Rs 90000 crore to be infused in discoms against their receivables. This will be done with state issuing guarantees. With the infusion of the money, the power distribution firms will pay the power generation companies. The rebate will be given to the discoms, which pass it on again back to the consumers. This will be a one-time infusion of liquidity.
5. Major Relief for Government Contractors
Government to give 6 months of extra time to the contractors to complete their contracts, be it in railways, roads or central public works.
6. Relief Measures for Real Estate
The Urban Development Ministry will issue advisory to states/ UTs so that regulatory authorities are given clearer picture: they can treat the COVIS-19 period as force majeur under RERA. They can extend the registration and completion date suo-motto by 6 month for all the projects registered projects expiring on or after March 25. 2020 without individual applications. The regulatory authorities may also extend this for another at least 3 months. Fresh project registration certificates will be issued automatically with the revised timelines.
These measures are aimed to de-stress the real estate developers and ensure completion of projects so that home buyers can get delivery of their booked houses with new timelines.
7. Tax Related Relief Measures
TDS/TCS rates reduced by 25 percent till March 31, 2020. This will apply to all payments- contracts, dividends, brokerage etc. This will release Rs 50,000 crores in the hands of the people.
All pending refunds to charitable trusts including proprietorship shall be given immediately. The due date of all income tax returns for 2019-2020 are now being extended from July 31 to November 30, 2020. Tax audit dates have also been extended till October 31, 2020.
Vivad se Vishwas scheme: Without any additional amount, the whole scheme is being extended till December 31, 2020.
Aatma Nirbhar Economic Package
Theme of Package: To build an Aatmanirbhar Bharat.
Finance Minister began her presser on the economic stimulus package by saying that the Aatmanirbhar Bharat will be the theme of her address. The FM stated that the Aatma Nirbhar Economic Package announced by the PM has been created to stir growth and make India self-reliant. She said that the package will be based on 5 important pillars as highlighted by PM Modi, which include- economy, infrastructure, technology-driven systems, demography and demand.
Focus- Land, Labour, Liquidity and Law
Taking it a step further, the Finance Minister said that the package will address the five important aspect of production supply chain:
•Land
•Labour
•Liquidity
•Law
•Local
Intention
To take local brands and build them to a global level. Global value chain integration is a part of the mission.
What does Aatma Nirbhar mean?
It does not mean look inwards, but creating a confident India which can rest on its strengths and contribute to the world. For eg, Rapid increase in the production of PPE kits.
Reforms that helped India fight COVID-19
Highlighting the effectiveness of Modi Government in fighting the Coroanvirus pandemic; the Finance Minister attributed the success to the following schemes that have led the reforms in the country.
• DBT – Direct Money Transfer to Bank accounts of poors
• Swaccha Bharat Abhiyan – Cleanliness and Hygiene Drive
• Ayushmaan Bharat – Universal Health Scheme
• PM Aawas Yojna – Housing for All
• Ujwala Yojna – Cooking Gas Supply to Poor Households
• PM Kisan Yojna – front load money to farmers
• Krishi Sichai Yojna – Agricultural reforms
• GST Reforms – helping small and medium businesses
• PM Garib Kalyan Package
Rs 52,600 crores transferred into DBT accounts of 41,000 account holders.
71 Lakh Tonnes of pulses transferred to 6.5 crore PD card holders
Non card holders were given food grains
Divyang/ old age pensions given assistance under Ujwala Yojana
Rs 20 Lakh Crore Package for Aatmanirbhar Bharat be announced over the week
FM in her press meet said that the details of the major relief package under the banner of Aatmanirbhar Bharat will be announced by her along with her team for the next few weeks. She said that the stimulus package will be rolled out over the next few days touching upon core sectors.
Background
The Prime Minister had announced the launch of an Aatma Nirbhar Economic Package during his address to the nation on May 12, 2020. The package will focus on land, labour, liquidity and laws to pave the way to make India self-reliant. The full package is expected to be worth Rs 20 lakh crores. It comprises the announcements made by the Finance Minister and the RBI earlier to combat COVID-19 impact on the Indian economy.
The special economic package, which is about 10 percent of India's total GDP, is to expected to provide the required stimulus to revive India's economy and help support those who toil day and night for the nation including farmers, labourers, the middle class and the industry.