India and Bangladesh sign 7 bilateral agreements, inaugurate 3 projects
India and Bangladesh signed seven bilateral agreements on various issues including education.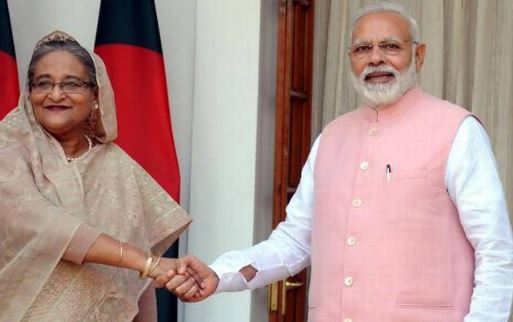 Image: ANI
Indian PM Narendra Modi and his Bangladesh counterpart Sheikh Hasina inaugurated 3 bilateral projects through a video conferencing. All these three projects and seven agreements are important for bilateral relations between both countries.
Apart from a project on education, the other two projects are – development of Bangladesh-India Professional Skill Development Institute and establishment of Vivekananda Bhawan at Ramakrishna Mission in Dhaka. Professional Skill centre will be established to benefit small and medium enterprises.
Also, Bangladesh and India signed seven bilateral agreements on various issues including trade. These seven agreements were signed after bilateral talks between India and Bangladesh. The meeting between PM Modi and Sheikh Hassina was held at Hyderabad House, New Delhi.
Also Read | PM Modi and PM of Mauritius jointly inaugurate Mauritius Metro express
Key Highlights
• This was the second meeting of PM Modi and Bangladesh Prime Minister within the last 10 days, which took place in Hyderabad House.
• Earlier, both leaders met during the United Nations General Assembly session in New York, USA.
• This meeting was described as a major step towards strengthening the relationship between India and Bangladesh and taking mutual cooperation in various fields to new heights.
• The talks were focused on increasing bilateral cooperation and relations between the two countries.
PM Modi's Tweet
Prime Minister Narendra Modi said on twitter that I am happy to inaugurate three more projects with PM Sheikh Hasina. He further said that today's three projects are in three different areas. PM Modi said that projects have been started in the area of LPG import, vocational training and social facility.
3 Projects and 7 Agreements
These three projects are related to three different sectors - LPG imports, vocational training and social facilities, but all three projects are aimed at improving the lives of citizens. This will increase imports, income and employment in Bangladesh. The traffic and transport distance will be reduced by fifteen hundred kilometres and economic benefits will also be reduced.
The two countries signed 7 agreements including trade, connectivity, development cooperation, mutual contact between people, culture and other issues of mutual interest. It is not clear that both leaders talked on NRC or not.
Also Read | PM Narendra Modi pitches for India's NSG membership
Also Read | US-India will have trade deal soon: US President Donald Trump