PM Narendra Modi pitches for India's NSG membership
PM Narendra Modi pitched for India's membership in the Nuclear Suppliers Group during an interactive session at the Global Business Forum.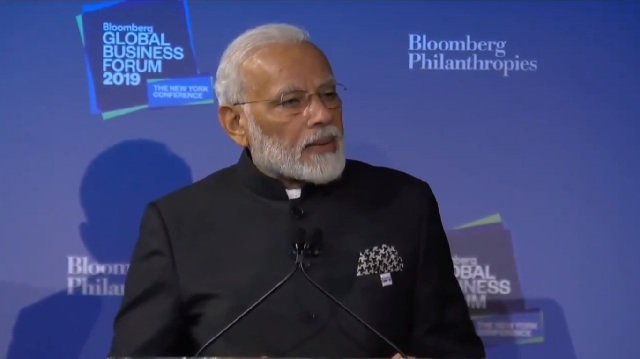 PM Modi at Bloomberg Global Business Forum
Indian Prime Minister Narendra Modi pitched for India's membership in the Nuclear Suppliers Group (NSG) during an interactive session at the Bloomberg Global Business Forum in New York, US on September 25, 2019.
While speaking to former Mayor of New York City Michael Bloomberg, PM Narendra Modi highlighted that India currently faces a challenge in nuclear energy because it is not a member of the Nuclear Suppliers Group (NSG). PM Modi said that as a result of this India is not getting as much fuel supply as it requires. He further added that if the issue is addressed then India can work as a model for the world in this sector.
Further, while speaking on global challenges PM Modi said that while climate is a concern, another prime issue is water. He said that India has begun a major initiative – Jal Jeevan mission for water resource management by focusing on rainwater harvesting, recycling, reuse and reviving of rivers.
The Prime Minister also highlighted how India has undertaken a massive movement to discourage the use of single-use plastic across India. He further spoke about how India has decided to enhance its renewable energy target to 450 Gigawatt. He said that India has already achieved the work of 120 Gigawatt.
Background
Prime Minister Narendra Modi had also raised the issue of India's NSG membership with UN Secretary-General Antonio Guterres during their meeting on the sidelines of the G7 summit in August 2019.
PM Modi had reiterated how India is moving towards usage of clean energy including investment-intensive nuclear power and NSG membership is crucial for this to building investor confidence.
The Nuclear Suppliers Group is an international export control regime, which regulates global nuclear commerce. While India has gained the support of most NSG members for its entry, China has been blocking India's membership.
The NSG seeks to prevent nuclear proliferation by controlling the export of equipment, materials and technology that can be used for the manufacturing of nuclear weapons. The NSG currently has 48 participating governments.
Download our Current Affairs & GK app for Competitive exam preparation. Click here for latest Current Affairs: Android|IOS