India pledges $400 million line of credit to Sri Lanka
PM Narendra Modi announced a $400 million line of credit to Sri Lanka for strengthening its economy.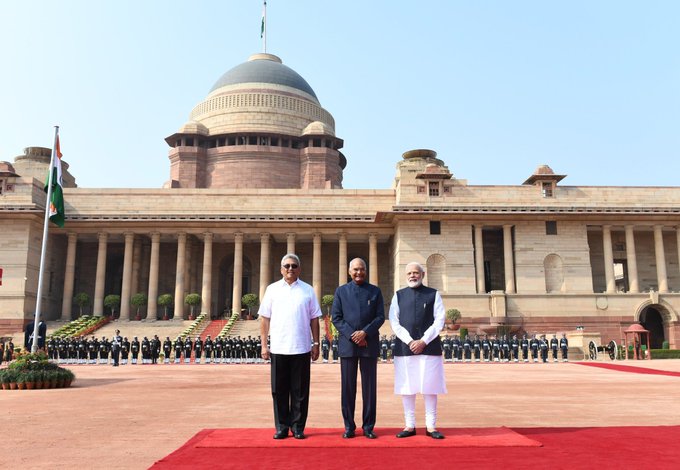 Sri Lankan President's visit to India
Prime Minister Narendra Modi has announced a $400 million line of credit to Sri Lanka to help the nation in strengthening its economy. PM Modi made the announcement while delivering a joint statement with visiting Sri Lankan President, Gotabaya Rajapaksa.
The newly-appointed Sri Lankan President is on a three-day visit to India from November 28-30, 2019. This is his first international trip after he took over the top post in Sri Lanka. During his visit, Gotabaya Rajapaksa met with the Indian President Ram Nath Kovind during a ceremonial reception at the Presidential Palace in New Delhi.
The Sri Lankan President's visit to India not only reflects the importance he attaches to India but it also has the potential to boost bilateral trade and investment ties. Gotabaya Rajapaksa held detailed talks on several issues including security, terrorism, bilateral ties and investment with PM Narendra Modi and also met NSA Chief Ajit Doval.
During the joint statement, PM Narendra Modi reiterated how India and Sri Lanka share a strong bond and how India gives priority to its relations with Sri Lanka under its 'neighbourhood first' policy. PM Modi also observed that the mandate given to Sri Lankan President Gotabaya Rajapaksa is an expression of the ambitions of the people of Sri Lanka to create a strong country and a strong Sri Lanka will not only be in the interest of India but also the entire Indian Ocean region.
Joint Statement: Key Highlights
1. PM Narendra Modi announced a $400 million line of credit for Sri Lanka to strengthen its economy.
2. Under India's ongoing housing project in Sri Lanka, 46,000 houses have already been made and 14,000 houses are further being made for Tamil origin people. India's credit line also includes a $100 million credit line for solar projects.
3. India also extended a $50million line of credit to Sri Lanka to fight terrorism. India reiterated its stand to condemn and fight against terrorism and agreed to strengthen mutual cooperation in dealing with terrorism.
4. Sri Lankan police officers have been receiving training on countering terrorism in prominent Indian institutions.
5. Fishermen: Sri Lankan President Gotabaya Rajapaksa announced that the nation will take steps to release all the boats belonging to India in their custody.
6. Ethnic harmony/ Tamil issue: Sri Lankan President Gotabaya Rajapaksa expressed his inclusive political point of view on ethnic harmony and affirmed that the Sri Lankan government will initiate a procedure of reconciliation with the Tamils in the nation and fulfil their ambitions of equality, justice, peace and respect. The government will be introducing the 13th amendment to further aid the reconciliation process.
Background
Gotabaya Rajapaksa is the first person with a military background to be elected as the President of Sri Lanka. He is also the first person to be elected to the post, who has not held an elected office earlier.
Within days of his swearing-in, he appointed his elder brother and former Sri Lankan President Mahinda Rajapaksa as the prime minister. This is the first time in Sri Lankan history that two brothers are helming the top two post in the government. Their third brother Chamal Rajapaksa, who served as the speaker under Mahinda Rajapaksa's presidency was appointed as the State Minister of Defence.
After his swearing-in, Gotabaya Rajapaksa had stated that he would strive to take Sri Lanka's bilateral relationship with India to a "very high level".