An-32 aircraft crash has "No Survivors" declares IAF
Indian Air Force's (IAF) eight members of the rescue team have reached the crash site and found no one survived in An-32 crash.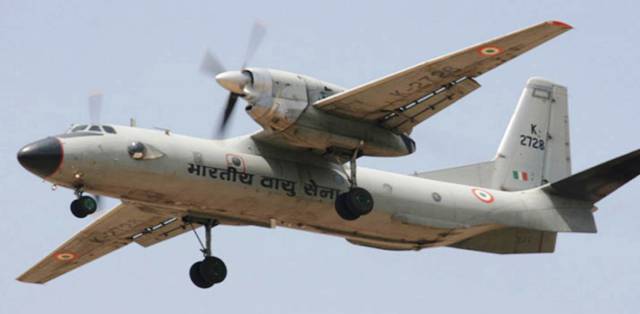 Indian Air Force AN-32 aircraft goes missing
Indian Air Force (IAF) declared that no one was survived in An-32 aircraft crash. An 8-member team of rescuers was airlifted to the crash site of the IAF's An-32 aircraft in Arunachal Pradesh to look for possible survivors. Air Force found the wreckage of the aircraft in a heavily forested mountainous terrain by an IAF Mi-17 helicopter, eight days after it went missing with 13 people on board on June 3, 2019.
Indian Air Force (IAF) transport aircraft An-32 that took off from Assam's Jorhat with 13 people onboard on June 03, 2019 has gone missing over over hilly terrain in the Northeast. The Antonov An-32 aircraft took off at 12:27 pm for a remote military landing strip in Mechuka in Arunachal Pradesh but lost signal within minutes.
Twitter flooded with tributes as IAF announced of no survivors found in An-32 crash:
Captain Amrinder Singh Tweets:
VK Singh Tweets:
Indian Air Force paid tribute with a tweet:
A search operation has launched to find out missing aircraft. The Indian Army, Indo-Tibetan Border Police and the state disaster relief force joined the search along with planes and helicopters. Indian Defence Minister Rajnath Singh is also looking into this matter. On the other hand, Indian Air Force said on twitter handle that some reports of possible location of crash site were identified, however no wreckage has been found. A Sukhoi Su-30MKI and C-130 Hercules aircrafts were deployed to carry out aerial searches.
Risk factors in the region
• Antonov AN-32 aircraft took off from Mechuka in Arunachal Pradesh. This place has some landing strips run by Indian Air Force near the Line of Actual Control with China.
• The terrain under the flight's route is mountainous and heavily forested. The landing and take-off approaches to Mechuka are extremely difficult.
• The region is most difficult field for air transport because of its erratic weather and adverse climate conditions.
• IAF air strip is used frequently to bring in vital supplies from cities in Assam via Antonov-32 aircraft and helicopters.
Previous cases of lost AN-32 aircraft
The first report of missing Indian Air Force AN-32 aircraft was recorded on March 25, 1986 when the aircraft disappeared over the Arabian Sea.
It was a delivery flight from the Soviet Union with 7 people onboard and no trace was ever found.
Four years later, in year 1990, another IAF AN-32 plane was crashed in Kerala's Ponmudi Mountain range enroute to Thiruvananthapuram.
An IAF an-32 aircraft was crashed in Arunachal Padesh on June 10, 2009. All 13 people onboard were died. Soon after India upgraded the aircrafts.
An IAF AN-32 travelling from Chennai to Port Blair went missing on 22 July 2016 with 29 people onboard.
After few days of search operation it was called off and declared all the people onboard dead.
Liked the article? Do watch our videos too!
About AN-32 Aircraft
• The Antonov AN-32 is a twin-engine turboprop military transport aircraft.
• Indian Air Force bought 125 aircraft from Russia in 1980s, about 100 of them are still in service.
• AN-32 has good quality takeoff characteristics in hot and high conditions, and 4,500 m (14,800 ft) elevation suitable for use as a medium tactical military transport roles as well as commercial roles.
• Operating as a cargo transport over the short and medium range air routes, the An-32 is suitable for air-dropping cargo, passenger carrying, medevac, firefighting, skydiving or paratrooping roles.
• The An-32 is essentially a re-engineered An-26. The launch customer was the Indian Air Force, which ordered the aircraft partly due to good relations between then USSR leader Leonid Brezhnev and then India leader Indira Gandhi.
Also Read: Nirmala Sitharaman assumes charge as India's first woman Finance Minister
Take Weekly Tests on app for exam prep and compete with others. Download Current Affairs and GK app
एग्जाम की तैयारी के लिए ऐप पर वीकली टेस्ट लें और दूसरों के साथ प्रतिस्पर्धा करें। डाउनलोड करें करेंट अफेयर्स ऐप
Android
IOS