International Yoga Day 2019: Practice yoga with these 6 Bollywood Celebrities- Shilpa Shetty, Malaika Arora
Yoga to fight obesity: Here are top 6 celebrities who have managed to stay perfectly fit and healthy using yoga in their daily routine. Learn Yoga from Malaika Arora, Shilpa Shetty and Kareena Kapoor Khan.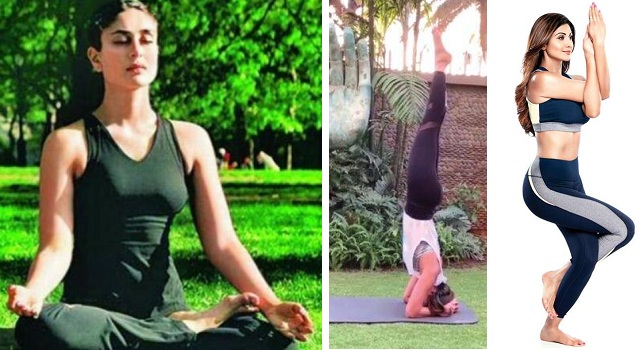 International Yoga Day 2019: Practice yoga with these 6 Bollywood Celebrities
The International Day of Yoga is being observed across the world today, on June 21, 2019. Yoga has gained widespread popularly ever since Prime Minister Narendra Modi announced the establishment of the International Day on June 21, 2015. While yoga is known to be a natural healer of various diseases and has been practiced for thousands of years, it was earlier considered old school and meant only for old people. However, today, it has become one of the top fitness regimes and our Bollywood celebrities are leading the way in modernisation of yoga.

With the fifth International Yoga Day around the corner, we have compiled a list of Bollywood celebrities who practice yoga as a daily routine and inspire millions through their social media posts.

Top 5 celebrities who practice yoga

1. Shilpa Shetty Kundra
A self-professed yoga enthusiast, Shilpa Shetty is known for her fitness and is considered to be one of the fittest Bollywood celebrities. The actress credits yoga and regular meditation for her fit figure. She had, in fact, released a Yoga Express DVD in 2015, which comprised 15 min to 30 min long exercises. The DVD mainly targets working women who find it hard to take out time for regular workout sessions. Besides this, the actress is taking a special interest in promoting and endorsing yoga on various social media platforms to increase awareness around yoga and encourage everyone to take it up as a daily routine in their lives to rid themselves of problems surrounding weight, mental stress and anxiety.

2. Kareena Kapoor Khan
Kareena Kapoor Khan is another great role model when it comes to staying fit. The actress had surprised everyone with her zero figure in 2008. Even after marriage and giving birth to a child, Kareena has managed to stay fit and the actress credits yoga for her glowing figure. The actress is known to practice Surya namaskar daily along with other asanas. She has encouraged other celebrities around her as well to take up yoga as a daily routine.

3. Malaika Arora
Fitness expert, Malaika Arora was introduced to Yoga by none other than Kareena Kapoor Khan. Malaika is again known to be one of the fittest actors in the film industry. She is known to be an avid practitioner of power yoga. She is known to practice power yoga for a couple of hours every day along with other exercises.

4. Bipasha Basu
A popular fitness icon of the nation, Bipasha Basu credits yoga for her super fit self. Bipasha Basu is known to believe in leading a healthy lifestyle that is incomplete without regular yoga sessions. Basu has also released several of her own fitness videos to encourage everyone to take fitness more seriously. She has her own fitness channel on youtube, which is solely dedicated to maintaining a healthy body through yoga, meditation and other exercises.

5. Akshay Kumar
Akshay Kumar is another actor who practices yoga and meditation on a regular basis. The actor is one of the fittest actors in the industry today and he has managed to maintain a great physique with the help of a strict diet, stricter daily schedule supported by yoga exercises. The actor believes that yoga helps one keep the body healthy from every aspect.

6. Lara Dutta

Lara Dutta, the former beauty queen is another Bollywood celebrity who endorses the power of yoga. Dutta has her own Youtube channel where uploads videos of her performing yoga exercises. The actress had also practiced prenatal yoga during her pregnancy and had posted pictures of the same on social media. She firmly believes that yoga along with some exercises help create a strong, flexible and leaner body.