Karnataka floor test: 20 MLAs skip trust vote, Kumaraswamy govt on verge of collapse
Karnataka government is on the verge of collapsing, CM HD Kumaraswamy moved trust motion in the house but 20 MLAs were not present.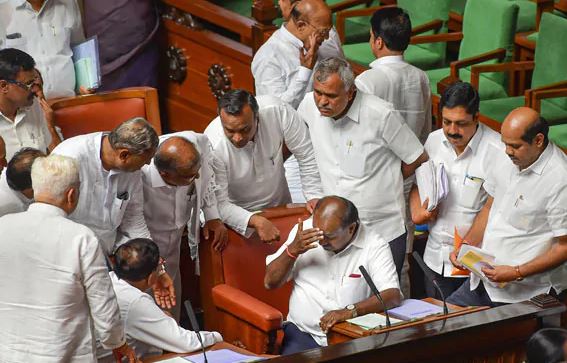 Karnataka Floor Test
Karnataka Political Crisis: Floor Test - Karnataka Chief Minister HD Kumaraswamy is trying to keep his government safe from collateral damage. HD Kumaraswamy moved trust vote motion in the assembly and said that his government has faced many hurdles in the past. On the other hand, BJP leader BS Yeddyurappa expressed confidence that the coalition government would fall today.
In today's trust vote motion 20 MLAs were not present in the house. Supreme Court in his verdict said that it is upto the Speaker to decide on the resignation of the 15 dissident MLAs from the ruling Congress- JD(S) government, and further stated that they are not compelled to participate in the ongoing session in the assembly.
Karnataka Government is hanging by a thread as its fate is depending on floor test today. Earlier Supreme Court said that rebel MLAs can't be forced to attend the assembly proceedings. Supreme Court order also gave a freedom to the Speaker KR Ramesh Kumar to take a final call on rebel MLAs resignations. About 2,000 police personnel have been deployed around assembly due to security reasons.
Supreme Court's Verdict
Karnataka political crisis has taken a new turn as Supreme Court has said trust vote will take place tomorrow. Supreme Court said in its verdict that MLAs cannot be compelled to participate in assembly proceedings including confidence motion of the state government.
Supreme Court said that Karnataka assembly speaker should decide on the resignation of 15 MLAs without being influenced by observations made by it while hearing the case. Giving power to the assembly Speaker Supreme Court said that Speaker cannot be forced to take decision within a time frame, Speaker is free to decide on resignations.
Supreme Court hearing
Karnataka political crisis is not showing any signs of relief as Supreme Court reserved its decision for tomorrow. The apex court which was listening the plea of 10 rebel MLAs heard 5 more lawmakers. Meanwhile, Speaker K R Ramesh also sought time till tomorrow to decide on the disqualification and resignation of the rebel MLAs.
Senior advisor Rajiv Dhawan tells the court on behalf of the Karnataka Chief Minister that any MLA can be declared disqualified on grounds if someone voluntarily gives up membership of a political party. Resignation goes to the root of democracy. When Mukul Rohtagi concludes, Senior Advocate Abhishek Manu Singhvi informed the court that everything Rohtagi said was factually wrong. When CJI asked him 'Why didn't the speaker take a decision after the MLAs handed over the resignation to him?' He replied that Speaker had sent an intimation letter to them. Letter was saying that resignations were not in a proper format.
Supreme Court was hearing the matter of rebel Karnataka MLAs on July 16, 2019. Senior advocate Mukul Rohtagi said in Supreme Court that he has nothing to show that they have met BJP members and are joining a different party. To stall the resignation, disqualification proceedings are only an attempt. He further tells Supreme Court that Article 190 was amended to ensure that nobody can put a gun to an MLA's head and force him to resign.
Rebel MLA's in Supreme Court
Supreme Court will hear the plea filed by ten rebel MLAs of the JD(S)-Congress coalition. Rebel MLAs are claiming that Karnataka assembly Speaker was not deliberately accepting their resignations.
Supreme Court asked Speaker KR Ramesh Kumar to read thoroughly and decide about the MLAs' resignations by midnight yesterday. After that, the Speaker, KR Ramesh filed a plea in apex court ruling out any immediate decision, he said that he cannot be expected to work at "lightning speed".
The Speaker KR Ramesh said that MLAs should not have approached governor and the Supreme Court without communicate with him. The Speaker said that MLAs rushed to governor; it is misuse of the system.
Supreme Court's order
Earlier, listening to the plea, Supreme Court ordered rebel MLAs to meet the Speaker on July 10, 2019. Supreme Court also asked the Speaker to give them time and hear them. Also, apex court directed the Speaker to inform with his decision by July 12. Supreme Court further ordered Karnataka DGP to provide protection to rebel MLAs.
Before that, rebel MLAs have moved Supreme Court. The were accusing the Speaker of not doing his constitutional duty and deliberately delaying acceptance of their resignations. Apex Court said that court will hear this matter on July 11, 2019.
DK Shivakumar could not enter into the hotel
Karnataka Minister DK Shivakumar was escorted away by local police from the gates of a Mumbai hotel where 10 rebel JD(S)-Congress MLAs were staying. The MLAs written a letter to Police that stating "We've heard CM&DK Shivakumar are going to storm the hotel,we feel threatened"
Rebel MLAs asked for sercurity Cover
Karnatka's 10 rebel Congress-JD(S) MLAs written to Mumbai Commissioner of Police seeking security cover. "We are staying at Hotel Renaissance Powai in Mumbai, we have heard HD Kumaraswamy and DK Shivakumar are going to storm the hotel, we feel threatened. Do not allow them to enter hotel premises" Rebel MLA Narayana Gowda informed media that someone has informed them that Chief Minister and DK Shivakumar will come to Mumbai to talk to all the MLAs. "We have all written the letter together, we do not want to meet them. We have asked for protection so they don't force us."
Assembly Speaker K R Ramesh Kumar will take the important decision on resignations of 13 MLAs. On the other hand, to save govt from complete collapse 30 ministers of JD(s)-Congress coalition resigned in Karnataka. Meanwhile, top BJP leader and Union Home Minister, Rajnath Singh, has denied any role in orchestrating the Karnataka political turmoil. Now Legislative Assembly Speaker K.R. Ramesh Kumar to initiate the process by calling all MLAs, speaking to them, and then taking a decision.
ANI tweets that Congress MPs Adhir Ranjan Chowdhury and K Suresh have given adjournment motion notice in Lok Sabha over political situation in Karnataka.
Karnataka political crisis in detail
• Karnataka Congress' legal department has petitioned the Speaker, requesting him not to accept resignations of 13 Congress-JD(S) legislators, alleging that rules have not been followed during its submission.
• Karnataka political crisis started after nine Congress and three JD(S) MLAs tendered their resignations. Soon after that, independent MLAs Nagesh and Shankar also withdrew their support and left the coalition government in deep crisis.
• All ministers of the Congress and JD(S) resigned to enable a reshuffle of the Cabinet and make way for the disgruntled legislators. in an apparent fire fighting exercise.
• With the support of two independent MLAs, the BJP has 107 seats in the 224-member House. The party needs to cross 113-majority mark in order to form the government.
• If the resignations of the 13 MLAs are accepted, the coalition's tally will be reduced to 103.
• With clouds of uncertainty looming over the JD(S)-Congress coalition government, the BJP has called for state-wide protest demanding the resignation of Chief Minister HD Kumaraswamy.
• Independent leader H Nagesh said in his resignation letter, "I've already withdrawn my support to govt headed by HD Kumaraswamy. I would further by this letter unequivocally state I would extend my support to the government of BJP if called for by your good self."

• Alliance of both parties came into crisis when twelve MLAs reached to the office of Karnataka Speaker Ramesh Kumar and sumbitted their resignations. At that time Speaker of the house was not present and he requested all those MLAs to come back on 9th July.
• BC Patil, Ramesh Jarkiholi, Mahesh Kumthalli, Byrathi Basavaraj, ST Somashekar, Muniratna, Pratap Gowda and Shivaram Hebbar were among those who have submitted their resignations. Apart from them JDS leaders like H Vishwanath, Narayan Gowda and Gopalia also sent their resignation.
On the other hand, Chief Minister and JD(S) leader HD Kumaraswamy said, "I don't have any kind of anxiety about the present political development. I don't want to discuss anything about politics."
In a recent development in Karnataka politics, independent lawmaker and cabinet minister H Nagesh has submitted his resignation. Before this incident, Karnataka Chief Minister HD Kumaraswamy came back in India after his private visit to the US. He launched damage control measures, with a meeting of top leaders of the ruling Congress-Janata Dal Secular (JDS) alliance.
Also Read | BJP membership drive: Sapna Chaudhary joins BJP
Also Read | Hima Das wins second international gold in 200m race