Kim Clijsters: Former World no.1 announces return to tennis 7 years after retirement
Kim Clijsters, former World no. 1 and four-time Grand Slam Winner has announced her return to professional tennis, seven years after her retirement.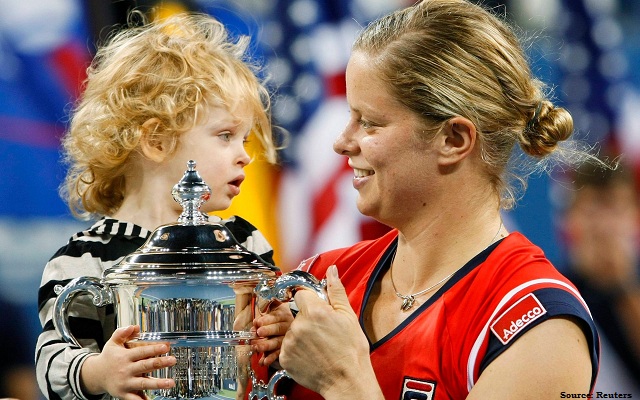 Kim Clijsters
Kim Clijsters, former World no. 1 and four-time Grand Slam Winner has announced her return to professional tennis, seven years after her retirement. Kim Clijsters announced her comeback through a video on twitter. Clijsters, who is 36, said that she was ready to come back in 2020.
Kim Clijsters video
Kim Clijsters, who is a mother to three kids, can be seen saying in her video that for the past seven years she has been a full-time mother and she loves it, but she also loves being a professional tennis player. "Honestly, I miss that feeling. So, what if I tried to do both? Could I be a loving mum and the best tennis player? Let's do this, let's come back one more time. See you in 2020," said Clijsters.
This would be Clijsters' second comeback. The tennis legend had first retired in 2007 and then for the second time in 2012 to focus on her family and children. The former world no.1 is already a member of the International Tennis Hall of Fame.
Kim Clijsters' comeback
Kim Clijsters had made a successful comeback when she had returned to tennis in 2009. The Belgian won three of her four major titles then including the US Open in 2009 and 2010 and the Australian Open in 2011.
With her 2009 US Open win, Kim Clijsters became the third WTA player to win a major Grand Slam after giving birth, after Margaret Court and Evonne Goolagong and the first to reclaim her world no. 1 position. Kim Clijsters reclaimed her world no.1 spot on February 14, 2011.
Kim Clijsters played her last competitive matches at the age of 29 at the 2012 US Open. She was inducted into the International Tennis Hall of Fame as a member of the class of 2017, following her retirement.
While speaking on her comeback, Kim Clijsters stated that she wants to test herself again, both mentally and physically. She admitted that she had a lot of work ahead of her in the coming months but her biggest motivation is the personal challenge involved. "At 36 years old I feel like I'm too young to be retired and with so many inspirational athletes and moms competing, I can't wait to get back on the match court and see what's possible after having three children," Clijsters added.
Kim Clijsters revealed that her inspiration for a second comeback were the likes of Serena Williams and Victoria Azarenka, who have kept playing professional tennis after giving birth.
Kim Clijsters: About her tennis career
Kim Clijsters made her debut in professional tennis in 1999 at the age of 15 years. She won her first Grand Slam at the 2005 US Open and became the world no.1 for the first time in 2003.
She abruptly retired from the sport in 2007 at the age of 23 after marrying American basketball player, Brian Lynch. Her daughter Jada was born in 2008.
Kim Clijsters returned from retirement in 2009, two years after her daughter's birth and won the 2009 US Open. She followed it up by defending her US Open title in 2010 and also won the 2011 Australian Open. She reclaimed her world no.1 rank in February 2011, almost after five years. She last held the top spot in 2006.
In total, Kim Clijsters has won 41 singles titles, including four major titles, 11 doubles titles and held the no.1 rank for a total of 20 weeks. Kim Clijsters stepped away from the sport again in 2012. She had two sons, Jack in 2013 and Blake in 2016.
As a former World no. 1 and four-time Grand Slam Champion, Kim Clijsters will be given unlimited wild-card invitations to tournaments by WTA. She will also be given the option of opting out of mandatory appearances at certain events, as someone older than 30. "I know that I'm not going to play not even close to a full season," said Clijsters while adding that she is aiming to return by January.
WTA chairman and CEO Steve Simon said in a statement that Kim Clijsters ranks among the greats of the game and her return to the Tour is exciting news for the WTA family and tennis fans around the world.
Download our Current Affairs & GK app for Competitive exam preparation. Click here for latest Current Affairs: Android|IOS