Major setback for Chandrababu Naidu: 4 TDP Rajya Sabha MPs join BJP
In a major blow to former Andhra Pradesh CM, N Chandrababu Naidu, 4 TDP MPs switched to join the BJP today.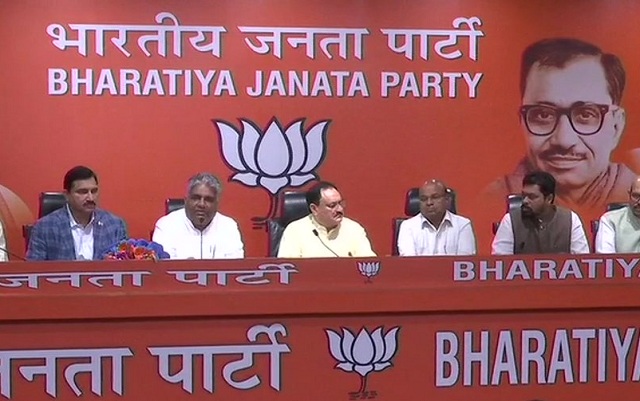 Major setback for Chandrababu Naidu: 4 TDP Rajya Sabha MPs join BJP
In a mega political setback, four of six Telugu Desam Party (TDP) Rajya Sabha members have passed a resolution to merge themselves with the BJP. Presently, TDP has six MPs in Rajya Sabha. On thursday, three TDP MPs of Rajya Sabha- CM Ramesh, YS Chowdary, TG Venkatesh, joined the BJP in presence of BJP Working President JP Nadda. The fourth TDP Rajya Sabha MP, GM Rao will also soon formally join BJP. He was not present today as he is unwell.
These four Rajya Sabha MPs met Vice-President Venkaiah Naidu on June 20 to tender their resignation from the TDP. In the letter to Rajya Sabha chairman Venkaiah Naidu, the four TDP MPs, who were seniors in the Telugu Desam Party and considered to be extremely close to Naidu, said that they were "inspired and encouraged by the impeccable leadership of Narendra Modi".
As per anti-defection law, two-thirds of the strength of a party should agree to a 'merger'. Therefore, these four out of six member will qualify as a independent entity in Rajya sabha and they asked to Rajya Sabha chairman to consider them associate of BJP.
Following are the three TDP Rajya Sabha MPs who have switched to BJP:
1. CM Ramesh
2. YS Chowdary
3. TG Venkatesh
This is the letter written by the four TDP MPs to the Rajya Sabha Chairman:
Background
The TDP had faced a huge defeat in the recent state assembly elections conducted in Andhra Pradesh.
Jagan Mohan Reddy's YSR Congress had tromped over TDP in both state and Lok Sabha Elections and Reddy was sworn in as the new Chief Minister of Andhra Pradesh on June 30, 2019.
Since then, the four TDP MPs are reported to have been in touch with BJP National President Amit Shah.